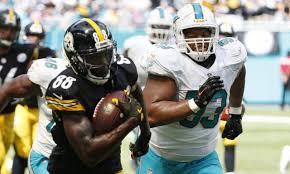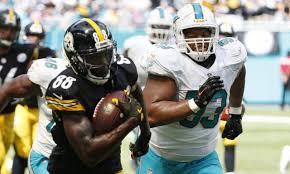 The Miami Dolphins (10-6) earned the second wild card spot and sixth seed in the AFC playoffs. The Dolphins finished second in the AFC East behind the 14-2 New England Patriots. The Pittsburgh Steelers (11-5) took the AFC North by beating the Baltimore Ravens. They are the third seed. Those are the two teams for the Sunday, Dec. 8 AFC wild card game; which will kick off at 1:05 p.m. ET. Now, let's take a look at our Dolphins play Steelers AFC wild card free pick.
Although the Dolphins posted a 3-2 record over their last five games, that mark can be deceiving. The three teams Miami beat all has losing records. The Fins beat the Cardinals 26-23, Jets 34-13, and Bills 34-31 in OT. They lost to the Ravens 38-6 and the Patriots 25-14. Baltimore ended the season at 8-8 while New England managed a 14-2 mark, which is the best record in the NFL. Those two losses sat a lot about the present state of the Dolphins.
The Steelers started and finished the season in good rom. They did hit some bumps in the road around the midpoint mark, losing four straight. But them they ran off six straight wins, beating the Colts 28-7, Giants 24-14, and Bills 27-10. They were also victorious over the Bengals 24-20, Ravens 31-27, and Browns 27-24.
Miami Offense vs. Steelers Defense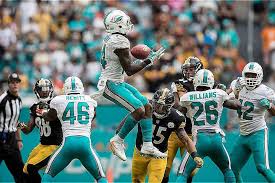 Miami comes to this game without starting quarterback Ryan Tannehill, which is a major problem for the team. Miami is scoring an average of 22.7 PPG, which is 17th in the league. Since Matt Moore (63.2 COMP%, 8 TDs, 3 INTs, 1 Sack) took over as quarterback the team is averaging 27.3 PPG. However, against the Pats, the only winning team he's faced, the Dolphin scored just 14 points.
Moore will have four quality pass catchers to toss to, including WRs Kenny Stills (42 REC, 726 YDs, 17.3 AVG, 9 TDs) and Jarvis Landry (94 REC, 1,136 YDs, 12.1 AVG, 4 TDs). RB Jay Ajayi (260 ATT, 1,272 YDs, 4.9 AVG, 8 TDs), an important part of the Miami attack, is questionable. If he's able to do so, he will play.
The Pittsburgh defense is allowing opponents 20.4 PPG, which places them 10th in the league. They have 38 sacks, 13 INTs, and 18 FF. Plus, the defense has 54 TFL and 79 PD. Eight players on the team have 2.5 sacks or more while seven players have three or more TFL. LB Ryan Shazier (3.5 Sacks, 9 TFL, 9 PD, 3 INT, 3 TFL) and CB Artie Burns (13 PD, 3 INTs) are essential performers. LB Lawrence Timmons (2.5 Sacks, 4 TFL, 5 PD, 2 INTs) leads the team with 114 tackles.
Pittsburgh Offense vs. Dolphins Defense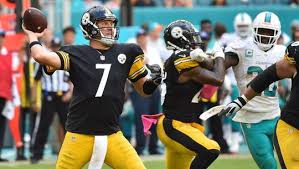 The Steelers are 10th in the NFL in points per game with 24.9. QB Ben Roethlisberger (64.4 COMP%, 29 TDs, 13 INTs, 17 Sacks) is a premium veteran leader. His presence alone gives the Steelers and edge. Plus, Pittsburgh's arsenal of offensive weapons includes WR Antonio Brown (106 REC, 1,284 YDs, 12.1 AVG, 12 TDs) and the dual threat running back Le'Veon Bell (261 ATT, 1,268 YDs, 4.9 AVG, 7 TDs). As a receiver, Bell has 75 receptions for 616 yards and two touchdowns. There are at least two other premium receivers. One concern is the status of TE Ladarius Green (18 REC, 304 YDs, 16.9 AVG, 1 TD) who has been dealing with a concussion.
The Miami defense, which is 18th in the NFL, is allowing on average 23.8 PPG. The team has 16 interceptions and 17 forced fumbles. They also have 33 sacks, 62 TFL, and 73 PD. Overall, this is a solid squad, however, they may be missing key players, including CBs Tony Lipett (10 PD, 4 INTs) and Byron Maxwell (15 PD, 2 INTs) and LB Jelani Jenkins (2 TFL, 1 PD). DE Cameron Wake (11.5 Sacks, 1 TFL, 2 PD, 1 INT, 5 FF) leads the team in sacks and forced fumbles, while LB Kiko Alonso (115 TCKLs, 6 TFL, 4 PD, 2 INTs, 1 FF) is tops in tackles.
Dolphins Play Steelers AFC Wild Card Free Pick
In our Dolphins play Steelers AFC wild card free pick, Pittsburgh is a 10.5-point favorite. They are coming in primed to play and get a big win on their home turf. The Fins are ailing and missing key guys from the secondary. Our AFC wild card free pick is Pittsburgh at -10.5.
Dolphins Play Steelers AFC Wild Card Free Pick: Pittsburgh at -10.5