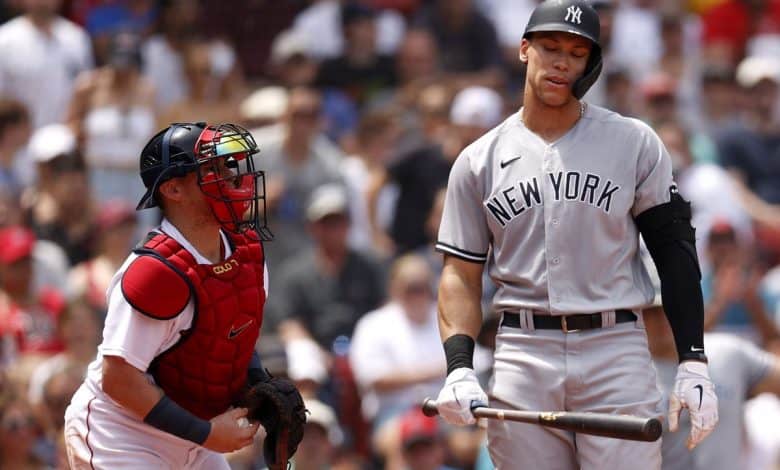 Yankees Searching for Something to Grasp
The Yankees were picked by many people this season to make it to the World Series, but as of mid-July New York is so far away from winning the American League that it looks like they could potentially be sellers at the trade deadline. 
The Yankees lost the first game of a three-game series against the Boston Red Sox this weekend but rebounded with a six-inning victory on Saturday behind Gerrit Cole.  It was originally supposed to be a four-game series that went from Thursday-Sunday, but the Yankees had tier one members test positive for COVID-19 on Thursday. That led to the game being postponed for another date. 
The Red Sox shut out the Yankees on Friday night 4-0 with Eduardo Rodriguez getting the win for Boston. Rookie Tanner Houck recorded the save for Boston and is expected to be worked into the Red Sox's starting rotation in the coming days. 
The Yankees now trail the Red Sox by eight games in the American League East and with their continued struggles against Boston — New York is 1-7 against their rivals this season — it appears that the Yankees are searching for anything to give their roster of star players momentum in the middle of July before the find themselves too far out of contention in the American League. 
Here is your preview and pick for Sunday's Red Sox at Yankees game. 
Pitching matchup: Martin Perez vs. Jameson Taillon
Taking the ball for the Red Sox is a 30-year-old lefty, Martin Perz. Perez has made 18 starts for the Red Sox this season and has a 7-5 record with a 4.04 ERA in his 84.2 innings pitched. 
Opponents have been pretty successful this season at getting on base against Perez, opponents have a .354 on-base percentage. The lefty does own some of that responsibility with his 29 walks this season compared to just 69 strikeouts. 
In his most recent start on July 10, Perez went just 3.2 innings and gave up three earned runs against the Phillies. Perez made one start against the Yankees this season on June 25 and struggled over his 3.2 innings giving up three runs (none earned), but he did allow six hits. 
For the Yankees, it will be the longtime Pittsburgh Pirate Jameson Taillon. The 29-year-old right-hander has made 17 starts for the Yankees this season and owns a 4.90 ERA with a 4-4 record. 
Taillon hasn't been very good this season for the Yankees in his 82.2 innings pitched. Opponents are hitting.252 against him this season with a .313 on-base percentage and a .455 slugging percentage. Despite those numbers, Taillon has maintained a positive WAR this season.
In his most recent start, Taillon went 6.0 innings against the Astros and gave up just two earned runs. Taillon has made one start against the Red Sox this season and he went 5.1 innings and gave up three earned runs. 
The Pick
The Red Sox have dominated the Yankees this season and it's fair to assume that they will continue to do that on Sunday with Perez likely to have a better outing. The Yankees could really benefit from a win and need it more than the Red Sox do, plus New York is fighting to stay above water in the AL East. The Yankees get the win on Sunday.