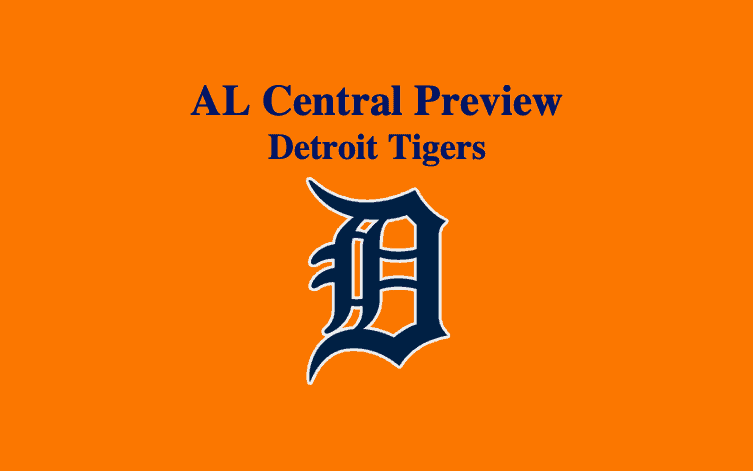 Our AL Detroit Tigers preview 2021 sees this team as being a few years away from being competitive. Last season, the Tigers finished last in the AL Central with a record of 23-35 and an adjusted 162-game record of 64-98. In the past four years, this team has won 64 or fewer games. The last time they had a winning season was 2016 when they went 86-75, finishing second and out of the postseason. In that string of seasons, the worst was 2019 when they went 47-114, finishing 53.5 games out of first place. With a questionable rotation, problems in the bullpen, and a lack of hitting, we expect this team will, as it has for the last four years, will struggle.
AL Detroit Tigers Preview 2021 – Pitching
At 5.63, the Tigers has the worst ERA in the league. Opponents hit .265 against Detroit and gave up 91 homers, both were the second-highest average in the AL. Saves totaled 11, which tied them for last, while their WHIP came in at 1.43 (14th) and total strikeouts were 444 (15th). Their nine quality starts tied for seventh.
Detroit Rotation
In 2020, Spencer Turnbull had the best season of his three-year career. The righty went 4-4 with a 3.97 ERA and 1.34 WHIP. Turnbull's repertoire of pitches includes a 94mph fastball, 95mph sinker, and 86mph slider. His change comes in at 87mph. He's been designated as the number-one starter; however, Turnbull is more of third starter. Lefty Matthew Boyd started 12 games last season, going 3-7. His ERA was a hefty 6.71 and WHIP came in at 1.47. Boyd starts his sixth full-season with the Tigers. He utilizes a low-speed fastball and 80mph slider along with a 79mph change. Like Turnbull, he's starting a few spots higher than he should
Three through Five
In 2020, his first major league season, Casey Mize recorded a 6.99 ERA and was 0-3 over seven starts. He's, along with fifth starter Tarik Skubal, is considered to be a promising prospect. Mize uses a 94mph fastball along with three other pitches. The fourth starter, Jose Urena comes to the Tigers after six seasons with Miami. Urena's best season was 2017 when he won 17 and lost seven while recording a 3.82 ERA and 1.27 WHIP. Last year, he was 0-3 with a 5.40 ERA and 1.50 WHIP. The aforementioned Skubal, a lefty, started seven games last year. He went 1-4 with an ERA of 5.63.
Relief
Our Detroit Tigers preview 2021 notes that three righties, Buck Farmer, Joe Jimenez, and Rony Garcia, will play key roles in middle and late relief. The closer could be one of three possibilities, Gregory Soto, Bryan Garcia, or Jose Cisnero. Now in his eighth season with the Tigers, last year, Farmer posted seven holds, a 3.80 ERA, and 1.17 WHIP. He primarily uses his 94mph fastball and 88mph change. Jimenez relies on his middle-90s fastball and slow-moving slider. In 2020, he made 24 appearances, recording five saves and four holds. He went 1-3 with a 7.15 ERA and 1.37 WHIP. Last season, his first in the majors, Cisnero made 15 appearances with two starts and threw 21 innings. His ERA came in at 8.14 and WHIP at 1.62. Cisnero was 1-0.
Soto looks to be the closer for now. This is Soto's third MLB season. Last year, in 27 appearances, he posted two saves, six holds, and two blown saves with a 4.30 ERA and 1.26 WHIP. Soto most effective pitch is his steaming 97mph sinker, which swoops down out of the strike zone. He also uses an 88mph slider and 97mph four-seam fastball.
Detroit Tigers Preview 2021 – Everyday Players
Last season, the Tigers hit .245 (7th). They recorded 242 RBI (11th), 62 homeruns (12TH), and an OBP of .303 (14th). The team posted a SLG% of .397 (11th) and OPS of .700 (12th). The Tigers were dead-last in doubles with 78. Their 567 strikeouts were the third-most in the AL. Finally, they recorded just 19 steals, which ranked 14th. This is a team that simply could not generate offense.
Right fielder Victor Reyes leads off with left fielder Robbie Grossman batting second and DH Miguel Cabrera coming to the plate third. Jeimer Candelario, who plays first, will bat in the power spot, while the newly arrived Jonathan Schoop hits fifth. Centerfielder JaCoby Jones steps to the plate in the sixth spot and shortstop Willi Castro seventh. The final two spots in the lineup have catcher Wilson Ramos eighth and Isaac Paredes ninth.
Detroit – Infield and DH
The middle infield has Castro at shortstop and Schoop at second. In 2020, Castro, a switch hitter, hit .349 over 36 games. He poked in 24 RBI. Schoop, a nine-year vet, hit 278 last season with eight homers and 23 RBI. He's a dependable presence. Candelario guards the first corner while Paredes patrols third base. Candelario, who can play either corner, had a breakout season last year, hitting .297 with 29 RBI and seven homeruns. Last season, Paredes struggled at the plate. He hit .220 over 34 games. Veteran catcher Wilson Ramos, who spent the last two seasons with the Mets, arrives as a defensive upgrade. Last year, Ramos, a .274 lifetime hitter with a .321 OBP, saw a decline in his numbers, hitting just .239 and notching an OBP of .297. DH Miguel Cabrera, who hit 10 round trippers and drove in 35 runs over 57 games last season, is a premium hitter.
Outfield
Our Detroit Tigers preview 2021 notes that left fielder Grossman can play any of the outfield positions. Grossman, who comes to Detroit from Oakland, signed a two-year deal with the Tigers. It's the first multi-year contract offered by the franchise in five years. Grossman knows how to get on base, has power, and speed. Jones was about to have a breakout season in 2020 when a broken hand sidelined him in early September. Over 30 games, he hit .268 with 14 RBI and five homers. Reyes, who possesses great leadoff potential, hit .277 over 57 games. This could be a massive season for him. Reyes has speed and some power.
AL Detroit Tigers Preview 2021 – Final Word
The Tigers have numerous issues. The first is a relatively young and developing pitching staff. This season, they'll be improving their chops and, hopefully, making some progress. Our AL Detroit Tigers preview 2021 also notes that when it comes to generating offense, Detroit is lacking. However, there are some young players with solid potential. A.J. Hinch replaces manager Ron Gardenhire. Hinch, who guided the Astros to a World Series crown, lost his job in Houston due to the sign-stealing scandal. He'll need to repair his reputation and should be able to do so. Hinch is a solid manager who can get the job done. Still, there's just so much he can do with the Tigers in their present condition.
Summary – Detroit Tigers Preview
Record: 64-98 (Fifth-place AL Central)