Free Expert Sports Picks
NHL Picks
Stanley Cup Eastern Conference Final: Washington Capitals at Tampa Bay Lightning
Tampa Bay Attempts to Bounce Back From 4-2 Loss in Game One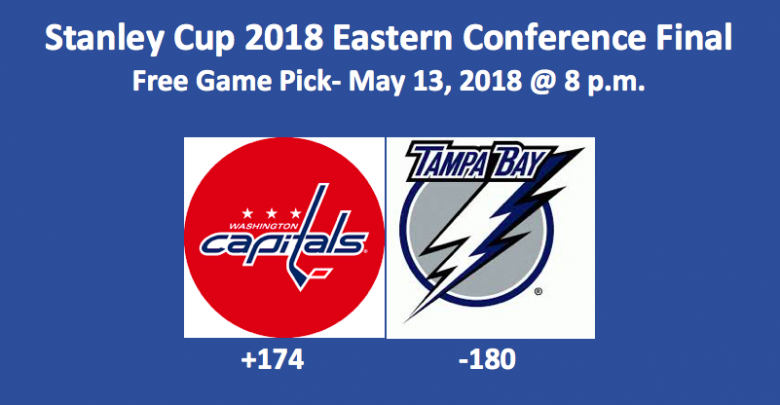 In putting together our Washington plays Tampa Bay Stanley Cup game two pick for game two, we note that despite losing game one, the Lighting are at -180. The Caps are listed at +174. In the first game of their Eastern Conference Final series, Washington easily beat Tampa Bay 4-2. Was that an anomaly? Might the Caps go home for the next two contests up by two games?
Remember in their last series, the Lightning were humiliated by the Boston Bruins in game one 6-2. Then they ran off four games straight to win the series. The Bolts have won both of their playoff series this year in five games. Their one loss to New Jersey in the first series was 5-2. The Caps took six games to eliminate both the Columbus Bluejackets and the Pittsburgh Penguins. They lost the first game to the Guins and the first two to the Jackets. So, what are first games worth in these playoffs? Perhaps, not a lot.
Goaltending Overview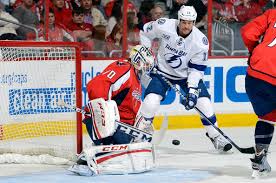 Caps goalie Braden Holtby saw 21 shots in his first game against the Lightning. He allowed two goals late in the game. As long as he keeps opponents to two or fewer goals, he has a chance of winning. In wins his GAA is 1.94, while it sits at 2.41 in losses. In the postseason, he possesses a .925 SV% and a 2.04 GAA.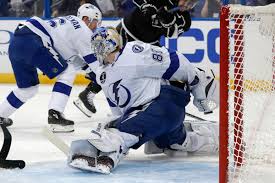 For the Lightning, Andrei Vasilevskiy carries a 2.43 GAA and .920 SV% into this game. In wins, his save percentage is a low 1.74. But in losses, he allowing an average of 4.53 goals per game. His save percentage in losses during the playoffs is .909 at home and .941 in wins. In his loss against the Caps the other night, he saved just 84% of the shots he saw. He played two periods before being pulled. In that time, he was peppered by 25 shots.
Offense and Defense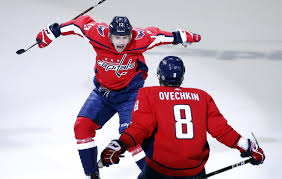 The capitals certainly have seen some very fine play in the postseason from a host of players. LW Alex Ovechkin, center Evgeny Kuznetsov, and center Nicklas Backstrom have all contributed in a major way. Ovechkin leads in points (17) and goals (9), while Backstrom is tops in assists (10). Ovechkin has eight points on the power play and Backstrom eight assists. In addition, defensemen John Carlson and Dmitry Orlov, have been especially effective. They are +4 and +7 respectively. Carlson has 12 points and Orlov seven. Finally, RWs Dmitry Orlov and Tom Wilson have notched five assists each.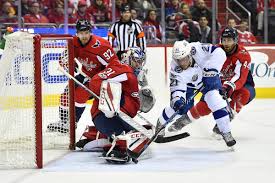 The Lightning offense needs to see RW Nikita Kucherov, center Steven Stamkos, and LW Ondrej Palat put pressure on Holtby. Kucherov tops the team in goals with six and points with 13. Stamkos brings seven assists and four goals to this game, while Palat has notched five goals and four assists. Also, center Brayden Point has to step up in this game. He's put four pucks in the net and assisted on six scores. Finally, defenseman Victor Hedman, who's a fine setup man with seven assists, offers solid D. He's +3 in the playoffs.
Our Washington Plays Tampa Bay Stanley Cup Game Two Pick
In the regular season, Tampa Bay topped the NHL in GAA average with 3.5, and they were third on the power play with a 23.9% average. However, their PK was ranked 27th (76.1%). They allowed 2.9 goals per game (13th). The Caps PK was 15th at 80.3%, while their power play was ranked Washington plays seventh (22.5%). The team averaged 3.1 GPG (9th) and 2.9 GAA (16th). These regular-season stats indicate that we should see some fairly close games. With that in mind and a look at how these playoffs have been unfolding, our Washington plays Tampa Bay Stanley Cup game two pick is the Bolts at -180. We're going with the over at 6.0.
Summary Caps at Bolts Pick: Tampa Bay at -180 and over 6.0