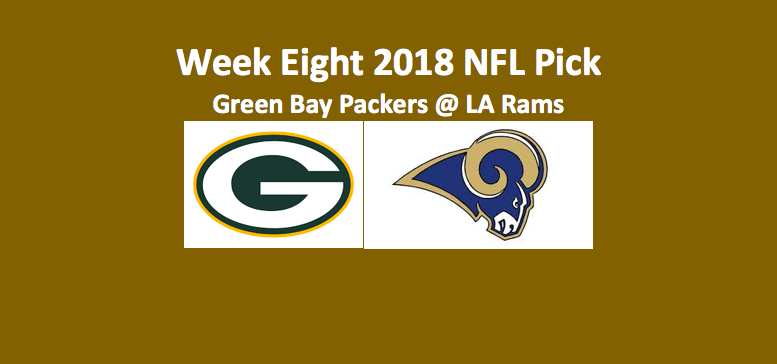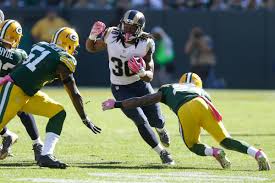 The inconsistent Green Bay Packers (3-2-1) play the thus-far-unbeatable Los Angeles Rams (7-0) today at 4:25 P.m. E.T. Our Green Bay plays Los Angeles pick offers the Rams at -8.0. Since tying the Vikings 29-all on Sep 29, Green Bay has gone 2-2. The Pack lost to Washington the following week 31-17 and then beat Buffalo 22-0.
On Oct 7, they lost to Detroit 31-23. Last week, the Packers barely got a win against San Francisco, as they managed to bet the 49ers 33-30. The Rams have beaten every team they have faced. Five of those wins were by seven or more points.
Offense and Defense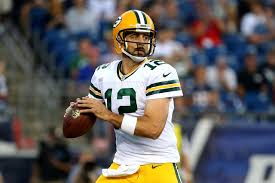 The Rams are scoring 33.6 PPG. The Pack has been averaging 24.0 PPG. That alone reveals a major schism in terms of points. But then there's the Los Angeles points against stat. The Rams are holding opponents to 18.3 PPG. The Packs allowing 24.6 PPG. Last week, the 49ers scored 30 points against Green Bay.
On offense, the Rams bring both a strong air and ground game to the field. For the Packers, it's about the pass attack. If that's functioning properly, Green Bay will have a shot at winning this contest. Some quick Ram stats. They have seven picks, six forced and five recovered fumbles, 19 sacks, 21 TFL and 31 PD. Those are solid defensive numbers. The Packers offer similar, but somewhat lower numbers in sacks, interceptions and forced and recovered fumbles. But they are dwarfed by the Rams in TFL (21-11) and PD (20-31). Those stats are significant.
Edge: Rams
Can Pack Play Consistent Football?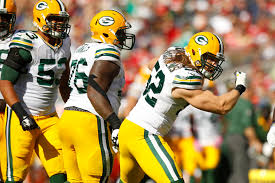 The Packers have had a tough time being consistent. That's not just from game-to-game, but during games. They cannot afford a slow start against LA. Once they get going, the Rams are hard to catch up to. Plus, any miscues by Rodgers and company will be exploited by the LA defense.
Green Bay has been unpredictable this season. They have often sputtered against some of the stronger and some of the weaker teams. The Rams not only have a lot of muscle, but they are playing exceptionally well on both sides of the ball. We like Los Angeles a lot. Especially because they are at home and on a hot streak.
Edge: Rams
QB Duel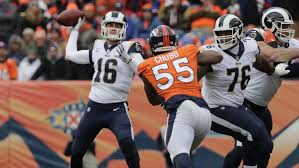 Rodgers is connecting in 61% of his passes and has tossed 12 TDs and just one pick. LA QB Jared Goff has been good on 70% of his throws. Although he has tossed 14 TDs, Goff is also responsible for five INTs. He's also fumbled four times. Rodgers has five fumbles. He's also still dealing with a bum knee, although reports say he is fine. It's experience versus youth in this game. Here's the thing to remember, Rodgers is having some health issues, while the young Goff, although young, has matured quickly.
Edge: None
Our Green Bay Plays Los Angeles Pick
We think that the Rams have a clear advantage in this game. Their offense includes multiple weapons and their defense is sharp and focused. Green has been struggling, even against weaker teams. Our Green Bay plays Los Angeles pick is the Rams at -8.0.
Summary Packers at Rams Free Pick: LA Rams at -8.0