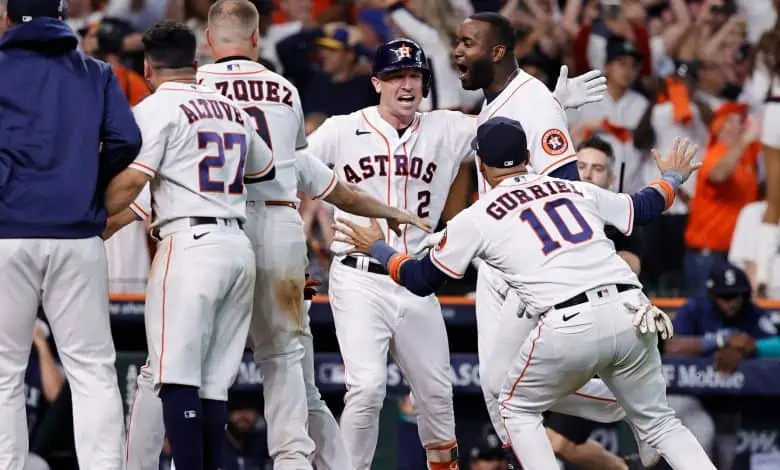 Seattle feels like they let one get away on Tuesday, taking a 7-3 lead into the bottom of the 8th inning before suffering an 8-7 loss as +207 underdogs. Houston showed great resilience being down 4-0 and then 6-2 before their late inning heroics helped cover the -229 price tag. Now the home team is a -162 favorite in Thursday's game 2 Mariners at Astros matchup.
The Astros admitted they came out a 'bit rusty' on Tuesday considering they hadn't played a meaningful contest in weeks after running away with the AL West by 16 games. 54% of the betting public likes Houston to go up 2-0 in this spot.
Mariners Need to Bounce Back
Seattle had a great chance to steal home field advantage in game 1, but now they need to bounce back and actually close game 2 out. The loss and the 0-1 series deficit hurts, but the Mariners need to take some solace in the fact that they were able to get 10 hits and 6ER off of likely AL Cy Young winner Justin Verlander.
It was another solid offensive outing for the Mariners who were able to eliminate Toronto 10-9 on Saturday. Eugenio Suarez and J.P. Crawford both had HRs in game 1, while Julio Rodriguez was 2-4 with 3 runs scored from the leadoff spot. Seattle hits just .205 as a team vs. Houston's game 2 starter Framber Valdez.
Situations like the Game 2 Mariners at Astros matchup are why Seattle added to their rotation with the Luis Castillo trade at the deadline. Castillo was solid in just his second postseason start last Friday, going 7.1 IP without a run allowed in the Mariners 4-0 win over the Blue Jays.
Houston Has Seattle Bullpen Rattled
The Astros completed their comeback with a 3-run Yordan Alvarez bomb in the 9th inning on Tuesday. Alvarez ended up with 3-5 with 5 RBI and his HR was one of three that Houston hit as Alex Bregman and Yuli Gurriel also added long balls.
Now Seattle turns their attention to rattling Castillo and getting to the Seattle bullpen even sooner. The Mariners even used starter Robbie Ray in Game 1 (the reigning Cy Young Award winner) and it was he who gave up the HR to Alvarez. Only four batters on the current Houston lineup have ever faced Castillo.
Valdez (17-6, 2.82 ERA) makes his 2022 postseason debut on Thursday hoping for better results than in last year's World Series. The right-hander gave up 5ER in both of his starts vs. the Braves, lasting just 2.0 and 2.2 IP. He had been solid in the ALCS with just 3 ER given up over 10.2 IP against Boston, so we will see what version of Valdez we get in Game 2 here.
Free Game 2 Mariners at Astros Betting Pick
Castillo was solid in the wild card round against Toronto, but the real question here is how Seattle's bullpen will rebound after allowing 5 runs in the 8th and 9th inning in the series opener. Valdez has enough postseason experience, but he was absolutely rattled in his two World Series games last season.
Seattle's offense is clicking, and their bullpen may be shaky so the only way to go here is on the total.
Free Pick: Over 7