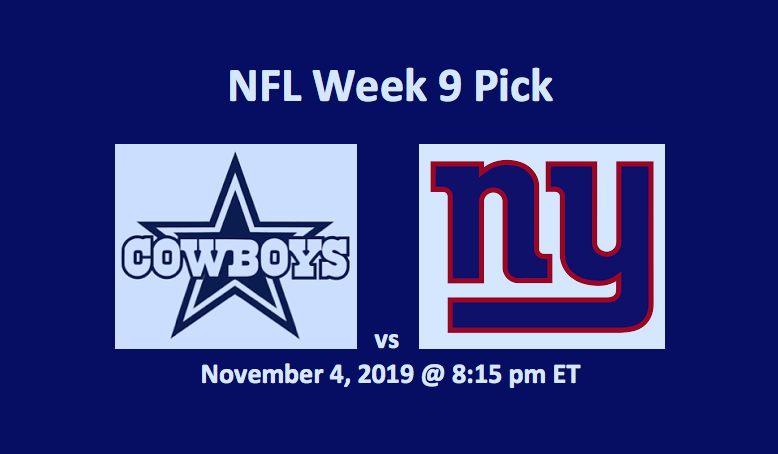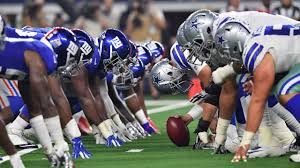 This Cowboys vs Giants pick offers Dallas at -6.5. Our Cowboys vs Giants pick sees this as a must-win for a New York team that has lost four-straight games. The game will be played on Monday, November 4 at MetLife Stadium in East Rutherford, NJ.
The game is scheduled to start at 8:15 pm ET. Both of these teams have struggled as of late in a division that seems to be defined by inconsistent play.
Cowboys vs Giants Pick – Recent Performance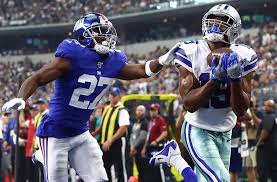 The Dallas Cowboys (4-3 Overall, 1-2 Away), who are first in the NFC East, last played on October 20, beating the Philadelphia Eagles 37-10. Prior to that victory, the Cowboys had lost three games in a row. Those losses include a 24-22 upset by the New York Jets and an atypical low-scoring 12-10 submission to the New Orleans Saints. Our Cowboys vs Giants pick notes that prior to those three losses, Dallas had won three straight games.
The New York Giants (2-6 Overall, 1-3 Home) lost their first two games, including their road opener in Dallas 35-17. New York's two wins came in weeks three and four as they beat Tampa Bay 32-31 and Washington 24-3. Since then, the third-place Giants have dropped four in a row, including their October 27 game at Detroit. The final score was 31-26.
Dallas Cowboys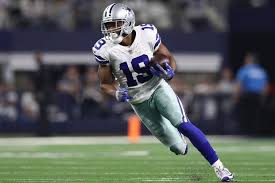 The Cowboys are averaging a solid 27.1 PPG. They are passing for 303.3 YPG and rushing for 146.0 YPG. That adds up to 449.3 YPG on offense. Dak Prescott has performed well, completing 70.6% of his passes for 2.123 yards and 12 scores. Opponents have sacked him 10 times and given up seven picks. WR Amari Cooper is his top pass catcher with 38 receptions for 621 yards and five touchdowns. He's averaging 16.3 YPC. RB Ezekiel Elliot is averaging 4.5 YPA. He's scored six times. This is a talented offense.
The Dallas D is holding teams to 17.7 PPG. They're allowing opponents 96.9 YPG on the ground and 247.6 YPG in the air. The defensive stats for the Cowboys are less than impressive. Dallas has posted 17 sacks, three picks, and 32 each of TFL and PD. LBs Jaylon Smith and Leighton Vander Esch top the team in tackles with 56 and 54 tackles respectively.
New York Giants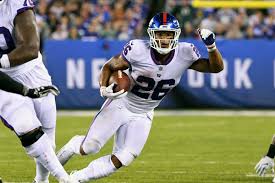 The New York Giants are averaging 102.4 YPG in rushing and 252.8 YPG in passing. They're scoring just 19.8 PPG. Rookie QB Daniel Jones starts. Jones is completing 62.5% of his passes. He has 10 scoring tosses and seven INTs. Jones has been sacked 21 times. He'll be looking for TE Evan Engram and WRs Golden Tate and Darius Slayton. Engram has 60 catches and three TDs. Over five games, RB Saquon Barkley is averaging 5.0 YPA and has scored twice. He is dangerous.
Our Cowboys vs Giants pick notes that NY is allowing 27.3 PPG. They're allowing
122.4 YPG on the ground and 283.5 YPG in the air. The defensive numbers are good for this team. The Giants have 22 sacks, seven INTs, and 47.5 TFL. They have also defended 27 passes. Corner Janoris Jenkins has four picks and 10 PD, while LB Marcus Golden comes to this games with 5.5 sacks and 6.5 TFL.
Our Cowboys vs Giants Pick
Our Cowboys vs Giants pick observes that these two teams are on the opposite end of the spectrum. Dallas can score, and Its defense can stop opponents. New York struggles to put points on the scoreboard and has a tough time stopping opposing teams. Jones has played well overall, but over the last three games, Prescott has been lights out for the Cowboys. We are going with the Cowboys who are at -6.5
Cowboys vs Giants Pick – Summary
Cowboys at -6.5