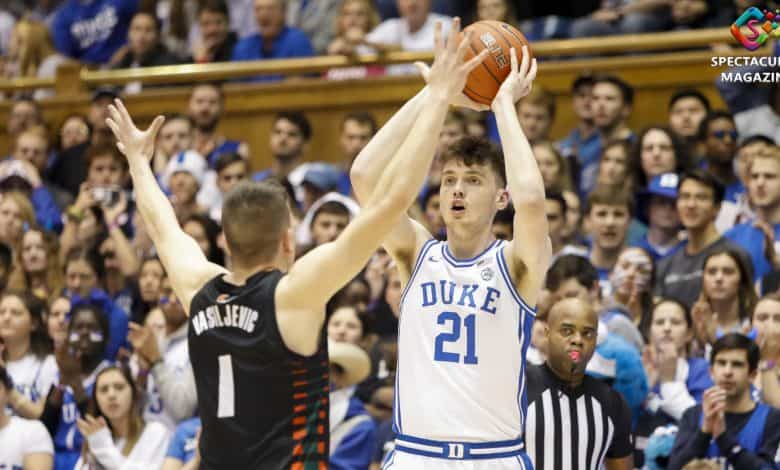 The Duke Blue Devils (7-5, 5-3 ACC) and Miami Hurricanes (6-10, 2-9 ACC) meet up Monday night for an Atlantic Coast Conference contest. Monday's game between the two conference foes will be their only matchup against each other this season. Tipoff is at 7 p.m. EST inside Watsco Center in Coral Gables, FL. The Blue Devils are a 9.5-point favorite over the Hurricanes in the conference tilt, according to oddsmakers.
What to Know – Duke Blue Devils
Duke rolls into the new week riding a two-game winning streak after dropping three conference road games in a row. The Blue Devils have not had their typical elite season this year but still sit just two games back of first place in the conference standings.
The Blue Devils score 74.2 points per game behind a balanced offensive attack. Defensively, Duke surrenders 70.2 points per game, with a slightly lower average (69.9 ppg) in conference contests. The team has played relatively well on both ends of the floor, and consistency has been the larger issue.
Forward Matthew Hurt leads the Blue Devils scoring 18.5 points per game. Hurt has scored in double figures in every game this season. Freshman guard DJ Steward pours in 13.4 ppg as the team's second-leading scorer. Forward Jalen Johnson chips in 12.0 points per game for the Duke.
Duke is 3-9 against the spread this year with a 1-3 record on the road. The Blue Devils own an impressive 5-1 record over the Hurricanes in their last six matchups.
What to Know – Miami Hurricanes
Miami limps into the Big Monday showdown on a four-game losing skid and losers of eight of their last ten. The Hurricanes have battled injuries all season and have lost three consecutive games by a total of five points. Miami sits a distant 6.5 games out of first place and one game out of last place in the standings.
The Hurricanes average 65.5 points offensively while giving up 69.0 points per game defensively. Those numbers regress (63.3 ppg and 72.8 ppg) during conference play for Miami.
A trio of guards pace Miami on the offensive side of the ball led by Isaiah Wong, who nets 17.4 points per game. Four other Hurricanes average 9.3 points or more per game, with guards Chris Lykes (15.5 ppg) and Kameron McGusty (12.2 ppg) both averaging double digits.
Miami is 7-9 ATS this season, including a 5-5 mark on their home floor. The Hurricanes are a dismal 1-5 in their last six and 2-7 as the underdog.
The Pick is In
Duke has won four in a row against the Hurricanes and come into February playing some of their best basketball. The Hurricanes have faced adversity almost this entire season, with injuries a freshman Matt Cross leaving the program last week. Miami played with just six scholarship players in their previous game. Duke has owned the series historically and will look to notch their fifth in a row against the Hurricanes. The lack of depth and play of the Blue Devils over the last week will likely still be enough for Duke to cover against the injury-stricken undermanned Hurricanes on Monday night.
The Pick: Duke Blue Devils -9.5