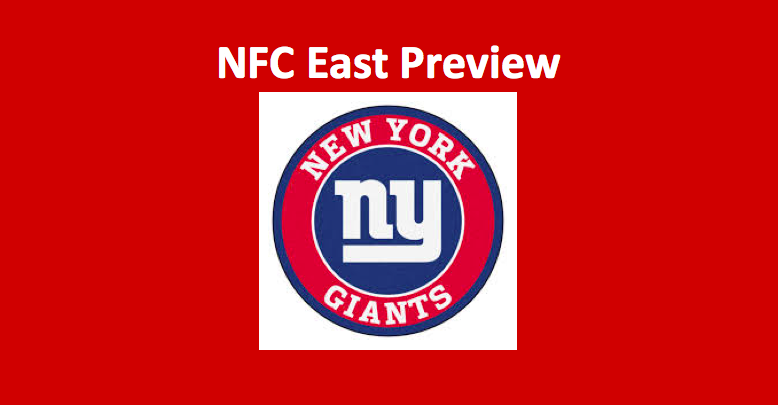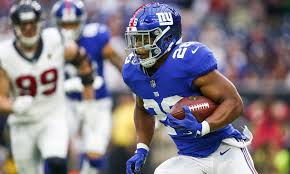 Our NFC New York Giants Preview 2019 projects this team to be much like last year's. This New York Giants Preview 2019 observes that since going 11-5 in 2016 and qualifying for the playoffs, the football Giants have won a total of eight games over the past two seasons. In 2018, they were 5-11, finishing last in the NFC East. That was the third-worst record in the NFC. Head coach Pat Schurmur (5-11 Giants, 14-34 Overall) starts his second season at the helm. Last year, the Giants had issues on both sides of the ball, but they were especially vulnerable on defense. DC James Bettcher, who like Schurmur and OC Mike Shula, starts his second season in his position with the Giants, has a wealth of new players to work with. Results will be expected.
New York Giants Preview 2019 – Team
Over the past five seasons, the Giants have gone 31-49, and in that time, they've had one winning season. This is a team that's in need of a few things, including a much better offensive and defensive line. Eli Manning (576 ATT, 380 COMP, 4,299 YDs, 21 TDs, 11 INTs), who has struggled as of late, goes into the final year of his contract. First-round draft pick Daniel Jones, who was chosen sixth overall and played for Duke, may be the heir apparent or a bust. One thing is certain, this NY Giants team has a lot of question marks.
New York – Offense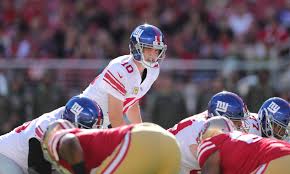 Last season, the Giant offense was, in some ways, average, scoring 23.1 PPG (15th), but also below average, posting 103.1 rushing YPG (24th). They were strongest passing, averaging 252.9 YPG (11th) and average in points per game, posting 23.1 per contest (16th). In terms of third-down conversions, the team was good on 37% of their attempts (T-19th). They allowed 47 sacks (T-22nd). Improvements are needed in both of these last two areas, as well as in the overall offense.
We don't expect Manning to have his contract extended unless he's able to go beyond expectations. Can he lead this team to the playoffs? Two things will work against him. The first is his receiving corps, and the second is his line. The Giants lose WR Odell Beckham and his 77 catches, 1,052 receiving yards, and six TDs. That's a major blow. Golden Tate, who last season played with Detroit and Philadelphia, joins the team. In 2018, Tate made 74 catches for 795 yards and four scores. Our New York Giants Preview 2019 notes that Sterling Shepard (66 REC, 872 YDs, 13.2 AVG, 4 TDs) and Evan Engram (45 REC, 577 YDs, 12.8 AVG, 3 TDs) return. Dual-threat RB Saquon Barkley (261 ATT, 1,307 YDs, 5.0 AVG, 11 TDs) is an exceptional talent. In 2018, he caught 91 passes for 721 yards and four scores. The O-line needs help.
Giants – Defense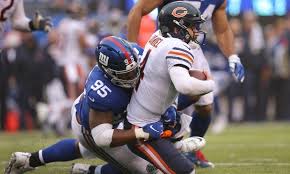 Last season, the NY defense was subpar. They ranked 24th in total defense (371.4 YPG) and 23rd in points allowed (25.8 PG). The D gave up 252.8 passing YPG (23rd) and 103.1 rushing yards (20th). Their ranking of 30th in sacks allowed (30) was disappointing. One highlight, the Giants were seventh in interceptions (16). Finally, their turnover differential of +2 tied them for 13th.
Both the line and linebacking unit need work.
The D-line sees four vets disembark while versatile tackle Dexter Lawrence, a free agent, joins R.J. McIntosh, Dalvin Thomlinson, and B.J. Hill. They will look to add another veteran. Our New York Giants Preview 2019 finds that this will be a group effort, as will the LB unit. The Giants' sack leader Olivier Vernon (7 SCKs) goes to Cleveland. If Markus Golden stays healthy and regains his form and Alec Ogletree (93 TKLs, 5 INTs) builds on what he did last season, the LBs will be effective. In the secondary, Janoris Jenkins returns to serve as this unit's anchor. Look for Sam Beal and Deander Baker to battle for the second spot. Versatile Jabrill Peppers is a proven entity at safety and comes to the team from Cleveland. Antoine Bethea looks to be the other safety.
Special Teams
Last season, the return game was thin. It's hoped that Peppers will revitalize this aspect of the special teams. Punter Riley Dixon averaged 41.8 YPP net (7th). He placed 20 punts within the 20. Placekicker Aldick Rosas (31-32 XP, 32-33 FG), who appeared to be on the outs, rose from the ashes to have a Pro Bowl season. Along with featuring a strong and accurate leg on field goals, he consistently placed the ball deep into the end zone on kickoffs.
New York Giants Preview 2019 – Prediction
How will these Giants do in 2019? Our New York Giants Preview 2019 finds that this team will most likely perform better than they did last season, but not good enough to get into the postseason. The big question is will Jones replace Manning at some point this season? The other major concern is on defense, which must step up. If they don't, this could be a long season for these New York football Giants.
Our Ratings
Quarterbacks – 7.2
Running Backs – 9.7
Receivers – 6.9
Offensive Linemen – 6.3
Defensive Linemen – 6.5
Linebackers – 6.0
Secondary – 7.3
Special Teams – 6.8
Coaching – 7.0
New York Giants Preview 2019 – Projection
New York Giants Third in NFC East
LINKS