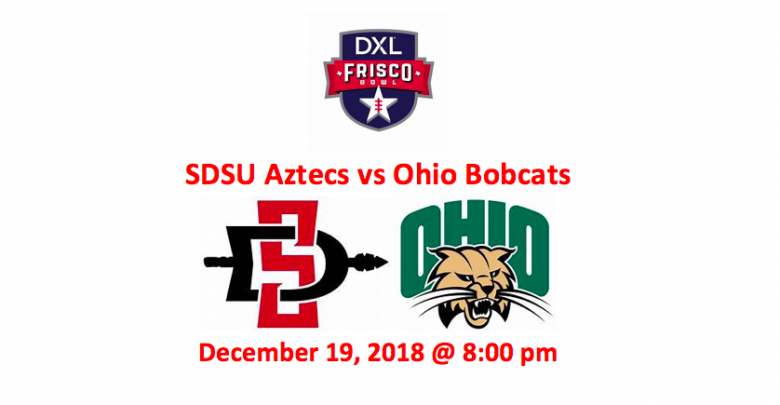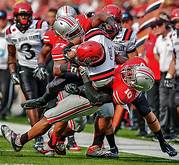 The Ohio Bobcats (8-4, 2nd MAC – West) play the San Diego State Aztecs (7-4, 4th MW – West) on Wednesday, Dec. 19 at 8:00 p.m. E.T. in the Frisco Bowl. Our 2018 Frisco Bowl pick offer the Bobcats at -2.5. The over/under for this game sits at 53.5. This is the seventh FBS game of 2018-19. By the time Saturday's games are finished, 14 FBS games will have been played. Our 2018 Frisco Bowl preview, first considers where each team is coming from.
Ohio proved to be inconsistent this season. They went 2-2 in non-conferece play. Five cames into their MAC season, they were 4-1. A loss to Miami (OH) and two final wins capped their season as the Bobcats finished 6-2 in the MAC. The SDSU Aztecs started their season with a 6-1 record. Five games into conference play, they were at 4-1. Then they lost their final three league games of the season. That included a 27-24 loss to UNLV and a 31-30 OT loss to Hawai'i. Here's our 2018 Frisco Bowl preview of each team.
Ohio Analysis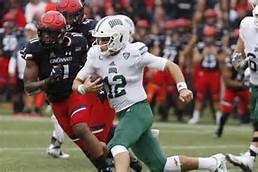 The Bobcat offense is certainly explosive. The team averaged 41.2 PPG. Of their 470.6 yards-per-game of offense, 262.2 YPG were earned through the ground attack. Junior QB Nathan Rourke (61.3 COMP%, 22 TDs, 7 INTs) will be the signal caller. Senior Papi White (58 REC, 15.5 YPC, 9 TDs), who is Rourke's favorite target, leads the team in all major reception areas, including total receiving yards (897). Senior A.J. Oulette will head up the ground game. Oulette, who has a dozen rushing TDs, is averaging 6.2 YPA and has amassed 1,142 yards on the ground. Two other players have each gained 800-plus yards this season. One is senior RB Maleek Irons. Irons has 831 yards and eight TDs. He's averaging 6.6 YPA. The other is QB Rourke. Rourke comes to the game with 816 yards, a 6.1 YPA averaged, and 13 TDs.
Our 2018 Frisco Bowl preview notes that Ohio will certainly needs to score a lot of points. After all, they give up a bumch per game. Opponents scored on average 26.7 PPG against the Bobcats. Of the 399.6 yards they allowed opposing teams, 263.8 YPG were in the air. The team has a healthy 74 TFL but a mere 22 sacks. They also have 14 picks and 62 PD. Senior LB Evan Croutch is a standout. This season, he had four sacks, 11.5 TFL, two INTs and six PD. This is not the strongest defense, and that will help to keeo the game closer than you might imagine.
San Diego State Analysis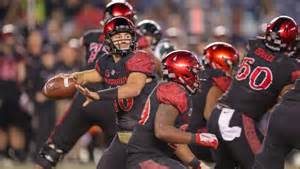 The Aztec offense is certainly not as effective or productive as Ohio's. SDSU has averaged 22.3 PPG. They have been averaging 354 YPG. Yards passing stand at 191.6, while rushing yards come to 162.4 YPG. The primary offensive weapon for this team is RB Juwan Washington. Washington has gained a total of 870 yards and scored 10 TDs. He's averaging 4.8 YPA. Chase Jasmin is the other ground attack weapon. Jasmin, who is averaging 4.3 YPA and gained a total of 592 yards, has scored fibe times. QB Ryan Agnew (52.3 COMP%, 10 TDs, 5 INTs) has passed for just 1525 yards this season. Senior RW Fred Trevillion (22 REC, 27.2 YPC, 3 TDs) and junior TE Kahale Warring (31 REC, 12.0 YPC, 3 TDs) are his primary targets.
Our 2018 Frisco Bowl preview finds that SDSU has a solid defense. They've allowed 21.8 PPG. The team has been very tough against the rush, giving up just 94.5 YPG. On the other hand, they are allowing 232.9 passing yards per game. Senior LB Kyahva Tezino can bring it. He leads the team in tackles (116), sacks (8.5), and TFL (14.5). Junior safety Trenton Thompson is first in picks (3) and PD (9) and second in tackles (101). He also had a sack, three FF, and 5.5 TFL. As a team, the Aztecs have 64 TFL and 24 sacks. Our 2018 Frisco Bowl pick sees this D as having to work tirelessly to stop Ohio's unrelenting ground attack.
Five Keys to the Game
Ohio's ground game needs to run, run, run
SDSU's defense must control line of scrimmage
Bobcats passing game can be problematic
Aztecs offense has to step up
Ohio has to utilize all of the usual suspect to excel on offense
2018 Frisco Bowl Pick
In creating our 2018 Frisco Bowl preview, we came to the conclusion that SDSU will score about 10 points or so against this Bobcat defense. At the same time, we expect the Aztecs to toss up around 29. That takes us to the under at 53.5. When it comes to our spread pick, we do like th Ohio Bobcats at -2.5. That's our 2018 Frisco Bowl Pick. For more bowl picks, please see our complete list of 2018-19 college football bowls.
Summary SDSU Aztecs vs Ohio Bobcats Picks: Ohio at -2.5 and under 53.5