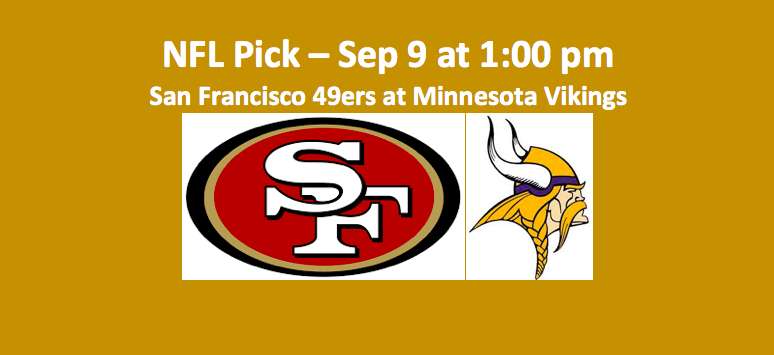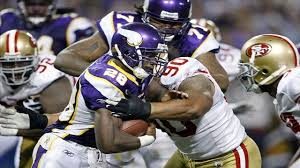 The San Francisco 49ers open their 2018 season on the road against the Minnesota Vikings. In the preseason, the 49ers were 1-3. During the preseason, the Vikings went 3-1. Kickoff is set for 1 p.m. E.T. The Niners are seen as a team very much on the way up. But they are also considered to be a club that is a work-in-progress. Last year, they were winless until the end of the season, when, with Jimmy Garopolo at the helm, they won five of their last six contests. Minnesota is a team that is thought to have arrived. Last season, they won the NFC North and, after beating New Orleans in the playoffs, lost in the NFC title game to the Philadelphia Eagles. Our 2018 San Francisco plays Minnesota pick has the Vikings at -6.5 and the over/under at 45.5.
San Francisco Offense at Vikings D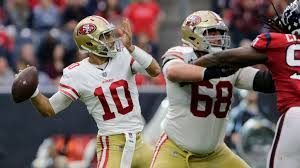 Jimmy Garopolo certainly had a good last few games of the season. But the celebrating regarding his skill and potential may be a bit premature. The wideouts include Pierre Garcon and Marquise Goodwin. Garcon is sure-handed and a major force when healthy, while Goodwin has a nose for the end zone. TE George Kittle, who looked good in his rookie season, could have a big game. Former Washington and Dallas RB Alfred Morris starts. In six seasons, he's run for 32 TDs. The O-line is decent, but not as deep as one would like.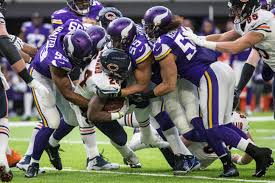 The Minnesota defense allowed opponents fewer than 16 PPG last season. This was a team that was equally tough against the run and pass. Along with being top-notch at limiting points, they also did a fine job limiting yardage. The Vikings will make the 49ers work hard for every yard and each point.
Minnesota Offense at 49ers Defense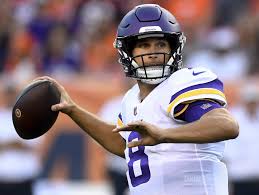 QB Kirk Cousins, who comes to the Vikings from the Skins, is the man of the hours and under a lot of pressure. When they brought him in, Minnesota gave up three fine QBs. Wideouts Adam Thielen and Stefon Diggs are fast, reliable, and explosive. TE Kyle Rudolph should prove to be a tough matchup for the Niners. We expect Cousins to connect with him often. RB Dalvin Cook looks to be healthy and ready to go. Cook is rugged and fast rusher. The O-line looks ready once again to offer quality protection for the quarterback.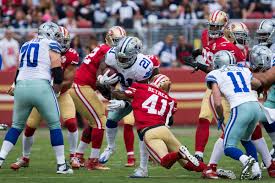 The 49ers defense offers a fine D-line. They have a solid front four. But the team still lacks someone who's an avid sack artist. A major issue for this team is the LB unit. They're the weakest part of the D. Finally, the secondary includes the aggressive, skilled, and talented Richard Sherman. Sherman was formerly with the Seahawks. He may help them in the pick department.
2018 San Francisco Plays Minnesota Pick
We have to wonder how many points will be scored in this game. Although Cousins is new to the Vikings, he seems to have settled in. Plus, the Niner D can give up quite a few points. We don't think SF will put more than 21 points on the board. If the Vikings are good for 31, that means they'll cover and the game will go over. Our 2018 San Francisco plays Minnesota pick is the Vikings at -6.5 and the over at 45.5
Summary 49ers at Vikings Picks: Minnesota at -6.5 and over 45.5