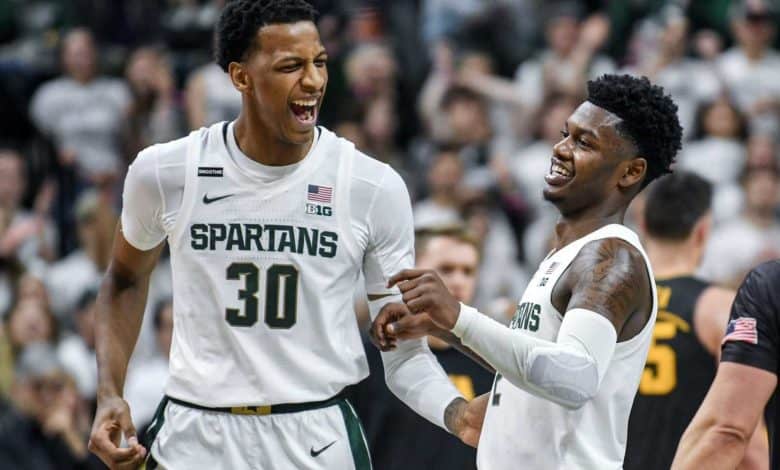 Do Tom Izzo and the #10 seed Michigan State Spartans need to be on upset alert Friday night against the Davidson Wildcats? MSU was struggling down the stretch with losses in 7 of their last 10 after starting the year 14-2, but appeared to have found the Izzo March Magic in the Big Ten Tournament with wins over Maryland and Wisconsin before a close loss to Purdue. 
Davidson (27-6) received an at-large bid despite their A10 Championship Game loss to Richmond. The Spiders knocked out Iowa in Thursday's opening round in a #12/#5 matchup, so the Wildcats have to be beaming with confidence in another Atlantic 10 vs. Big Ten showdown in the #10/#7 field. 
Davidson Wildcats See A Familiar Face
Davidson's leading scorer is Foster Loyer, a point guard who should be very familiar with this Spartans program. Loyer, a Clarkston Michigan native, spent the last three seasons with Michigan State before entering the transfer portal to try and get more playing time. He averaged 4.2 ppg in 16.6 mpg last year with MSU, but is up to 16.8 in 31.2 mpg this season showing that the transfer decision has paid off. 
Loyer is not the only Wildcats player capable of putting up double figures on Friday, as Hyungjung Lee (16.5 ppg) had a couple 27+ outings last month while 6'10", 250 pound  Luka Brajkovich has a double double in three of his last six. Michael Jones (11.9 ppg) had 17 points and 5 rebounds in the A10 Championship Game. 
Michigan State Can't Fall Prey
Perhaps the best thing to happen to the Spartans this weekend was their Big Ten brethren losing to Richmond, an Atlantic 10 team just like Davidson. The Hawkeyes looked worn down, but Michigan State losing last Saturday and then having an extra day of rest for the Friday game can only be positives as well. 
One real good thing Michigan State has going for them in this 1st round matchup is that a couple of their key players are Seniors. That includes 7-footer Marcus Bingham, Jr. who had 19/11 in the B10 Tournament win over Wisconsin and leading scorer Gabe Brown who averages 11.5 ppg. 
NCAA Tournament Davidson vs Michigan State Betting Info
Michigan State is just a -1 point favorite, one of the major reasons this game seems like it could go Davidson's way. Oddsmakers know that a hefty chunk of the public is always going to take the Spartans and Izzo in March, but interestingly enough betting is split nearly 50/50 on this one. 
NCAA Tournament Davidson vs Michigan State Pick 
While Davidson has put up some impressive numbers, one thing that has to be taken into account is their quality of competition, playing a strength of schedule that is ranked 122nd in the country compared to 11th for the Spartans.
Michigan State stumbled a bit towards the end of the regular season, but also against the likes of Ohio State, Michigan, Iowa, Illinois, Wisconsin, and Rutgers – all NCAA Tournament teams. Gotta go Sparty in this one especially to set up a possible showdown with Mike Krzyzewski and Duke in round 2. 
Free Pick: Michigan State -1