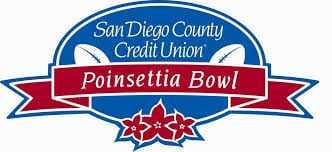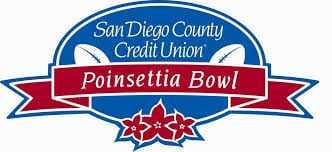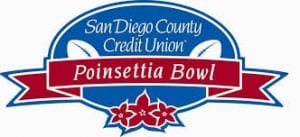 Our 2016 San Diego County Credit Union Poinsettia Bowl preview features the BYU Cougars playing the Wyoming Cowboys. BYU had a tough season, losing four of five by three points or less. They'd love to have this bowl win. For the Cowboys, this is a rebound season after last year where they went 2-10. This year they played in the Mountain West title game and go to a bowl! Not a bad turnaround.
The BYU Cougars (8-4 Overall), which is one of four major Independents, started the season beating Arizona by two and then losing their next three games by one to three points each and a later Boise State contest by one. However, they also took down Toledo 55-53, Michigan State 31-14 and Mississippi State 28-21 in OT. After the Boise State loss, they finished the season with four wins, including a 28-10 victory over Utah State.
The Wyoming Cowboys (8-5 Overall, 6-2 Mountain West Conference) started out the nonconference part of their season 2-2. They reeled off five straight MWC wins until they lost a triple OT game to UNLV 69-66. Another win and another loss were good enough to allow them to meet San Diego State in the MWC title game. It was a close one with Wyoming losing 27-24.
BYU Cougars
The Cougars are definitely a ground attack team. Of their 40 touchdowns, 26 have been rushing. Their total passing yards are 2,477, while their rushing yards are almost equal to that at 2,399. The team is averaging 30.0 PPG. In the red zone, they're successful 94.23% of the time while opponents break in for a score just 72.73%.
Don't expect QB Taysom Hill (59.7 COMP%, 12 TDs, 11 INTs) to pass a whole lot. The offensive spark will primarily be RB Jamaal Williams (208 ATT, 1165 YDs, 5.6 AVG, 11 TDs). Second in line will be Hill who is averaging 4.4 YPA and has score eight times rushing. Expect wideouts Nick Kurtz and Colby Pearson to see some action. Each is averaging just over 10 YPC and Kurtx has two TDs while Pearson has scored four times.
The defense, which is holding teams to 19.4 PPG, brings a respectable 29 sacks, 71 TFL, and 19 INTs to this game. Their QB hurries and passes broken up totals are fairly low. BYU has forced 14 fumbles and has a turnover margin of plus 12, which is very solid. The D is performing well against both the rush and pass.
Wyoming Cowboys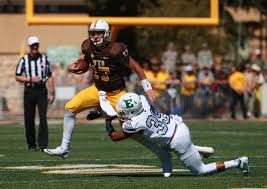 Wyoming may be scoring 37.1 PPG, but they are also allowing opponents 34.8 PPG. That's alarming especially because BYU has a fine defense as well as a dynamic offense. They will split duties fairly evenly between the rush and pass. The team has 30 running TDs, and they have scored 27 through the air.
Wyoming QB Josh Allen (56.3 COMP%, 26 TDs, 13 INTs) offers soild play as a passer and runner. He's averaging 3.6 YPA and has seven rushing touchdowns. The team's primary ball carrier is, like BYU's, names Hill. But his full name is Brian Hill (323 ATT, 1,767 YDs, 5.5 AVG, 21 TDs.) and he's an amazing running back. WR Tanner Gentry (65 REC, 1,213 YDs, 18.7 AVG, 12 TDs) can find the goal line at any time and often.
On defense, there are some stats about which to be concerned. First, opponents scored 32 rushing TDs against the Cowboys and gained 2,635 yards against them on the ground. They also allowed close to 3,400 yards in passing. The squad does have 29 sacks, 76 TFL, and 14 interceptions. The Wyoming defense has broken up 39 passes and accumulated 13 QB hurries. They have also forced 15 fumbles. The Cowboys' turnover margin is plus 3. BYU may just run all over these guys.
2016 San Diego County Credit Union Poinsettia Bowl Preview
It's easy to get caught up in the offensive numbers is this game. Doing so gives Wyoming an edge. But there are other numbers to consider. BYU comes to the field with a much better field goal percentage, 76% to 65%, better red zone scoring percentage, 72.73% to 84%, and a bigger turnover margin, plus 12 to plus 3. Plus, they are holding team to under 20 PPG while the Cowboys are allowing almost 35.
We think the BYU defense will outperform the Cowboy offense and the Cougar running game will swamp the Wyoming D. In our 2016 San Diego County Credit Union Poinsettia Bowl preview, we are going with BYU at -10.0.
The 2016 San Diego County Credit Union Poinsettia Bowl will be played Dec. 22 at 9 p.m. ET at Qualcomm Stadium, San Diego. It will air on ESPN.
2016 San Diego County Credit Union Poinsettia Bowl Preview: BYU at -10.0