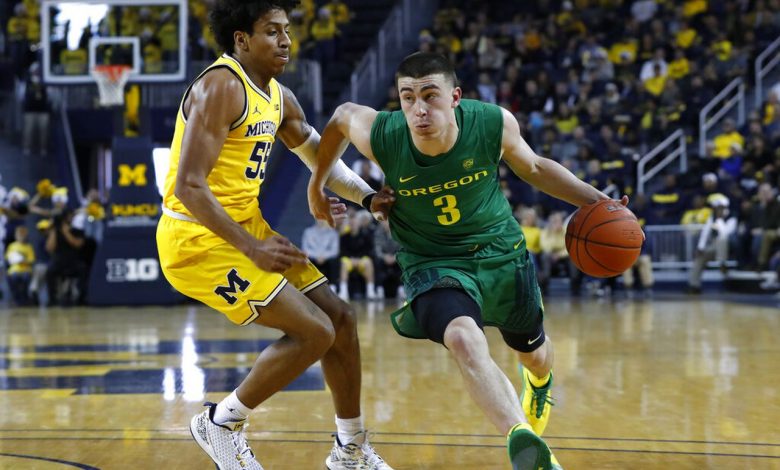 Pac-12 play got underway Thursday night, and the fun continues on Saturday with a game between the No. 4 Oregon Ducks and the Utah Utes, the two schools that battled it out for the league's football title. On the road, the Ducks are five-point favorites, with an over/under of 144.5 points.
The Utes were hoping to enter conference play on the heels of a six-game winning streak. But after knocking off Kentucky a week before Christmas, Utah returned from the holiday break and was crushed by San Diego State 80-52. Fortunately for the Utes, they were able to bounce back quickly, knocking off Oregon State 81-69 in their Pac-12 opener to improve to 10-3 on the season.
Meanwhile, Oregon entered conference play as the favorite in the Pac-12, only to lose its conference opener on Thursday to Colorado. Oregon had won five straight games following back-to-back losses to Gonzaga and North Carolina when they visited the Bahamas in late November. That stretch included a road win over Michigan, but the Ducks couldn't survive a poor shooting night in Colorado.
A Little Help
Oregon senior guard Payton Pritchard is undoubtedly one of the biggest stars in the Pac-12 this season. He's averaging over 18 points per game to lead the Ducks and has come up big in the team's biggest games.
In the overtime win over Michigan, Pritchard scored 23 points, with 19 of them coming after halftime. He even managed to do that without making a three-point shot, as he was unafraid to attack the basket against the Wolverines.
However, Pritchard's 21 points against Colorado weren't enough. He still needs a little bit of help and didn't get nearly enough from Chris Duarte and Anthony Mathis. Both had bad shooting nights against Colorado, which is something Oregon can't afford to have happen against quality teams.
On the bright side, the Ducks have received a boost in recent weeks in their frontcourt from Shakur Justin and N'Faly Dante, who provide some much-needed size and rebounding ability.
One Shining Star
While the Ducks have Pritchard, Utah also has a Pac-12 Player of the Year candidate in Timmy Allen, who's averaging over 21 points per game. Allen gets to the basket with reckless abandon and is also a force on the boards.
It remains to be seen whether Oregon has a player who can keep him contained. The Ducks may need to give Allen several different looks defensively in an effort to slow him down.
Of course, Utah's chances in this game could come down to its supporting cast, which was nowhere to be seen in the loss to San Diego State. The backcourt tandem of Rylan Jones and Both Gach has been a little inconsistent this year, which is why the Utes have some puzzling losses on their record.
Jones, in particular, is a potential game-changer, as the freshman point guard averages five assists per game. But if the Utes don't get scoring from both Jones and Gach, it'll be hard for Allen alone to keep Utah within striking distance.
Quack Attack
The Utes played lights out in their win over Kentucky, but that performance will be tough to replicate. The Ducks are a good shooting team and won't have another off night like the one they did Thursday in Colorado. Bet on Oregon to cover the five-point spread.