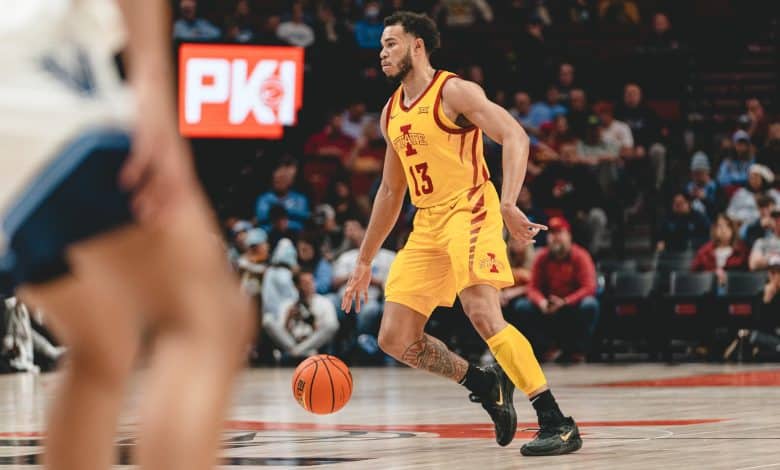 Pollsters did not like the Cyclones' first home loss of the season over the weekend, plummeting them 8 spots down to #19 heading into Wednesday's TCU at Iowa State betting matchup. The Cyclones are still a very solid 12-1 at the Hilton Coliseum this season, but they are now not invincible which is why ISU is just a -3.5 point favorite vs. the Horned Frogs.
Texas Christian has lost three in a row and four of their last five which has derailed a very strong start to Big 12 play. This conference is a battlefield though, which is why public betting is a very slight 47/53 in favor of the Cyclones to cover the -3.5.
Why TCU State Can Cover +3.5 Points
The biggest reason the Horned Frogs can cover +3.5 points on Wednesday night is because this is the Big 12. Just two games separate conference leading Kansas and 7th place TCU.
The Horned Frogs are undoubtedly slumping a bit with four losses in their last five games, but Saturday's 72-68 loss at home to #9 Baylor wasn't a bad showing considering TCU was without leading scorer Mike Miles, Jr. as well as starting center Eddie Lampkin, Jr. Damion Baugh stepped up with 16 points and TCU pushed 70 points against the #4 defense in the Big 12.
The 6'11, 263 pound Lampkin, Jr. has at least been upgraded to questionable for the TCU at Iowa State betting matchup, and getting him back in the lineup would be a big addition if anything just as a rim protector for TCU's #5 Big 12 scoring defense. Iowa State has won two in a row in the series, but the Horned Frogs had dominated prior to that with wins in 7 of the previous 8.
Why Iowa State Can Cover -3.5 Points
The Cyclones had hoped to go undefeated in Ames this season, but you have to put Saturday's 64-56 loss to Oklahoma State as -7 point favorites in the rear view. You're not going to win a lot of games shooting 34% from the field and just 9-19 from the free throw line so ISU has to just take that game for the dud that it was.
Now the goal for Iowa State is to get back on track because they have lost four of their last five games and have to feel their conference title hopes slipping – although they are still just a game out of 1st place. The Cyclones still played fairly efficient defense over the weekend holding OSU to 64 points and two games prior to that held Kansas to 53.
Iowa State's problem in the loss to Oklahoma State was their offense, as Tamin Lipsey was the only starter scoring in double figures. On the bright side the Cyclones already beat TCU in Ft. Worth this season 69-67 as +5.5 underdogs with five players scoring in double figures. The Cyclones might just match up well with TCU.
Free TCU at Iowa State Betting Pick
This is a tougher game to handicap than it originally looked, but ultimately Miles, Jr. continuing to be out and Iowa State getting the wake up call that they are not invincible at home with the loss to Oklahoma State over the weekend puts this one a Cyclones play.
Free Pick: Iowa State -3.5