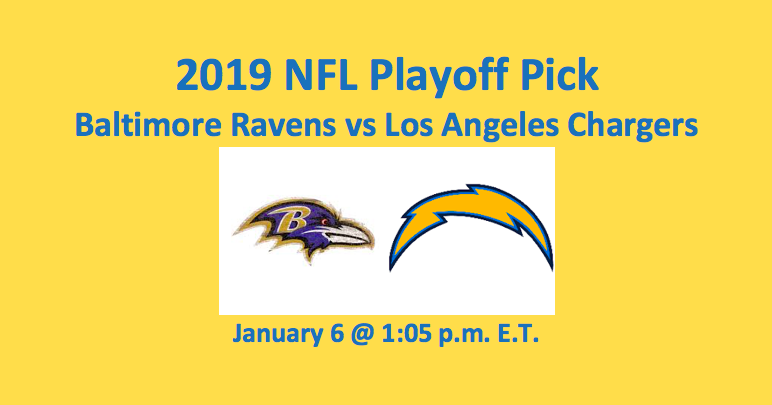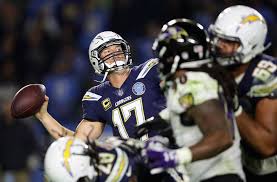 The Baltimore Ravens (10-6) host the Los Angeles Chargers (12-4) today, Sunday, Jan. 6, in first of two NFL wild card games to be played. The game kicks off at 1:05 pm ET at M&T Bank Stadium in Baltimore, MD. The Chargers come to this game with a 12-4 record, which, although it was good enough to win the other three AFC divisions, got them the first wild card spot as the AFC West crown came down to a tiebreaker between the Chargers and the 12-4 Kansas City Chiefs. The Ravens, on the other hand, won the AFC North outright. Our Baltimore Ravens vs Los Angeles Chargers pick has the home team favored by either 2.5 or 3.0. The over/under is 42.5.
Past Performance and Recent Meetings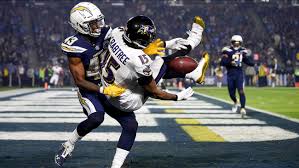 Our Baltimore Ravens vs Los Angeles Chargers preview notes that what stands out in this matchup is one game this season between these two teams. On Dec. 22, the Chargers visited the Ravens and were beaten 22-10. LA came to Baltimore with a four-game winning streak, having won 10 of their last 11, and averaging 33.3 PPG during their last four wins.
In that game, Los Angeles QB Phillip Rivers was picked twice, sacked four times and passed for just 181 yards. His QBR, which for the season comes in at 71.2, was 30.2. He did not have a TD pass. During the season, he averaged two TD passes a game. Despite that loss, the Chargers won their next and final game of the season, beating Denver 23-9. The Broncos had previously beaten the Chargers 23-22 on Nov 18.
In the middle of the season, the Ravens went on a 1-4 spiral, losing to Cleveland, New Orleans, Carolina, and Pittsburgh. The team then has their bye week and came back on Nov. 18 to post a 6-1 mark. Their only over that period was at Kansas City in OT 27-24. After that loss, Baltimore Ravens ran off three straight wins to take the division title. Our Baltimore Ravens vs Los Angeles Chargers pick gives a slight edge to the Ravens in recent meetings and past perfoemance.
Edge: Baltimore
Offense and Defense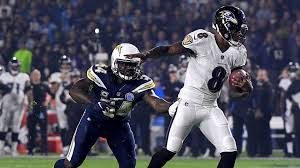 Although the Chargers seem to be a team that can simply manufacture points whenever they want to and the Ravens seem to be a team that rarely scores, neither of these assumptions is true. The stats tell no lies, and although Baltimore averaged fewer points per game than the Chargers this season, they scored more often than one might think. Los Angles averaged 26.8 PPG (tied 6th NFL), while the Ravens put up 24.3 PPG (13th NFL).
On defense, Baltimore allowed the second-fewest points per game, 17.9. The Chargers gave up 20.6 PPG (8th NFL). The Ravens allowed 201.0 passing yards per game (5th NFL) and 82.9 rushing yards per game (4th NFL). The Chargers D was overall solid, allowing 227.9 YPG in the air (9th NFL) and 105.8 YPG on the ground (9th NFL). In PF, the Chargers are +2.5 over the Ravens, while in PA, Baltimore is +2.7 over the Chargers, making these stats just about even.
Our Baltimore Ravens vs Los Angeles Chargers preview notes that Baltimore has had a fumble problem and in terms of Takeaways/Giveaways are -3, while today's visiting team is +1. The Ravens did post 43 sacks and 93.5 TFL. They grabbed 12 picks and defended 87 passes. The Chargers had 38 sacks and 78 TFL, while they intercepted 13 passes and defended 73. The Ravens have an advantage in these basic defensive categories.
Edge: Baltimore
Key Players
Here's a quick look at key players for each team. Their performances today could mean the difference between winning and losing.
Chargers Offense
The Chargers will look to QB Philip Rivers (68.3 COMP%, 32 TDs, 12 INTs) to lead the way on offense. Rivers has passed for over 4,300 yards this season and has been sacked 32 times. He's got a fine group of receivers to toss to, including Keenan Allen, Mike Williams, and Tyrell Williams. Together they have 182 catches for over 2,400 yards, and a total of 21 TDs. Allen is Rivers favorite target with 97 receptions for 1,196 yards. RB Melvin Gordon (175 ATT, 885 YDs, 5.1 YPA, 10 TDs) anchors the ground game. He tweaked his ankle in the final game of the season but is expected to play
Chargers Defense
On defense for the Chargers, our Baltimore Ravens vs Los Angeles Chargers pick notes that top performers have been DE Melvin Ingram, safety Derwin James, and corner Desmond King. Ingram leads the team with seven sacks and 11.5 TFL. He's also defended three passes, grabbed a pick and forced and recovered a fumble. James tops the team in tackles with 105. He has 3.5 sacks, 4.5 TFL, and 13 PD. The safety has also made three picks. Corner King comes to this game with three interceptions, 10 passes defended, and two forced fumbles.
Ravens Offense
Rookie QB Lamar Jackson (58.2 COMP5, 6 TDs, 3 INTs) has, overall, played well since replacing injured QB Joe Flacco. In the last game of the season against Cleveland, Jackson completed 14 of his 24 pass attempts for 179 yards. He threw no touchdowns or interceptions, as the Ravens won 26-24. In the game, Jackson also had 90 yards and two touchdowns on 20 carries. As a rusher, the quarterback is averaging 4.7 YPA and has carried the ball over the goal line five times. RB Gus Edwards has gained 272 of his 718 rushing yards over the past three games. Edwards can eat up yards. The receiving group, which is deep, is led by WR John Brown. Brown has 42 catches for 715 yards and five touchdowns. He's averaging 17.0 YPC.
Ravens Defense
LB Za'Darius Smith leads the D. He's posed 8.5 sacks and 12.0 TFL, while fellow LB Matthew Judon has notched seven sacks and 10.5 TFL. LB C.J. Mosely tops the team with 105 tackles. He's notched one pick, made seven TFL, and defended five passes. Safety Tony Jefferson, who's second in tackles with 74, has posted six TFL, six PD, and one INT. He's also forced and recovered a fumble.
Assessment
Our Baltimore Ravens vs Los Angeles Chargers pick finds that if the Baltimore defense can stifle Rivers and company, the Ravens will win this game. The Raven offense has come together under Jackson, passing just enough and utilizing the young QB's versatility, as well as Edwards bull-like rushing. The Chargers have a good defense and a fine secondary, but may be challenged by Jackson's passing/rushing abilities. QB Rivers comes to this game with another productive season under his belt and a top-notch group of receivers. But his frontline has to defend him. Our Baltimore Ravens vs Los Angeles Chargers pick is giving the Ravens another slight edge here.
Edge: Baltimore
Baltimore Ravens vs Los Angeles Chargers Pick
Our Baltimore Ravens vs Los Angeles Chargers pick is the home team Ravens at -2.5. We're counting on their defense. With that in mind, we're taking the under at 42.5. Our fourth and final pick for the NFL wild card round featuring the Philadelphia Eagles and Chicago Bears will be posted later today.
Summary Baltimore Ravens vs Los Angeles Chargers Pick Summary: Baltimore at -2.5 and under 42.5