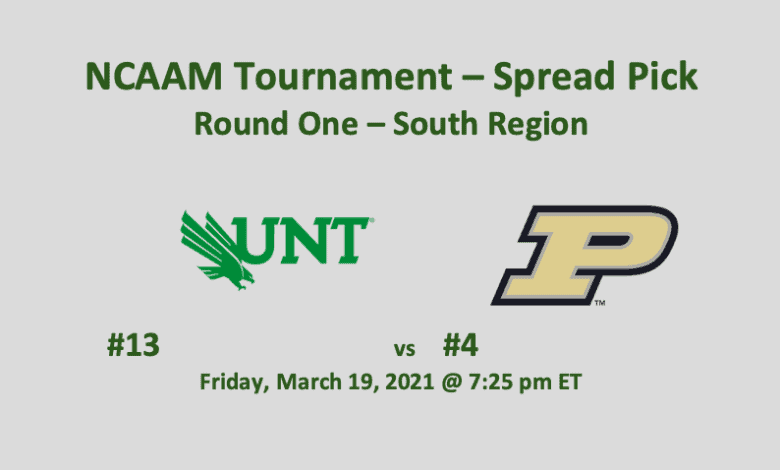 Our North Texas vs Purdue pick is the next-to-last game in Round 1 of the 2021 NCAA Tournament's South Region. The Boilermakers are favored and at -7.5 (-110), while the Mean Green are +7.5 (-110). After finishing third in their CUSA Division, North Texas took the conference tournament by beating the Western Kentucky Hilltoppers 61-57 in OT. Over their last five games, North Texas is 4-1. The Purdue Boilermakers, who've won four of their last five matchups, ended up fourth in the Big Ten. In the Quarterfinals, the Boilermakers lost to the Ohio State Buckeyes 87-78 in OT. The Mean Green and Boilermakers will meet on Friday, March 19 at 7:25 pm ET. The game will be held at Lucas Oil Stadium in Indianapolis, IN. We've got a great Oregon State vs Tennessee pick.
North Texas vs Purdue Pick – Stats
The Mean Green come to this contest with a 47.5 FG%, 37.6 3PT%, and 73.4 FT%. The Boilermakers are a bit lower when it comes to shotting, recording the following corresponding totals of 45.1%/33.5%/71.1%. However, Purdue is outscoring North Texas by a tad, 71.1 PPG to 69.8 PPG. The Boilermakers are also better on rebounds (37.6-33.3) and assists (14.3-13.3). Turnovers, steals and blocks come in close to even.
Key Players
The Mean Green come to this game with four double-digit scorers. Two are in the backcourt and two are in the paint. In back, guard Javion Hamlet leads the team with 15.0 PPG and 4.5 APG. He's also good for 3.3 RPG. Additionally, in the back, James Reese is scoring 10.8 PPG and bringing down 4.5 RPG. In the paint, forward Zachary Simmons comes with a 65.9 FG%. Simmons, who's grabbing 6.2 RPG, is scoring 10.3 PPG. Thomas Bell, who's shooting 52.9%, is averaging 10.3 PPG as well as 5.7 RPG.
Two premium players, forward Trevion Williams and guard Jaden Ivey, make the Boilermakers run. Williams leads the team with 15.6 PPG and 9.0 RPG while shooting 52.7% from the field. In the backcourt, Ivey offers 10.5 PPG. Additionally, guard Sasha Stefanovic is averaging 9.3 PPG and center Zach Edey 9.0 PPG and 4.5 RPG. Around the rim, Williams is shooting 52.7% and Edey 60.5%
North Texas vs Purdue Pick – Final Thoughts
Our North Texas vs Purdue pick likes the Mean Green's shooting chops. On the other hand, we find that the edges in points, rebounds, and assists help the Boilermakers a bit. Still, we project that North Texas will keep it relatively close. We like the Mean Green at +7.5 (-110).
#13 North Texas Mean Green vs #4 Purdue Boilermakers
North Texas Mean Green at +7.5 (-110)