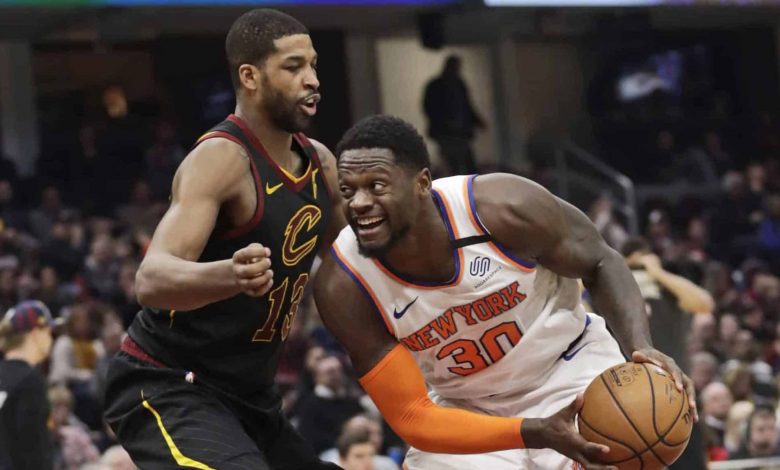 It's a Big Apple battle Sunday at Madison Square Garden, as the New York Knicks (12-34) host the Brooklyn Nets (19-25). The Nets look to maintain their spot as the eighth seed in the NBA's Eastern Conference, while the Knicks are hoping to beat their rival for the second time this season.
Here is a preview of this matchup, along with odds and a free pick.
By The Numbers
We'll start with Brooklyn, who on Saturday snapped its five-game skid with an overtime win against the Pistons. The Nets are 18th in points per game with 109.6, scoring on 44 percent of their shots. They're in the top 10 in three-pointers made with an average of 12.5 per game, but also have the third-lowest three-point percentage with .336.
The Nets are a very good rebounding team, though, ranking ninth in offensive rebounds and second in overall rebounds per game.
Brooklyn is also 18th in points allowed, giving up an average of 112.0 per game. However, opponents are shooting just 43.9 percent against the Nets, fourth in the NBA. Steals and blocks are not the Nets' forte, as they rank 26th with 6.8 steals and 19th with 4.6 blocks per game.
The Knicks' loss to the Raptors on Friday was their eighth in their last 10 contests. New York is a paltry 28th in points scored with 104.2 per game, thanks in part to a .435 field-goal percentage that ranks 26th.
The Knicks are also 28th in three-pointers made with 10.2 and have the league's worst free-throw percentage at 69.5 percent. They are, however, the best offensive rebounding team in the NBA with 12 per game, while also sitting in the top 10 in fewest turnovers.
New York is right behind Brooklyn in terms of points allowed, giving up 112.1 per game, which ranks 19th. Teams are shooting 46.5 percent against the Knicks as a whole, but a league-high 38.8 percent on threes.
New York also allows more threes than anyone at 13.6 per game. In terms of steals and blocks, the Knicks are 17th with 7.6 steals and 21st with 4.5 blocks.
Who To Watch
While the wins haven't come with him on the court, Kyrie Irving is the focal point of the Nets. Irving is coming off a 45-point performance against Detroit in which he also had seven assists and just one turnover. In a season abbreviated by a shoulder injury, the veteran point guard is averaging 27.2 points and 6.7 assists, as well as 1.4 steals.
In addition to Irving, keep an eye on center Jarrett Allen and forward Joe Harris. Allen had 20 points and 15 rebounds Saturday night against the Pistons, while Harris added 16 points and went 4-for-10 from beyond the arc.
The Knicks may have struck out last summer in an attempt to land a star, but they still got a very good player in Julius Randle. Randle had another double-double Friday against Toronto, scoring 20 points and grabbing 11 boards, in addition to three blocks. In 44 games, the young big man is averaging 18.9 points on 44.8 percent shooting with 9.2 rebounds per game.
Veterans Marcus Morris Sr. and Elfrid Payton are also going to be factors Sunday. Morris also recorded a double-double on Friday with 21 points and 10 rebounds, while Payton had a double-double of his own with 13 points and 11 assists.
Odds And Pick
Even though there's a sizable difference between these teams in the standings right now, the Knicks are slight favorites at -1.5. Part of that reason may be because they're at home, while another may be because the Nets just played an exhausting overtime game on the road Saturday.
In the previous three matchups this season, the Nets were victorious in the first two with scores of 113-109 and 103-101. The Knicks got their revenge in the last one with a 94-82 victory, as now the fourth and final game is here.
All those scores indicate that this will be a close game as well. For me, the difference is in three-point shooting, something the Nets are good at, and the Knicks are bad at defending. Expect Irving and Harris to have a green light from beyond the arc all game long, while Allen helps clean up inside.
Not to mention, Brooklyn is actually 2-3 in the second half of a back-to-back, showing that it can continue to get back on track against one of the worst teams in the NBA. Give me the Nets +1.5 to take the final game in this Big Apple rivalry.