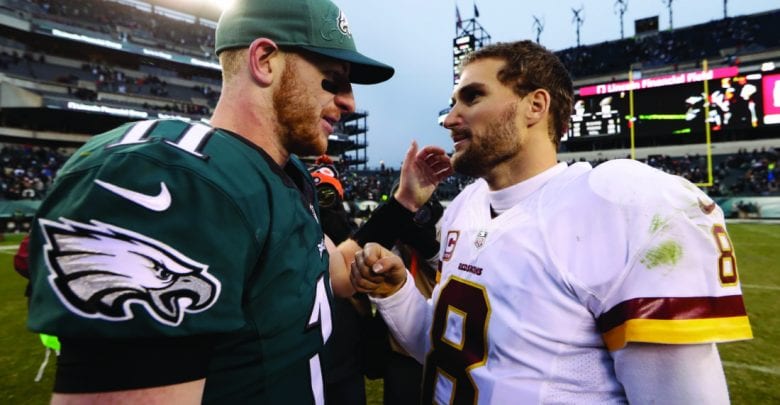 The Redskins and Eagles meet up again already in the NFL Week 7 Monday Night Football Over Under Pick after facing off once in the season opener. 5-1 Philadelphia won that tilt 30-17 and can really distance themselves in the NFC East with another win over 3-2 Washington who sits at second in the division. The Eagles are favored by -5.5, but the focus is on whether the teams combine for more or less than the total of 48.5 points.
This game has a feel like it's going to be right around the number. It may take a last second fumble return TD on a botched lateral to hit, but oddsmakers are in tune on this one. However, that doesn't mean the NFL Week 7 Monday Night over under pick can't be successful.
Is 'Over' 48.5 The Safer Bet?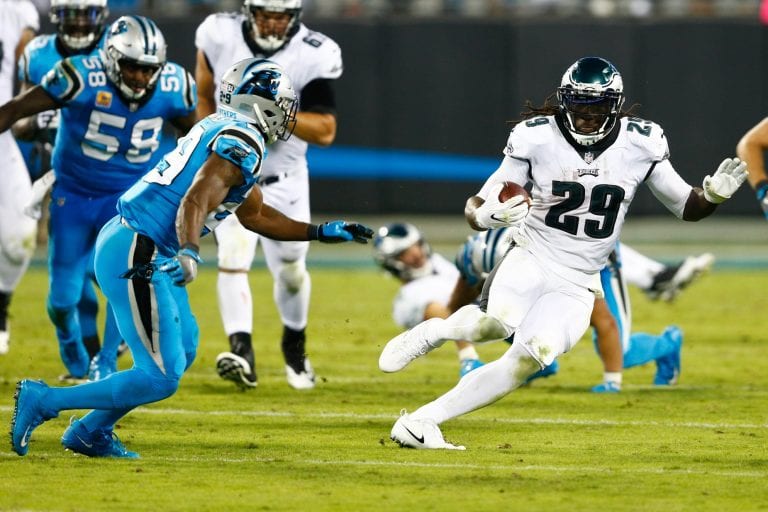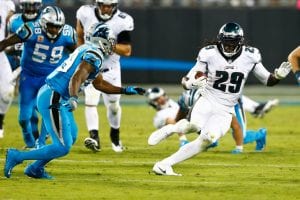 Based on the season opener that Philadelphia won 30-17 it would suggest that the 'over' is in reach tonight Carson Wentz is firing on all cylinders for the Eagles offense that is 5th in the NFL in total yards and has the #9 passing offense. However Washington QB Kirk Cousins captains a Redskin offense with the #7 passing offense and #7 total yardage offense in general.
Wentz threw for 307 and two scores in the season opening game and Cousins chipped in 240 and a TD. Cousins has gotten even better recently with 330+ yards passing in two of the last three games and has 7 TD and just 1 INT over that span – and Philadelphia has the #29 pass defense in the NFL. The Redskins have gone 'over' in two straight while Philly's totals have soared above the number in four of the last five.
How do the Redskins plan on stopping Wentz and #TheDutchDestroyer on prime time. Trick question. They can't

— Patrick Mintzer (@MINTZ_meat) October 23, 2017
Risking the Action on the Under 48.5?
It's never fun betting on the 'under' in big primetime matchups like tonight – but it's always fun to win bets. Could the under be the play? After all, both teams not only have top notch passing offenses their running games thrive as well. Washington runs for 122.8 YPG (10th in NFL) while the Eagles go at 132.5 which is 4th in the league. Sometimes potent running games actually contribute to the 'over' but not when opponents are stuffing the ground game which Washington's #8 run defense and Philadelphia's #1 rushing squad can both definitely do. The teams are #7 and #12 in the league in points scored – but also a solid #19 and #12 in points given up.
On the night before he plays the Eagles, Washington QB Kirk Cousins announced his grandmother passed away. pic.twitter.com/aW9IQnLhKK

— Adam Schefter (@AdamSchefter) October 23, 2017
NFL Week 7 Monday Night Football Free Pick
One thing's for sure, when these teams get together lately they can put up the points. The scores of past matchups included:
2015 Washington 23, Philadelphia 20 / Washington 38, Philadelphia 24
2016 Washington 27 Philadelphia 20 / Washington 27 Philadelphia 22
2017 Washington 17 Philadelphia 30
Each game has been very close to tonight's 48.5. The over is 9-2 in the Eagles last 11 vs NFC East, and 4-1 in their last five overall. Actually pretty much every major trend is favoring a ton of points being scored tonight…
…however, as the weather starts to turn colder teams have shown just how hard it is to put up points like tonight's 48.5. Only 3 of 13 games put up 48+ points yesterday. When you factor in a tough divisional matchup and the added pressure of the Monday night lights – everything is going to have to go right for both teams to get to that total. A mistake here or there is pushing the game towards the under.
Pick: Washington Redskins / Philadelphia Eagles *Under 48.5