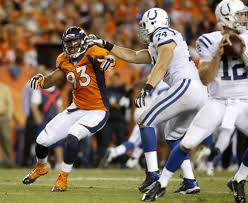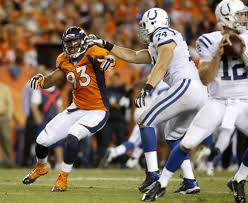 We have our Colts play Broncos free 2016 NFL pick ready to go. The spread has increased for this game, as the Denver Broncos are now at -6.5 or -7.0. That a tough spread to cover considering that Indy lost by four to the Lions last week and in week one the Broncos beat the Panthers by one slim point. Both teams are bringing decent offenses to the game, but only one club, the Broncos, has a solid D. Here's how we see this game going.
Indianapolis O vs. Broncos Defense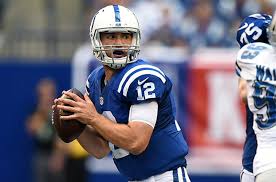 Indianapolis has a sound passing game. Last week, QB Andrew Luck completed 66% of his passes for 385 yards. He tossed four touchdown passes and no interceptions while being sacked twice. Three different receivers caught touchdown passes with Phillip Dorsett grabbing two of those scoring tosses. He made four catches, averaging 23.5 YPC. T.Y. Hilton had six receptions and averaged 13.2 YPC. Hilton, who has one touchdown, is questionable for today. Frank Gore (14 ATT, 59 YDs, 4.2 AVG, 0 TDs) anchored the running game, which was less than dominant. The O-line did a good job of protecting Luck.
One big question is can the Indy frontline control the Denver defense? Look for DeMarcus Ware and Von Miller to challenge the Indy O-line. They will need to put more pressure on Luck than they did on Cam Newton. Then again, Newton is a lot more elusive than Luck. CB Chris Harris, who has one pick and three passes defended in the first game, will challenge receivers. We think that this D can hold the Colt offense to around 10 points.
Denver Offense vs. Colt D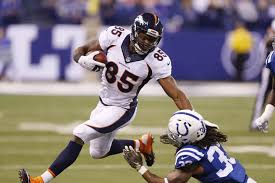 The Denver offense was quite effective when it came to the run. Gaining a total of 148 yards on the ground. C.J. Anderson ran for 94 yards and two TDs. Over 20 carries, he averaged 4.6 YPC. QB Trevor Siemian tossed one touchdown pass and threw two picks. He was sacked twice. His one touchdown pass went to Anderson, who proved to be the Broncos biggest offensive force.
Important defensive players for the Colts are LB Sio More and CBs Mike Adams and Darryl Morris. They will need to step up against the Bronco offense. In game one, they had trouble putting real pressure on Cam Newton. In addition, they will have to bring their game up when it comes to defending against the pass.
Colts Play Broncos Free 2016 NFL Pick
If this ends up being a close game, then we like Indy and the leg of placekicker Adam Vinatieri. Vinatieri was 3 of 3 on extra points and 2 of 2 on field goals, hitting one that was +40 and another at +50. We do like the Denver defense in this game and their offense looks to have an advantage against the Colts.
A quick insight on tonight's game where Green Bay visits Minnesota. The Packers are -1.0. Take the Pack.
Our Colts Play Broncos Free 2016 NFL Pick: Denver at -6.5