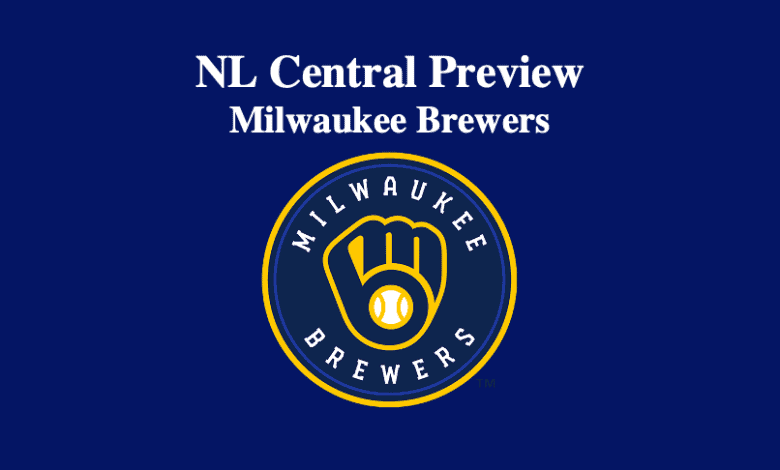 Our NL Milwaukee Brewers preview 2021 notes that this club made it into the playoffs last year as the fourth team from the Central Division. However, they did this with a losing record of 29-31. That 162-game adjusted record comes to 78 wins and 84 losses. Last season did mark the first time the Brewers qualified for the playoffs three straight years in a row. Unfortunately, their playoff run was short-lived, as they lost to the Los Angeles Dodgers in the NLWCS two games to none. Will this Milwaukee Brewers team go to the playoffs for a fourth-straight year? With the quality of this ballclub in question, we doubt that this team will be playing in October.
NL Milwaukee Brewers Preview 2021 – Pitching
Brew Crew pitchers recorded an ERA of 4.16 (6th) and an OBA of .229 (4th). Their WHIP of 1.23 (6th) was solid, while the 67 homeruns they gave up were the second-fewest in the NL. The Brewer pitching staff placed second in strikeouts with 614 and 11th in walks with 189. They recorded no shutouts or quality starts. However, they did have 14 saves (5th).
Milwaukee Rotation
In 2020, righty Brandon Woodruff topped the majors with 13 starts. He recorded a 3.05 ERA, 0.99 WHIP, 11.1 strikeouts per nine innings, and 2.2 walks per nine innings. Those were all career bests. He has a fastball that hits the high nineties and is an ace-in-the-making. Corbin Burnes holds the second spot in the rotation. He had a terrible 2019 but turned it around in 2020, as he posted a record of 4-1 over nine starts and had a 2.11 ERA and 1.02 WHIP. Burnes struck out 88 over 59.2 IP. He brings a repertoire of six pitches including a tough to pick up 96mph sinker, active 93mph cutter, as well as a slider, change, curve, and four-seam fastball.
Three Through Five
Righty Freddy Peralta, the Brewers' third starter, worked out of the bullpen last season. He had one start and 15 appearances pitching 29.1 innings and striking out 47. Peralta recorded a 3.99 ERA and 1.16 WHIP. Brett Anderson starts fourth and Adrian Houser comes in fifth. Last season, his first with the Brewers, Anderson started 10 games and went 4-4 with a 4.21 ERA and a 1.28 WHIP. Houser has fine stuff, but he had a terrible 2020, as he recorded an ERA of 5.30, WHIP of 1.50, and record of 1-6.
Relief
In the Milwaukee pen, setup man Devin Williams and closer Josh Hader are the best one-two punches in the majors. Over the last three seasons, they've combined to take the NL Reliever of the Year award. Hader won it in 2018 and 2019 and Williams in 2020. Williams offers a fastball in the high 90s and a killer changeup that baffles hitters. Lefty Hader made 21 appearances recording 13 saves and two blown saves. He had a 3.79 ERA and 0.95 WHIP. Brent Suter and Eric Yardley are both soft hurlers who get the job done. Yardley's sidearm delivery is especially disconcerting for hitters. Our Milwaukee Brewers preview 2021 finds that the Brewers have an extremely solid bullpen.
Milwaukee Brewers Preview 2021 – Everyday Players
Last year, offense was not the name of the game for this team. In 2020, the Brewers hit .223 (12th) with 74 homers (8th) and 238 RBI (12th). The team posted an OBP of .313 (11th), slugging percentage of .389 (11th), and OPS of .702 (13th). They produced 429 hits (11th) and 83 doubles (10th). Their 582 strikeouts topped the NL, while the team's 221 walks were the sixth-most in the senior circuit. The Brewers were last in stolen bases with 15.
Milwaukee – Infield
Luis Urias can play either short or second. He'll start at short this season. Urias, a strong defender, is a poor hitter. After eight seasons with the cards, Kolten Wong comes to the Brewers to play second. Capable of hitting in the .280s, he's a solid baserunner who's good for 25 steals. Keston Hiura plays a solid second and first. This season, he starts at first base. In 2019, his first MLB season, he hit .303 with 49 RBI, 15 homeruns, and 23 doubles. Last season, he was a .212 hitter. The Brewers need the 2019 Hiura to show up in 2021.
Travis Shaw plays the other corner. Over six seasons, the serviceable third baseman is hitting .244. Catcher Omar Narvaez come to the Brewers last season, as they hoped he'd have a positive impact on offense. Instead, he hit .176. Our Milwaukee Brewers preview 2021 finds that he gets one more try to prove he can hit. On the other hand, Narvaez is one of the best pitch-framers in the big leagues.
Outfield
In the past, left fielder Christian Yelich has been an impressive performer. Last season, Yelich, normally a .300 hitter and the two-time defending NL batting champ, posted an average of .205. He did launch 12 homeruns and 22 RBI. Centerfielder Lorenzo Cain is a tough competitor who plays fine defense and is solid at the plate. However, he turns 35 this year, a time when players tend to see a drop off in physical performance. Avisail Garcia, who came to the Brewers last season, proved to be an excellent defender but a poor offensive performer. Last season, he hit .238 with two homers. He's capable of smacking 20 round trippers, driving in 70 runs, and batting in the 280s.
NL Milwaukee Brewers Preview 2021 – Final Word
Our NL Milwaukee Brewers preview 2021 acknowledges that this team does have some fine, young starters and top-notch relievers. However, the Brewer offense is questionable at best. The good news is that Milwaukee manager Craig Counsell is a solid tactician who adroitly utilizes his bullpen. However, hitting coach Andy Haines must show results. Plus, COVID-19 has done some major damage to this team's finances. Majority owner Mark Attanasio has tightened the purse strings, which means that president of baseball operations David Stearns must make the best use of what is a diminished budget.
Summary – Milwaukee Brewers Preview
Record: 76-86 (Fourth-place NL Central)