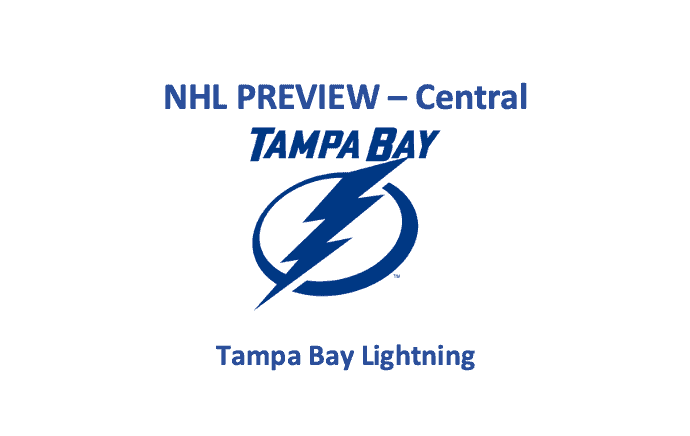 Our Tampa Bay Lightning Preview 2021 notes that last season this team finished second in the Atlantic Division. They ended up eight points behind the first-place Bruins. The Bolts were 44-21-6 with a winning percentage of .662. The Lightning powerplay came in sixth in the NHL at 23.6%. On the other hand, Tampa Bay was 14th on the penalty kill at 81.2%. They topped the league in scoring with 3.49 GFA. Additionally, their 2.75 GAA ranked seventh.
Last season, after earning a bye in the Qualifying Round, the Lightning beat Columbus four games to one in Round One. In the Second Round, they took down Boston four games to one and in the Eastern Conference Finals, the Lightning beat the Islanders four games to two. In the Stanley Cup Finals, Tampa Bay took the championship by beating the Dallas Stars in six games. Can they repeat this season?
Tampa Bay Lightning Preview 2021 – Forwards
Much of what was an explosive offense returns. On the first line, Steven Stamkos plays right wing. He scored 29 goals and posted 37 assists while recording a plus/minus of +14. He scored 10 PPG and made nine PPA. Last season, center Brayden Point was +28 as he put the puck in the net 25 times while dishing off 39 assists. On the left wing, Ondrej Palat was +25 with 41 points.
The second line is also especially productive. In includes center Anthony Cirelli, left wing Alex Killorn, and right wing Mathieu Joseph. Cirelli was +28 with 16 goals and 28 assists. Killorn, who was +19 with eight powerplay goals and five power play assists, totaled 49 points. Of those points, 26 were goals. Finally, Joseph, who played just 37 games last season, was an underachiever, posting four goals and three assists. He was -2. Last year, Joseph came off a sound rookie season and struggled. He spent time in the minors and was eventually called back up.
The third line sees former San Jose winger Barclay Goodrow take the right side. Goodrow came to the Lightning last season after playing 62 games with the Sharks. Last year, he played eight games with Tampa Bay. Totals from the 2019-2020 season were eight goals and 18 assists. A physical player, Goodrow recorded 162 hits. He also had 44 takeaways and 66 blocked shots. Blake Coleman, who came to the Lightning last season after playing 57 games with the Devils, takes the right side. Between both teams, Coleman totaled 166 hits, scored 21 goals and 11 assists. Yanni Gourde returns to play center. He was -5 with 10 goals and 20 assists.
Tampa Bay Lightning Preview 2021 – Defense
Our Tampa Bay Lightning Preview 2021 sees Victor Hedman and Jan Rutta on the first line. On the blueline, Hedman was very productive with 11 goals and 44 assists. Note, those totals included four goals and 18 assists when on the powerplay. He was +27. In 33 games last season, Rutta had one goal and six assists. He was +6. On the left, second-line D-man Mikhail Sergachev scored 10 goals while making 24 assists. He was +15. Along with five PPG and eight PPA, he scored one shorthanded goal. On the right, Erik Cernak had five goals and seven assists. Additionally, Cernak made 172 solid hits and posted 97 blocked shots.
On the third line, rookie Callan Foote joins veteran defenseman Ryan McDonagh. Foote, the overall 14th draft pick, is known as being a solid and disciplined two-way player. Last season, he led all Kelowna Rockets' defensemen with 57 points, including six goals and 51 assists over 71 games. McDonagh was hampered much of last season with lower and upper body injuries. Appearing in 50 games last year, he was +7 with one goal and 11 assists. Plus, he has 36 hits and 101 blocks. If healthy, expect to see an increase in hits for McDonagh.
Tampa Bay Goaltending
Last season, netminder Andrei Vasilevskiy topped the NHL with a 36-14-3 record. Vasilevskiy was 19th in save percentage (.918) and 14th in goals against average at 2.53. Overall solid, he earned three shutouts. Also returning, Curtis McElhinney is Vasilevskiy's backup. He was 8-7-3 with a .906 SV% (46th) and 2.89 GAA (43rd). Consequently, although McElhinney is a sound backup, for the Lightning to be successful, Vasilevskiy will need to be the main netminder. Vasilevskiy is definitely a cut above.
Tampa Bay Lightning Preview 2021: Outlook
Our Tampa Bay Lightning Preview 2021 observes that this is a team that plays disciplined hockey. They are loaded with scorers and are deep on offense and defense. Plus, Vasilevskiy is certainly a quality goalie. However, there are some question marks regarding players who struggled with injuries last season. Still, chances are those players are ready to perform. It will be interesting to see how much rookie Foote adds to this team's defense and offense. Overall, we like Tampa Bay's chances in the Central Division. Look for them to battle the Dallas Stars, who they played in the finals last season, for the top spot in the division. The could repeat as Stanley Cup champs. Although, that's certainly a huge challenge.
Tampa Bay Lightning Preview 2021: Prediction
Record: 33-18-5, 71 points
Finish: 1st in the Central Division