NHL Previews
San Jose Sharks Preview 2019 – 2020
Postseason Appearance Looks Promising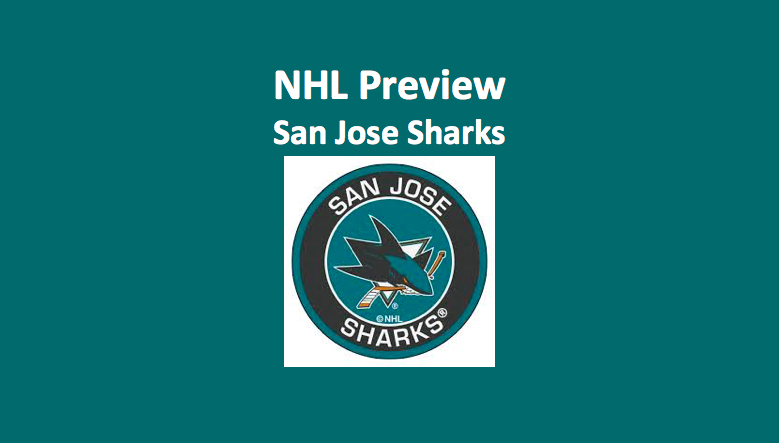 Our San Jose Sharks Preview 2019 – 2020 notes that the team went 46-27-9 for 101 points last year. This San Jose Sharks Preview 2019 – 2020 observes that they entered the playoffs as the second Pacific Division seed. The Sharks put together a very strong run before falling to the eventual Cup-champion Blues in the Conference Finals. While they were a very strong team last year, San Jose suffered from poor goaltending and lost their leading scorer over the summer. Our 2019-2020 San Jose Sharks season preview looks at how they plan to address these issues to make another playoff run. Here's how we see this season going for the Sharks.
San Jose Sharks Preview 2019 – 2020: Goaltending
Goaltending was a weak spot for the Sharks last year. Out of all goalies that played 20 or more games, both of their netminders finished in the bottom five for save percentage. Martin Jones Started 62 games for San Jose. Despite having a down year, Jones played well enough to carry the Sharks to the Western Conference Finals. During the regular season, he allowed 2.84 goals per game while stopping .896 percent of his shots. While these numbers are very lackluster, he managed to secure 36 wins for his club. During the playoffs, his stat line was pretty similar. Jones finished with a .898 save percentage and a 3.02 GAA. He had a 10-9 record though and was good enough for the majority of games to allow his club to make a run. The Sharks will look for Jones to return to the form that he showed for his four prior years. He played at least 60 games every year from 2014-2018 and never had a save percentage below .912.
Aaron Dell served as Jones' backup during the 2018-2019 season. He finished with the worst save percentage out of all NHL goaltenders at .886. In the 25 games he played, Dell compiled a 3.17 GAA. Like Jones, Dell had a winning record despite looking very poor on paper. Our San Jose Sharks Preview 2019 – 2020 projects that Jones will likely start the bulk of games again this year. Look for Dell to manage a small workload. While San Jose would like both netminders to perform more consistently, both goaltenders seem to do enough to secure wins.
San Jose Forwards
The biggest hit the Sharks over the offseason was their inability to resign Joe Pavelski. Pavelski led San Jose with 38 goals last season. Out of any Shark forwards, he also played the most. They will need to find someone to replace his production. The club expects Timo Meier, Kevin Labanc, and Tomas Hertl to continue their development and hopefully help fill this void. Last year, all three posted career highs in points. Hertl led the team in points with 74 in 77 games. His 35 goals were second behind Pavelski. Meier had 30 goals and 36 assists on the year. Labanc only played about 14 minutes per game but finished the year with 56 points. Labanc will likely see increased usage and could possibly finish with upwards of 60 points.
San Jose also returns Logan Couture and Evander Kane. Our San Jose Sharks Preview 2019 – 2020 finds that both have proven that they can score. Couture had 70 points during the 2018-2019 season. He is the Sharks most talented forward and will be used in all situations. Kane had 30 goals last year. He has had at least 28 tucks in each of his last three seasons. Look for both to be leading candidates to help replace Pavelski's scoring touch.
Sharks Preview – Defense
The Sharks have some of the most talented defensemen in the National Hockey League. Brent Burns led his team in scoring from the backend with 83 points in 82 games. Along with this he played 25:06 minutes per game and had the second highest plus-minus on San Jose. Along with Burns, Erik Karlsson makes the Sharks' blueline elite. He had a slow start to his first season in the Bay Area but partway through the year, picked up his pace. He had 45 points in the 53 games he played in. Karlsson has historically dealt with injuries during his career and last season was no different. However, when in the lineup, he is one of the best defensemen in the league. Based on his career thus far, San Jose should expect him to miss games at some point due to injury.
Along Burns and Karlsson, our San Jose Sharks Preview 2019 – 2020 finds that Marc-Edouard Vlasic and Brendan Dillon will solidify the club's backend. Vlasic played 21:03 minutes per game and will play a very defense-oriented game. Dillon will play a similar role but to a lesser degree. He led the team in plus-minus last season (+19) but played second-pairing minutes. With Justin Braun departing San Jose, he could see a slight increase in minutes.
San Jose Sharks Preview 2019 – 2020: Outlook
The Sharks have been a perennial playoff team in recent seasons missing the postseason only once in the past 15 years. Look for them to continue the trend this season. Our San Jose Sharks Preview 2019 – 2020 finds that they have two elite scoring defensemen in Burns and Karlsson, as well as defense-oriented blueliners to compliment them. While the loss of Pavelski will likely hurt their goal totals initially, there are enough candidates to make up for his departure. The biggest question mark for the team will be in net. While Jones and Dell were able to squeak out wins last season, they will need to cut down on their goals against to combat the likely drop in scoring. Despite this, we like the Sharks to make another postseason appearance.
San Jose Sharks Preview 2019 – 2020: Prediction
Record: 45-27-10,100 points
Finish:3rd in the Pacific Division
NHL LINKS
Division Link
NHL 2019 Preview Link