NHL Previews
Pittsburgh Penguins Preview 2019 – 2020
Crosby and Company Extend Their Playoff Run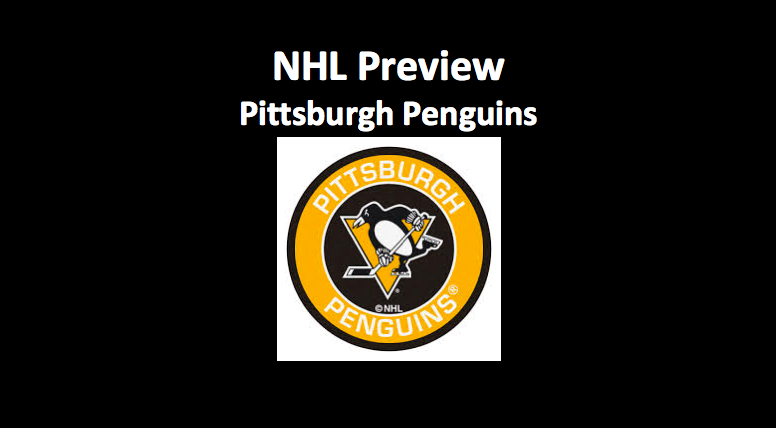 This Pittsburgh Penguins Preview 2019 – 2020 notes that the Penguins made their 13th consecutive postseason appearance last year. Pittsburgh finished third in the Metropolitan Division with 100 points on the year. Despite posting a solid regular season, their playoff run was short lived. Pittsburgh was swept in the opening round by the Islanders. This has led to some significant changes during the offseason. The Quins have lost some of their stalwart players, but they've also made some gains. Our 2019-2020 Pittsburgh Penguins season preview looks at whether a 14th straight playoff appearance is likely with the lineup changes.
Pittsburgh Penguins Preview 2019 – 2020: Goaltending
The Penguins have both a reliable starter and a reliable backup. Matt Murray started 50 games last season and compiled a very solid stat line. He had a .919 save percentage and a 2.69 GAA. Murray had some rough stretches during the year but worked through them. The 25-year-old should provide a very solid backbone in goal for this club.
Our Pittsburgh Penguins Preview 2019 – 2020 projects that Murray's backup will be Casey DeSmith. In his second year, DeSmith started 30 games. He was very solid and finished with a .916 save percentage. DeSmith recorded a 2.75 GAA as well. The netminder comes into the year as an underrated backup. He should see a similar amount of action as he did last year and will give the Pens a chance to win when he gets his starts.
Pittsburgh Forwards
Our Pittsburgh Penguins Preview 2019 – 2020 finds that the biggest difference up front for Pittsburgh is the absence of Phil Kessel. Kessel was traded for Alex Galchenyuk over the summer. Kessel was the Penguins' second leading scorer last season. He had 82 points in 82 games. Galchenyuk is a significant downgrade from Kessel but arguably has a great upside. The former Coyote had 41 points last season but at age 25 could just need a change of scenery to have a breakout year. Despite the loss of Kessel Pittsburgh still has some very solid wingers. Jake Guentzel posted 40 goals last season. He was third on the team with 76 points. The winger has developed great chemistry playing alongside Sidney Crosby. Crosby led Pittsburgh with 100 points on the season. This point total was his highest since the 2013-2014 season. Crosby continues to be a top player in the NHL even as he enters his age-32 season.
The Penguins will hope that Evgeni Malkin has a bounce back year. Although he recorded over a point per game, Malkin scored 21 fewer goals than he did one season prior. However, Malkin played 10 less games than his previous campaign. The Russian center has had durability issues recently. He hasn't been able to play a full 82-game slate since 2009. Despite this, Malkin should continue to be a top talent in the league when healthy. Overall, it is difficult to bet against a Pens' offense that features both Corsby and Malkin. They should be in a good place despite moving on without Kessel.
Penguins Preview – Defense
The Penguins also have a decent D-corps. Kris Letang, when healthy, has continued to be a top point producing blueliner. He was limited to 65 games last season but managed to record 56 points. Despite nagging injuries through the year, Letang led the team in ice time. He played almost 26 minutes a night when in the lineup. Pittsburgh has also seen Brian Dumolin develop into a reliable defenseman. He led his team with a +31 plus-minus rating. He played over 20 minutes a night as well. Our Pittsburgh Penguins Preview 2019 – 2020 research finds that the team will rely on him to provide a shutdown presence again this season.
As well, the club will look to Justin Schultz and Marcus Pettersson to provide stability on the backend. Schultz was limited to 29 games last year. In those 29 games, he recorded 15 points. He also ate-up solid minutes playing 20:30 per game. Last season, Pettersson suited up in 57 contests. He accumulated 19 points and a +13 rating. The 23-year-old should see increased usage this year.
Pittsburgh Penguins Preview 2019 – 2020: Outlook
Our Pittsburgh Penguins Preview 2019 – 2020 projects that the subtraction of Phil Kessel is likely to be felt early during the season. The Penguins will need to figure out who will be able to replace his offensive production. This will likely fall on Galchenyuk, although he has yet to prove he can be a consistent offensive threat. The Penguins should be able to keep opponents' scoring to a reasonable level though. Both Murray and DeSmith provide a solid backbone. Pittsburgh Also has a decent group of defensemen on the backend. Along with this it is very hard to bet against a team with both Sidney Crosby and Evgeni Malkin. Look for the Pens to be back in the playoffs once again.
Pittsburgh Penguins Preview 2019 – 2020: Projection
Record: 45-25-12
Finish: 3rd in the Metropolitan Division
NHL LINKS
Division Link
NHL 2019 Preview Link