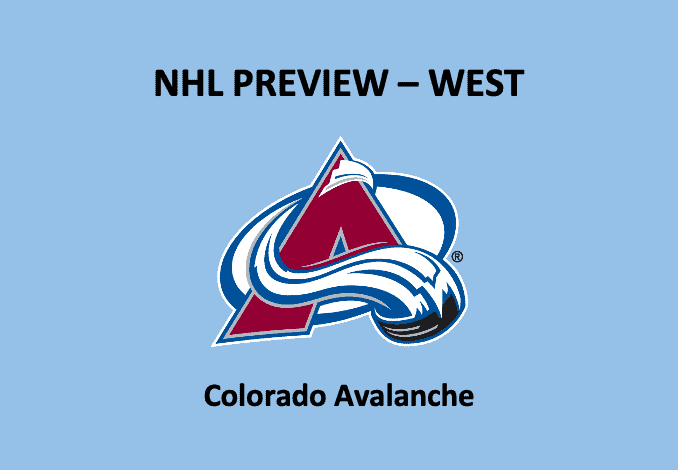 The Avalanche had a very good regular season, finishing with 92 points. Their 42-20-8 record placed them second among all Western Conference clubs. They have a  powerful offense, a strong blueline, and a very decent goaltending tandem. This team looks to command the West. Additionally, they possess the potential to go deep into the playoffs. Our Colorado Avalanche Preview 2021 looks at whether they deserve to be in the conversation as a Cup favorite.
Avalanche Forwards
The Avalanche have one of the most potent offenses in the NHL. They finished with the third most goals last season after seeing star center Nathan Mackinnon potted 35 tallies. Mackinnon's combination of speed, shooting, and hands makes him one of the most lethal offensive talents in the game. This combined with his chemistry with linemates Gabriel Landeskog and Mikko Rantanen will keep him in a position to lead the league in points this season. Landeskog and Rantanen are expected to put up solid numbers as well. Last year they managed 44 and 41 points in 54 and 42 games respectively
A big reason for the Avalanche's offensive success last season was the proficiency of their second line. Andre Burakovsky and Nazem Kadri both had career seasons last year. Burakovsky set a career high in points despite being limited to 58 games. He finished with 20 goals and 25 assists. Kadri had 36 points including 19 goals last season. The third member of the second line will be Brandon Saad who was acquired from the Blackhawks this offseason. Saad had 21 goals and 12 assists for Chicago last season. His addition gives the Avalanche arguably the best top-six forward group in the NHL. Look for Colorado to have little trouble scoring in the 2021 season.
Colorado Avalanche Preview 2021 – Defense
Cale Makar had a breakout rookie season like many people thought he would. The right-shot defenseman won the Calder Trophy while finishing with 50 points in 57 games. He already looked like one of the league's best defensemen as a rookie. The Avalanche have a legitimate number one defenseman in Makar, who should be expected to string together another very good campaign.
The Avs have a couple of other young defensmen who have had very solid starts to their young careers. Samuel Girard and Ryan Graves both played large roles for Colorado last season. Despite being just 22-years-old, Girard enters his fourth NHL season. He led the club in average ice time (21:19) while managing 34 points. Graves led the league in plus minus (+40) in his first complete NHL season. Both Girard and Graves will play huge roles for the Avalanche this season.
Colorado also added Devon Toews over the offseason. Toews was a vital piece of the Islanders blueline last year finishing with 28 points while playing over 20 minutes a night. He could see some time on the team's second powerplay unit, along with Girard. While the Avs' blueline is fairly young, they project to be very solid overall.
Colorado Goaltending
While goaltending isn't the strongest part of Colorado's roster, it is still better than average. Philipp Grubauer and Pavel Francouz split games evenly last season. The former started 36 contests while the latter started 31. Grubauer finished with a .916 save percentage and a 2.63 GAA. Francouz compiled a 2.41 GAA and a .923 save percentage in his first full season. While Gruabuer will be viewed as the team's "starter" the two will likely split the season evenly during a condensed NHL season.
Colorado Avalanche Preview 2021: Outlook
Our Colorado Avalanche Preview 2021 expects the Avs to be among the league's best teams. They have star power both upfront and on the blueline. Along with this, they are a very deep team which will help them in a season where back to back contests are expected to be plentiful. The weakest area of their team is in net, although it is hardly a weakness. Grubauer and Francouz looked terrific last season and should give the team better than average performance at the position. Colorado looks to be one of the few teams with a roster strong enough to contend for the Stanley Cup.
2021 Colorado Avalanche Season Preview: Projection
Record: 34-17-5, 73 points
Finish: 1st in the West Division