NHL Previews
Colorado Avalanche Preview 2019 – 2020
Avs Are Deep and Ready to Compete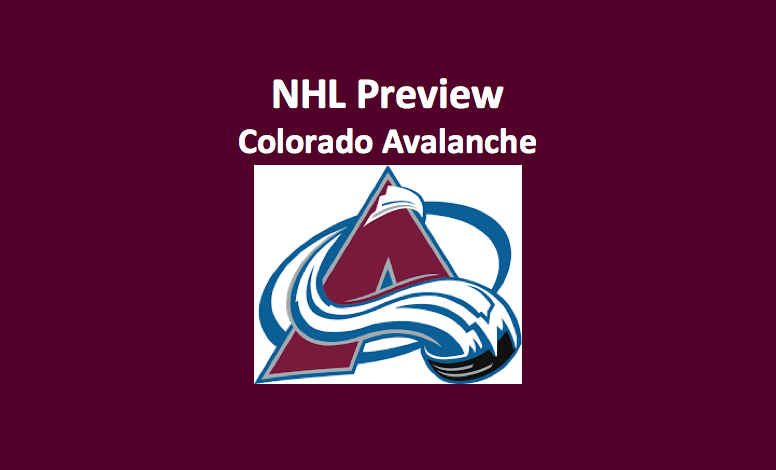 This Colorado Avalanche Preview 2019 – 2020 acknowledge that the Avs look to be in a very good place. Our Colorado Avalanche Preview 2019 – 2020 notes that this is despite being just two years removed from their worst season in franchise history. The team finished last season with a 38-30-14 record for 90 total points. They had a very good playoff run, despite sneaking in as the second Western wildcard. After defeating the top seeded Flames in five games, they fell against San Jose in game seven of the Western Conference semifinal. Our 2019 – 2020 Colorado Avalanche season preview looks at whether or not they can improve upon their performance from last year. This Avalanche team certainly has potential. How much they possess and can they capitalize on it are the two major questions facing them this season.
Colorado Avalanche Preview 2019 – 2020: Goaltending
Goaltending is likely to be Colorado's biggest concern this season. They are putting their faith in Philipp Grubauer who has yet to play more than 37 games in a season. Overall, he was solid last season despite some inconsistencies towards the beginning of the year. The German born netminder finished with a 2.64 GAA and a .917 save percentage. Grubauer was also stellar in the playoffs finishing with a .925 save percentage and a 2.30 GAA in 12 postseason contests.
Grubauer's backup will likely be Pavel Francouz, who started just two NHL games last season. While he was 0-2 in these games, he played very well allowing just two goals on 35 total shots. Our Colorado Avalanche Preview 2019 – 2020 finds that Francouz was also solid in the AHL where he had a .918 save percentage and a 2.68 GAA in 49 games. While there is some potential upside for Francouz, the Avalanche will have to rely on Grubauer heavily this year.
Colorado Forwards
The Avalanche have one of the best two lines in the NHL. Our Colorado Avalanche Preview 2019 – 2020 notes that the top line of Nathan MacKinnon, Mikko Rantanen, and Gabriel Landeskog is impressive. Last season, all three scored at above point-per-game paces, and they have developed great chemistry. MacKinnon finished a single point below the century mark with 99 points in 82 games. He is a threat anytime he is on the ice and will likely be among the NHL's top scorers this year. Rantanen finished with 87 points in 74 games but led the NHL in points for the early part of the season. The massive winger has the ability to both dish the puck and score. Landeskog had 34 goals and 41 assists in 73 games.
The Avalanche added Nazem Kadri in the Tyson Barrie trade, a move which gives them a second line center to play behind MacKinnon. Kadri had 16 goals and 44 points while playing a third line role for the Maple Leafs last season. He should improve upon these numbers with increased ice time as an Av. Kadri had 32 goals in both the 2016-2017 and 2017-2018 seasons, where he was his team's second line center. He will provide scoring depth behind Colorado's dangerous top-line. Scoring depth will also be expected from Joonas Donskoi and JT Compher. Donskoi came to the Avalanche as a free agent after playing four seasons with the San Jose Sharks. Donskoi had 14 goals and 23 assists last season. Compher will likely center the team's third line. He had 16 goals and 16 assists while being limited to 66 games.
Avalanche Preview – Defense
This Colorado Avalanche Preview 2019 – 2020 notes that the Avalanche's biggest move this offseason shook up their blueline. They traded away Tyson Barrie, who is one of the most valuable offensive defensemen in the NHL. Barrie had one year left on his contract and would have required a very large raise next season. Despite his production from the backend (14-45-59), Colorado is confident they can replace right-shot D-man. Their best candidate for this job is rookie Cale Makar. The fourth overall pick in 2017 was a force in college hockey last season. He led his Umass Minutemen to the National Championship while winning the Hobey Baker Award for the best college player. Makar finished his sophomore season with 49 points in 41 games before suiting up in 10 NHL playoff games. He fit in immediately and registered a goal and five assists. Makar should see heavy usage as a rookie and is a strong rookie of the year candidate.
Colorado also returns Erik Johnson and Samuel Girard, who recently signed a seven-year extension with the club. Our Colorado Avalanche Preview 2019 – 2020 observes that last season Johnson logged the most ice time of all Avalanche defenseman (21:49 per game). He had 25 points and a +8 plus-minus rating. Girard, who is still just 21-years old, continues to develop into a very solid NHL player. He had 27 points last year and will likely see increased usage in the 2019 – 2020 season. The overall outlook for Colorado's blueline is positive. Despite Barrie's departure, Makar has superstar potential while Johnson and Girard can be counted on to eat-up minutes for the team.
Colorado Avalanche Preview 2019 – 2020: Outlook
The addition of Nazem Kadri gives Colorado some scoring depth behind their top line. Along with this, our Colorado Avalanche Preview 2019 – 2020 finds that, despite giving up Tyson Barrie, they look improved on defense. Cale Makar stepped up in the playoffs and had an impact immediately. He should be a very strong rookie of the year candidate this season and will have little problem replacing Barrie. The Avs' only question will be whether Philip Grubauer can handle the workload of a true number one netminder. Despite this uncertainty, in 2019 – 2010, Colorado should be a very strong team.
Colorado Avalanche Preview 2019 – 2020: Projection
Record: 45-24-13 , 103 points
Finish: 1st in the Central Division
NHL LINKS
Division Link
NHL 2019 Preview Link