NHL Previews
Calgary Flames 2017-2018 Season Preview
Flames Look to Build off the Success of Last Season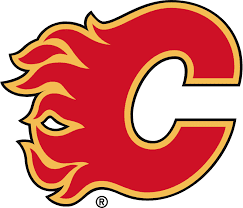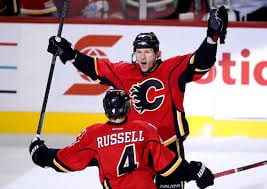 Last year the Calgary Flames made the playoffs via the first wild card spot in the West. Within the Pacific division Calgary finished fourth posting a 45-33-4 record. Although their season ended in disappointing fashion after getting swept by the Anaheim Ducks in the first round of the playoffs, the Flames had a solid 2016-17 season. Our Calgary Flames 2017-2018 season preview looks to see if they can go deeper this year.
Forwards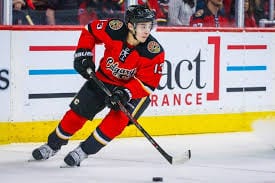 The Flames' group of forwards will look very similar to last year. In the 2016-2017 season Johnny Gaudreau led the team in scoring with 61 points in 76 games. The Lady Byng winner has been an all-star in each of his three NHL seasons and is expected to be an offensive force again in the 2017-2018 season. Center Sean Monahan is also going to be counted on to provide a bulk of the offense. Monahan finished first on the team in goals (27) and second in points (58), last season and has been fairly consistent in point production over his last three campaigns.
The team's second line center, Mikael Backlund flew under the radar last season while finishing third on the team in scoring. Backlund put up 22 goals and 31 points for 53 points last year, and still has some time left in his prime at the age of 28. Backund is expected to have another solid season in 2017-2018 and could likely finish near the top of the team in scoring.
Rookie Matthew Tkachuk spend last season agitating his opponents and is expected to be a presence on the ice aging this year. The feisty winger scored at a higher point per game pace in his rookie season than his Hall-of-Fame father did almost 24 years ago while finishing the year fifth in scoring on the squad with 48 points in 72 games. Tkachuk also led Calgary in Penalty Minutes with 105, and can be expected to continue his offensive growth.
Defense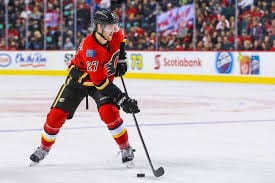 This summer Calgary made a major upgrade to its D-corps by adding Travis Hamonic from the New York Islanders. The Flames gave up a first and two second-round picks for Hamonic allowing them to keep most of their squad in place from last year. Hamonic should add grit and a physical presence to the team's backend.
Also manning the blue line for the Flames is captain Mark Giordano, who might be considered the mort underrated defenseman in the league. He finished last season with 39 points in 81 games while posting a +22 rating. Giordano also ate major minutes for the team averaging 23:34 TOI per game. Along with Giordano, Dougie Hamilton will be a key contributor. Hamilton finished fourth on the team in scoring, and 9th among league defensemen at 50 points. Michael Stone, and Brett Kulak round out the defensemen along with T.J. Brodie who was tied with Giordano for the team lead in ice time.
Goaltending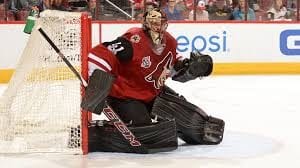 The largest difference that Flames fans will see this year is in the crease. Both Brian Elliot and Chad Johnson have not returned this year. The cage instead will be guarded by veteran Mike Smith, and the Swede Eddie Lack. Mike Smith finished the season with pretty average numbers compared to the rest of the league in the 2016-2017 season, despite playing for a Phoenix team that struggled. The goalie, who is excited to play with some teammates "who can actually score," posted .914 save percentage and a 2.92 GAA.
Lack was acquired via a trade for a 6th round pick in 2019 and a prospect. He spent last year backing up Cam Ward in Carolina and is expected to start the season as Smith's backup. Lack finished 2016-2017 with a .902 save percentage and a 2.64 GAA.
Jon Gillies has also shown that he might be ready for some more NHL action. The former Providence College stand out has posted average numbers as a member of the Stockton Heat, but played well in his one game for the big club last year making 27 stops on 28 shots. The 23-year-old might need one more year to develop in the AHL but appears to be on the verge of taking on a role in the NHL sooner rather than later.
Calgary Flames 2017-2018 Season Preview: Overall Outlook
The Calgary Flames are coming off of their second playoff season in eight years. The team looks ready to out do last year after acquiring a very solid top four defenseman in Travis Hamonic, and upgrading their goaltending. Calgary has built depth down the middle of the ice and Matthw Tkachuck can be expected to provide even more offense while getting under his opponents' skin. Look for the Flames to build off of their success last year and make the postseason once again in the 2017-2018 season.
Key Takeaways
The Flames added a good top 3 defenseman in Travis Hamonic in the offseason, strengthening their blue line into one of the best in the league
Calgary will look for consistent goaltending out of Mike Smith, who has replaced Brian Elliot and Chad Johnson this year.
The center of the ice looks deep, and the team has wingers such as Gaudreau and Tkachuk who have the potential to put up big numbers
Calgary Flames 2017-2018 Season Preview Projection: Record: 48-28-6, 102 Points, Finish: 2nd in the Pacific Division