NHL Previews
Detroit Red Wings Preview 2019 – 2020
Wings Woes Continue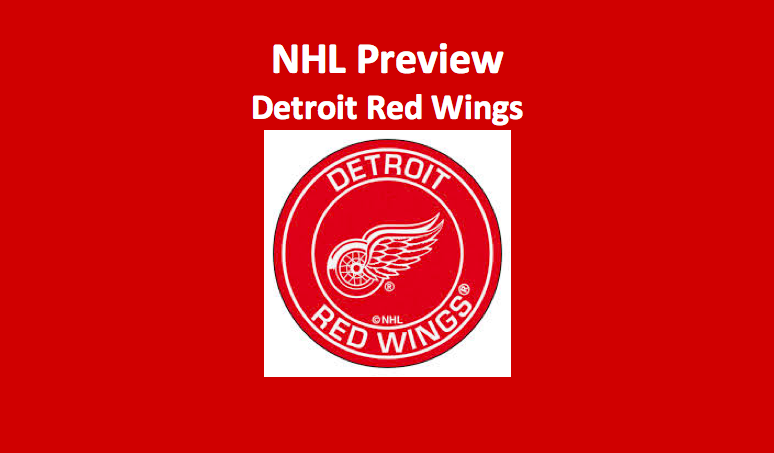 Our Detroit Red Wings Preview 2019 – 2020 observes that last year the Detroit Red Wings missed the playoffs again. This Detroit Red Wings Preview 2019 – 2020 notes that it has not been three-straight seasons since this team has been to the Stanley Cup Playoffs. They finished with the fourth-worst record in the NHL. Despite posting a 32-40-10 mark, they made very few offseason moves. Our 2019-2020 Detroit Red Wings season preview looks at whether bettors should expect any different result from the Wings this year. One thing is certain, this team is thin, and that never bodes well in the NHL.
Detroit Red Wings Preview 2019 – 2020: Goaltending
The Red Wings aren't remarkable in net, although our Detroit Red Wings Preview 2019 – 2020 feels that starter Jimmy Howard may be one of the more underrated netminders this season. He started 52 games last year and compiled a .909 save percentage and a 3.07 GAA. Despite being on a team that had the fourth-worst record in the NHL, Howard put together a winning season. He went 23-22-5 and looked much better than his stat-line suggests. There is a good chance he gets traded at some point. If he is not dealt, he will be one of the bigger reasons Detroit grinds out any wins.
Jonathan Bernier is set to backup Howard. He will enter his second season as a Red Wing. He wasn't particularly impressive last season and his record shows it. He had a .904 save percentage and a 3.17 GAA while losing 18 out of his 35 games played. Bernier isn't reliable enough to take on a starter's workload, so if Howard goes to another team, Detroit will likely be in full tank mode.
Detroit Forwards
The Red Wings look pretty slim up front. Their only true stud is Dylan Larkin who led the team in scoring last season. The Michigan native had 32 points and 41 assists in 76 games. He also played the second-most minutes per game. Larkin was on the ice for 21:51 MPG. He will almost certainly be Detroit's leading scorer again this season. The Red Wings next biggest offensive threats project to be Anthony Mantha, Andreas Anthanasiou, and Tyler Bertuzzi. Along with Larkin, Athanasiou was the only Wing to score 30 or more goals. He finished the year second in points with 54. The very speedy forward is unlikely to drive a line on his own but could improve upon his totals from last season.
Mantha tied his career high in points with 48 despite missing 15 games. He ended the year with 25 goals and 23 assists. This Detroit Red Wings Preview 2019 – 2020 feels that Mantha seems reliably enough to score around 25 goals but could crack the 30-goal plateau if he can stay healthy. Burtuzzi is coming off of his first full NHL season. The previous second-round pick was fairly productive, rattling off solid second-line totals. Bertuzzi had 21 goals and 26 assists for 47 points. He was also among Detroit's most defensively responsible forwards, finishing with a team-leading +11 plus-minus rating.
The Taro Hirose Factor
One of the more intriguing players to watch on the Red Wings this season will be Taro Hirose. He played 10 NHL games last season after departing Michigan State following his junior year. Hirose recorded decent totals in the NHL after posting 50 points in 36 college games in 2018 – 2019. He had six assists and a single goal in his 10-game stint with the Wings. Despite going undrafted, Hirose could put up top-six numbers for Detroit in his rookie season.
Red Wings Preview – Defense
While the Wings don't have a very strong roster in general, their blueline might be the most lackluster of all areas. They lack any top defenseman and will have trouble in their own end. Detroit's top blueliners will likely be Mike Green, Danny DeKeyser, and Dennis Cholowski. After Niklas Kronwall's retirement, Green returns as the Red Wings' top scoring defenseman from last year. While he scored at a decent pace, 26 points in 43 games, Green has struggled with injuries over the past two seasons. He missed 16 games during the 2017 – 2018 season and then 39 last year. He was also second among the team's defenseman in time on ice, playing an average of 21:41 per game.
Our Detroit Red Wings Preview 2019 – 2020 finds that DeKeyser was the lone D-man to play longer nights. Much like Green though, DeKeyser has struggled with health issues over the past couple of seasons. Last year, he was limited to just 52 games. By the end of the year, Cholowski could be the Red Wings' best defenseman. After being drafted 20th overall in 2016, Cholowski saw his first NHL action last year. He ended up splitting the season between the NHL and Detroit's AHL affiliate in Grand Rapids. He recorded 16 points in the 52 NHL games he played in but struggled to adjust in his own end. Before being sent down, he compiled a -20 plus-minus rating. Cholowski worked out some kinks in his 25 AHL games though and should be a mainstay in the NHL this season.
Detroit Red Wings Preview 2019 – 2020: Outlook
The Red Wings look to be far from the organization they were when they made a record 25 straight playoff appearances. They have some skill up front with Larkin, Mantha, Bertuzzi, and Athanasiou, but they lack depth at the position. Along with this, this Detroit Red Wings Preview 2019 – 2020 finds that they lack any elite defenseman. If Detroit has any success it will likely be in large part due to the play of Jimmy Howard. With the strong possibility that he will get dealt, the Red Wings will likely be a bottom feeder in the NHL standings.
Detroit Red Wings Preview 2019 – 2020: Prediction
Record: 32-42-8,72 points
Finish:7th in the Atlantic Division
NHL LINKS
Division Link
NHL 2019 Preview Link