NHL Previews
Montreal Canadiens Preview 2019 – 2020
Habs Struggle to Make Postseason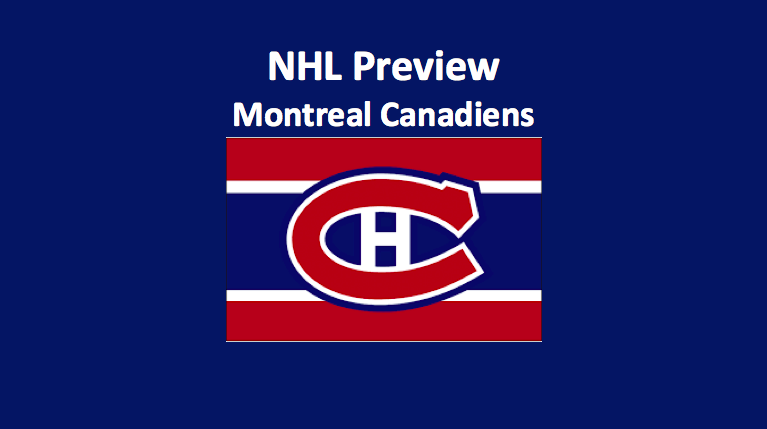 Our Montreal Canadiens Preview 2019 – 2020 observes that last season the Habs were predicted to be one of the NHL's worst teams. This Montreal Canadiens Preview notes that they turned out to be one of the bigger surprises, finishing just two points from a playoff spot. Our 2019 – 2020 Montreal Candiens Season Preview looks at whether the Habs are ready to take the next step and be a major contender in the Atlantic Division. To do so won't be easy as so many teams in this division are highly competitive.
Montreal Canadiens Preview 2019 – 2020: Goaltending
Carey Price had a bounce back season for Montreal after a disappointing 2017-2018 season. Price started 64 games and finished the year with a .918 save percentage and 2.49 GAA. He had a 35-24-6 record and is arguably the biggest reason the Canadiens came close to a playoff spot. Price once again has looked like a top goaltender in the NHL, and he should give the Habs a chance to win every night.
Montreal upgraded their backup position over the offseason. Kinkaid was signed over the summer to a one year contract. He started 38 games for New Jersey last season before being traded to Columbus, although he didn't see action as a Blue Jacket. Kinkaid didn't have a great stat-line last season but is just one year removed from a 2.77 GAA and a .913 save percentage. In 2018 – 2019 Kinkaid finished with a 3.36 GAA and a .891 save percentage. Despite this, our Montreal Canadiens Preview 2019 – 2020 finds that he is almost certainly an upgrade over Antii Niemi, who was Price's understudy last season.
Montreal Forwards
While the Habs do not have any truly elite forwards, their roster is fairly solid in this position. Max Domi looks solid in his first season as a Canadien. Last year, he crushed his totals from 2017 – 2018. In his final season as a Coyote, Domi had nine goals and 45 assists. This past year he had 28 goals and 72 points. Montreal also has solid forwards in Tomas Tatar, Jonathan Drouin, Brendan Gallagher, and Phillip Danault. All four forwards had over 50 points last season. Tatar factored in 25 goals along with 33 assists. Last year, he set a career high in point.
Drouin tied his career high in points. At this point in his NHL career, the former third overall pick hasn't quite lived up to expectations. Despite this, he is one of the Habs' most valuable forwards and will be counted on to heavily contribute to Montreal's secondary scoring. Gallagher led his team in goals last year with 33. He has contributed second-line numbers consistently throughout the year. Danault will be expected help on offense as well as kill penalties. The Quebec native had 12 goals and 41 assists along with a +17 plus-minus rating last season.
Our Montreal Canadiens Preview 2019 – 2020 finds that the club could also see decent production out of Ryan Poehling later in the season. Poehling was sent down to the AHL to start the year but looked great in his brief NHL stint last season. He had 31 points during his sophomore year at St. Cloud State before playing in his lone NHL game. Poehling started his pro career by registering a hat trick. He was drafted 25th overall in 2017 and could contribute immediately if called up.
Canadiens Preview – Defense
Montreal enters the year with a couple of very good defensemen on their roster. Our Montreal Canadiens Preview 2019 – 2020 projects that the best skater on their team will be Shea Weber. Weber dealt with injury trouble last season but saw time in 58 games. He had a +15 plus-minus rating along with 33 points in these contests. When in the lineup, Weber also led the team playing 23:29 minutes per game. As long as he can stay healthy, he will be instrumental on the powerplay and penalty kill, as well as at even strength.
The Habs next best defenseman entering the season is Jeff Petry. Petry did a great job finning in and leading Montreal's blueline while Weber was absent. In the past two years, he has developed into a very solid player and a legitimate top two defenseman. Petry had 46 points in 82 games while skating 23:07 minutes per game. Between Weber and Petry, the Canadiens have two blueliners who can eat major minutes and play in any situation. Their biggest weakness on the backend is their depth. Besides these two, they lack any big-minute defensemen.
Montreal Canadiens Preview 2019 – 2020: Outlook
As they enter the season, the Candiens look to be a fairly average team. They have decent secondary scoring and a couple of top defensemen. Although they lack depth on the blueline, Carey Price has returned to form as a top NHL goaltender. Besides their depth on the backend, the biggest problem the Habs suffer from is the strength of the top Atlantic Division teams. Tampa Bay, Toronto, Boston, and Florida all look like virtual playoff locks. It looks likely that the Canadiens will be out of the playoffs again unless they can snag a wildcard spot.
Montreal Canadiens Preview 2019 – 2020: Prediction
Record: 39-31-12, 90 points
Finish:5th in the Atlantic Division
NHL LINKS
Division Link
NHL 2019 Preview Link