NHL Previews
Columbus Blue Jackets Preview 2019 – 2020
Blue Jackets Face Struggles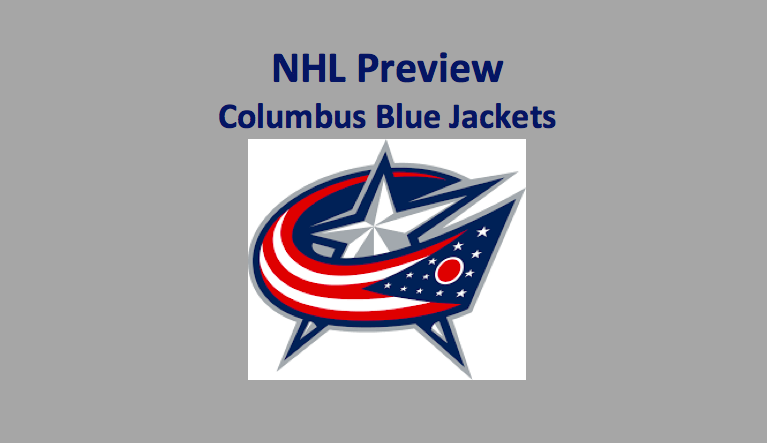 This Columbus Blue Jackets Preview 2019 – 2020 notes that last year the Jackets were a very solid club. This Columbus Blue Jackets Preview 2019 – 2020 observes that after putting together a 98-point season, they found themselves in a playoff position. However, Columbus was hit hard by departures in the offseason. They lost both their leading scorer and starting goaltender this summer. Our 2019-2020 Columbus Blue Jackets season preview looks at how these key losses affect their playoff chances in what is a very tough Metropolitan Division. The major question for the Blue Jackets is can they compete over the course of an 82-game season?
Columbus Blue Jackets Preview 2019 – 2020 – Goaltending
The Blue Jackets biggest question mark this season will be in net. They lost Sergi Bobrovsky to Florida via free agency and are now left with two goalies who have never started in the NHL. Joonas Korpisalo has spent the last four seasons as Bobrovsky's backup. In that position, he has been subpar. Over his 90 career NHL games, the Finnish netminder has a 2.89 GAA and a .907 save percentage. This past season, he played 27 games and had a .897 save percentage and a 2.95 GAA. The Jackets' second goaltender will be Elvis Merzlikins. Our Columbus Blue Jackets Preview 2019 – 2020 notes that Merzlikins has yet to play an NHL game, but he is widely regarded as the best netminder outside of the NHL. The goalie has spent the last five years playing for HC Lugano in the Swiss League. In the 2018-2019 season, he played 43 games and had a 2.44 GAA and a .921 save percentage. Both goaltending options are certainly downgrades from Bobrovsky, although both Korpisalo and Merzlkikins have the potential to enjoy solid and productive seasons.
Columbus Forwards
The Blue Jackets also suffered a large loss upfront with the departure of Artemi Panarin to the New York Rangers. Panarin has led the team in scoring for the past two seasons. Columbus still has a decent core group of forwards but the team will almost certainly have more trouble scoring compared to last season. Our Columbus Blue Jackets Preview 2019 – 2020 observes that along with Panarin, the club also lost Matt Duchene who they acquired at the trade deadline. Columbus will rely on Pierre-Luc Dubois to continue his development as the team's top center. Dubois accumulated 61 points last season as well as a +16 plus-minus rating. They will also look for Cam Atkinson to be among the club's top scorers. Atkinson scored 41 goals last year and added 28 assists.
The team's only large addition this offseason was Gustav Nyquist. Nyquist is a talented forward and should replace some of Panarin's production although he is a significant downgrade. Last season, Nyquist had 22 goals and 38 assists as a member of the Red Wings and Sharks. The Jackets will also look to Josh Anderson to cover some of the offense lost from Panarin's departure. Anderson had a terrific 2018-2019 season. He was a physical force and scored 27 goals with 20 assists. Columbus will look for Boone Jenner and Oliver Bjorkstrand to contribute too. Jenner finished last season with 38 points while Bjorkstrand had 23 goals and 13 assists.
Blue Jackets Preview – Defense
The only part of the Blue Jackets' roster that is unchanged from last year is their blueline. Our Columbus Blue Jackets Preview 2019 – 2020 projects that it will be the club's strongest area and is much better than most teams' back ends. Seth Jones has developed into one of the best defensemen in the NHL. Last season he played almost 26 minutes per game while registering 46 points. He will play in all situations for Columbus and should finish fairly high in the Norris Trophy race. Ryan Murray also had a very good 2018-2019 seasons. The former second overall pick finished with a career best +20 plus-minus rating while playing over 21 minutes per game. The one defenseman who the Jackets' will want to see improve from last season is Zach Werenski. Werenski had a very solid year in terms of his offensive production, but was prone to making more errors compared to years prior. He had a -12 rating over the course of the season but has the potential to a top defender on the club.
Columbus Blue Jackets Preview 2019 – 2020: Outlook
Our Columbus Blue Jackets Preview 2019 – 2020 finds that the Blue Jackets suffer from two problems. One is the loss of Panarin and Bobrovsky. The other is the depth of the Metropolitan Division. Almost all other teams in the division improved while Columbus got significantly worse. The question marks in net and upfront make a playoff appearance look unlikely. These areas could work out fine, but the Metro has too many teams with playoff potential to leave a spot open for the Jackets.
Columbus Blue Jackets Preview 2019 – 2020: Prediction
Record: 35-41-6, 76 points
Finish: 8th in the Metropolitan Division
NHL LINKS
Division Link
NHL 2019 Preview Link