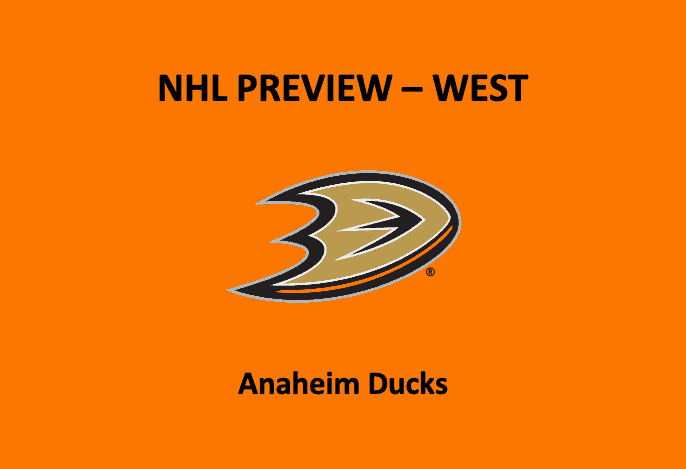 As predicted, The Anaheim Ducks' 2019-2020 season saw the club finish among the bottom of the NHL standings. The club finished sixth in the Pacific Division with a 29-33-9 record while being one of just seven teams who didn't qualify for the play in games when the NHL resumed their season. They made some improvements over the offseason. Our Anaheim Ducks Preview 2021 looks to see how these moves impact the club in a bid to get back to the Stanley Cup Playoffs.
Ducks Forwards
The Ducks had just three forwards score more than 40 points last season. Their lack of offensive fire power was a big reason for their lackluster season. Anaheim scored at the third lowest pace among all NHL clubs. They potted just 2.57 goals on average. They were led by centers Adam Henrique and Ryan Getzlaf, as well as wingers Rickard Rakell and Jakob Silfverberg. Henrique led the team with 43 points including a team high 26 goals. Getzlaf and Rakell both finished the 2020 season with a matching 42 points, while Silfververg compiled 39. All four players will play top-six roles again in 2021 although this group pales in comparison to many of the other forward groups in the League.
Some bright spots for the Ducks upfront will be the continued development of their many young forwards. Sam Steel, Max Jones, and Danton Heinen will look to have increased roles this season. Steel and Jones were both first round draft picks for the Ducks in 2016. The forwards had 22 and 12 points respectively last season, but are expected to be key pieces the club builds around going forward. Heinen was acquired from the Bruins at the trade deadline for Ondrej Kase. At the time of the trade Heinen had 22 points in 58 games playing mostly third line minutes. In his nine games with the Ducks, Heinen slotted in as the second line Right Wing. He netted three goals and added an assist over that span and will look to sustain his level of production over the entirety of the 2021 NHL season.
Anaheim Ducks Preview 2021 – Defense
The Ducks' biggest offseason splash came when they signed Kevin Shattenkirk to a three year deal. The right-shot defenseman played a crucial role for the Tampa Bay Lightning as they clinched the Franchise's second Stanley Cup this past season. Shattenkirk finished the shortened regular season with a +22 plus-minus rating while registering 34 points. He will slot into a top four role and his addition makes the Ducks blueline look more impressive than last year.
Hampus Lindholm, Cam Fowler, and Josh Manson will round out the club's top four defensemen. All three D-men finished the reason averaging over 20 minutes of ice time per game. Lindholm led the club playing 23:04 minutes a night. Overall Cam Fowler might be the team's most versatile player on the backend. Fowler, despite playing over 21 minutes per game on a team that allowed 43 more goals than they scored, finished with an even plus-minus. Overall Anaheim's blueline looks to be improved from last season with the addition of Shattenkirk.
Anaheim Goaltending
The strongest area for the Ducks will be in net. John Gibson returns as one of the top netminders in the league and for the most part will give even a somewhat weak Ducks roster a chance to win every night. Although he had an off year there is a good chance that he will rebound in 2021. Gibson's 3.00 GAA and .904 save percentage look unremarkable on the surface, but he faced the fourth most high danger scoring chances of any goalie. There is a very good chance that Gibson rebounds from a lackluster season. He has the talent to be a Vezina Candidate if the Ducks somehow see success this year.
Ryan Miller Will be Gibson's backup for a fourth season. Last year Miller had a 3.10 GAA anda .907 save percentage over 19 starts. Even at the age of 40, He remains a solid backup option. Especially behind Gibson, who is capable of carrying a heavy workload of games.
Anaheim Ducks Preview 2021: Outlook
Our Anaheim Ducks preview 2021 likes the effect that slightly upgrading their blueline will have this year. Despite this they still look to be in line for a poor season. They lack scoring power and are banking on their younger players to step up into bigger roles. Their biggest strength is in net, although they will need to drastically cut down on opposing teams' scoring chances to have any success this year. It is very unlikely that the Ducks will be anywhere near a playoff spot at the end of the year, although they could improve upon their results from last season.
2021 Anaheim Ducks Season Preview: Projection
Record: 23-29-4, 53 points
Finish: 7th in the West Division