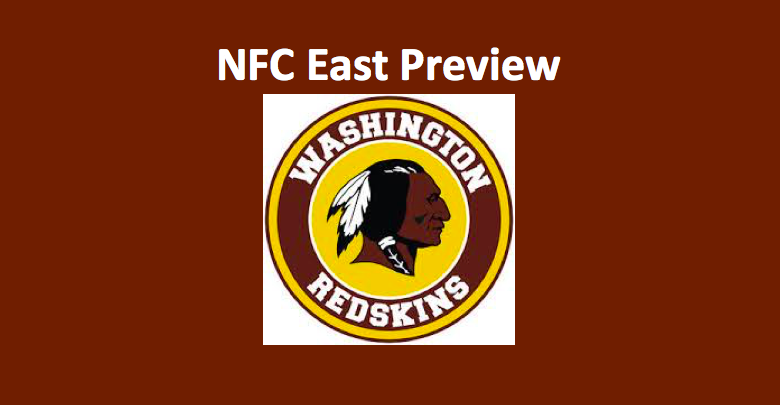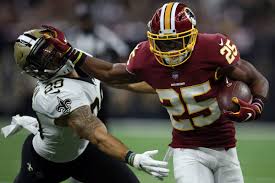 This NFC Washington Redskins Preview 2019 sees the Skins as having to rebuild or reload. But, our Washington Redskins Preview 2019 finds that they have not made much progress towards either. The last time this team made the playoffs was the last time they won nine games, 2015. Since then, it's been three mediocre seasons in a row. Head coach Jay Gruden (35-45-1 Overall, 0-1 Postseason) starts his sixth season, and he has to show results. Although denied, there's been tension between the head coach and president Bruce Allen. Last season, this team was 7-9, finishing third in the NFC East. The Redskins could certainly post a better record than they did last season, as in 2018 they were hampered greatly by injuries. Good health could turn into a few more wins. But a lot of other things will have to fall into place for that to occur.
Washington Redskins Preview 2019 – Team
With rookie quarterback Dwayne Hawkins, a huge First-Round NFL Draft pick, coming to Washington there's hope. How fast can Hawkins get up to speed is tough to say. Case Keenum and Colt McCoy are both ready to go. But even if any one of these players can come through at QB, the fact is the receiving group is weak. The other side of the ball looks stronger, as the Redskins brings a very fine D-line to the field and two other decent units.
Washington – Offense
The strongest part of this offense last year was the rush attack, which averaged 110.9 YOG (17th). Our Washington Redskins Preview 2019 notes that the Skins were 29th in points (17.6 PG), 28th in passing yards (188.8 PG), and 28th in total yards per game (299.7 PG). They were fairly dismal on third-down conversions, as they tied for 24th with a 36% success rate. The 44 sacks allowed ranked 21st.
Fact, the QB spot's unsettled. The top returning receivers include TE Jordan Reed (54 REC, 558 YDs, 10.3 AVG, 2 TDs) and receivers Josh Dotson (44 REC, 532 YDs, 12.1 AVG, 2 TDs) and Chris Thompson (41 REC, 268 YDs, 6.5 AVG, 1 TD). The important player in this mix is Reed who is capable of Pro Bowl level play. Thompson, a veteran, has, at times, also taken on rushing duties. RB Derrius Guice possesses a lot of potential, but a torn ACL in the first game of the 2018 preseason took him out for the year. He may or may not return. Veteran Adrian Peterson (251 ATT, 1,042 YDs, 4.2 AVG, 7 TDs), who is 33 years old, returns after posting solid numbers last year. The O-line is good and could be a sound force if they can keep their health.
Redskins – Defense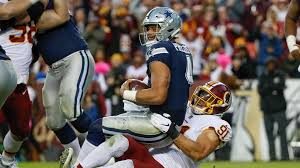 There are some good numbers on this side of the ball and some mediocre numbers. The good numbers include 46 sacks (7th), 15 INTs (T-9th), and +7 TO differential (T-8th). The mediocre numbers include 22.4 points allowed per game, (15th), 237.1 passing yards (15th), and 116.2 rushing yards (17th). Washington was also 17th in total defensive yards allowed (353.4 PG).
The D-line is the best thing about this team. Two of the team's three top sackers are linemen Jonathan Allen (8 SCKs) and Matt Ioannidis (7.5 SCKs). In addition, Allen, who came from Alabama, was third in tackles (96). He, along with former Alabama frontman Daron Payne, are exceptional defenders. There's one issue with the D-line, depth. Our Washington Redskins Preview 2019 notes that both LBs Mason Foster (168 TKLs), and Reuben Foster have a lot of potential. However, both have found themselves in the middle of controversy, with Mason secretly dissing the fan base and having those text messages made public, and Reuben undergoing a domestic violence investigation and finally being cleared. The secondary sees safety Landon Collins, who posted 93 tackles for the Giants last season, come on board. He will be an essential force. CB Josh Norman (3 INTs) could be an elite player.
Special Teams
Both the punt and kick returners need to be replaced. Those two spots are really up in the air. The trio of long snapper Nick Sundberg, placekicker Dustin Hopkins (25-26 XP, 26-29 FG), and punter Tress Way are first rate. Way placed 41 punts within the 20-yard line, while Hopkins was 12-12 on field goals under 40 yards and was 4-5 from 50-plus yards.
Washington Redskins Preview 2019 – Prediction
Obviously, quarterback issues stand to compromise this team's offense. Also, their lack of big-play receivers, abundance of aging and/or injured running backs, and thinned O-line are all problematic. Our Washington Redskins Preview 2019 likes the defensive line, which is one of the best in the NFC. However, it does lack depth. The LB group is unsettled while the defensive backs have a lot of potential but, like other units, are thin. This will be a tough season.
Our Ratings
Quarterbacks – 6.2
Running Backs – 7.1
Receivers – 6.4
Offensive Linemen – 7.0
Defensive Linemen – 9.2
Linebackers – 7.1
Secondary – 7.6
Special Teams – 7.5
Coaching – 7.1
Washington Redskins Preview 2019 – Projection
Washington Redskins Fourth in NFC East
LINKS