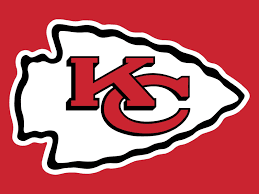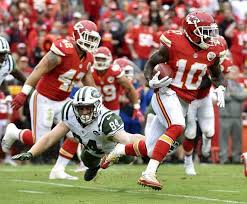 In preparing our Kansas City Chiefs 2017 NFL preview, we noted that when you look at the basic stats, except for a select few categories, the Chiefs don't stand out a whole lot. Still, the Kansas City Chiefs (12-4) won their division last season, but were done in the postseason after one game in which the Pittsburgh Steelers beat them 18-16. This season the stats may play out the same, and the Chiefs may get into the playoffs as a wild card, but can they get to the next level? Three of their four past seasons, they have been in the playoffs, but the Chiefs have not been able to advance. What it comes down to for many is QB Alex Smith and his ability to deliver when the stakes are high. Will 2017 end up being a transformative season for Smith?
Offense: 7.5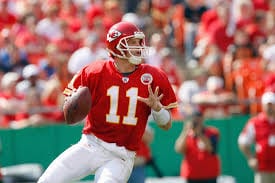 Alex Smith may be looking over his shoulder a bit. Smith, who tossed for over 3,500 yards hitting for 15 TDs while putting up 8 picks, had a disappointing season. The Kansas City quarterback is vulnerable, and if he does go down to injury, as he did for part of last season, who know what will happen? Who's over Smith's shoulder? It's KC's quarterback of the future, first-round 2017 draft-pick Patrick Mahomes II (Texas Tech). Lately, the NFL is filled with scenarios that include the starter going down and the rookie coming in and grabbing the job away. The Chief pass attacked earned a ranking of 19th, while the offense was 13th in scoring with 24.3 PPG. There's good news on the O-line as it showed improvement last season, and it should be a bit better in 2017.
Smith's top receiver was season was Travis Kelce who made 85 receptions for 1,125 yards while averaging 13.2 YPC and scoring four times. Rookie Tyreek Hill caught 61 passes and scored six TDs, while he also ran the ball 24 times averaging 11.1 YPA and scoring three more times. Hill also had three scores on returns. RB Spencer Ware had a solid season, rushing for 921 yards while averaging 4.1 YPA and scoring three times. There's not as much depth at running back as one would like. However, Charcandrick West showed potential, rushing the ball 88 times and averaging 3.3 YPA
Defense: 7.5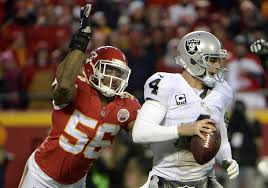 The Kansas City defense held teams to 19.4 PPG, which ranked them seventh in the NFL and third in the AFC. The KC turnover differential last season was +16 (Tied 1st NFL) and the team grabbed 18 interceptions (Tied 1st NFL). Teams ate up yards against the Chiefs, but they had a tough time scoring. The frontline lost two starters from last season, as NT Dontari Poe, who had struggled with injuries off and on, pursued free agency, and Jaye Howard was released due to injury issues. The addition of free-agent Benjamin Logan, a four-year vet with the Eagles who ably shutdown runners, will be helpful. Front man Chris Jones, who was Kansas City's top draft pick in 2016, had a solid rookie season and will likely start.
When healthy, the linebacking unit is impressive. ILB Derrick Johnson (90 Tackles), and OLBs Tamba Hall (3.5 Sacks) and Justin Houston (4 Sacks) were injured off and on last season with all three starting together in just one game. This group, along with the guys on the line, need to improve on their 28 sacks (28th NFL) last season. Johnson, who is in his 14th season and is 34 years old, is trying to come back from his second ruptured Achilles in three years. In the secondary, strong performances were came from safeties Eric Berry (6 INTs, 77 Tackles) and Ron Parker and corner Marcus Peters (4 INTs). Backup safety Daniel Sorensen impressed with 55 tackles, three interceptions, three recovered fumbles, and a sack. The right corner is a concern right now.
Special Teams: 9.0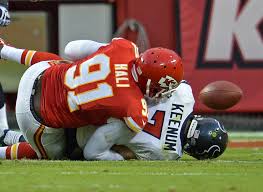 As noted, Hill put on quite a show on returns, bringing back two punts and a kickoff for scores. He led the team in punt return average, which was 15.2 yards and the Chiefs were first in punt returns, averaging 14.8 yards per return. Hill also had six tackles on special teams while D.J. Alexander nailed a dozen runners on run backs and made the Pro Bowl team. Punter Dustin Colquitt out in a solid performance, posting a 40.7-yard net average, while placekicker Calro Santos connected on 88.6% of his field goals (31 of 35) and had 48 kickoffs land as touchbacks.
Coaching and Management: 8.0
Entering his fifth season with the Chiefs, Andy Reid (44-24 Overall), who's in his 19th season as a NFL head coach and comes to the field with184 wins, is one of the most respected guys in the game. He's had a very productive first four years with the Chiefs. But Reid has never won a Super Bowl. This is his primary goal. He does have an excellent coaching staff that includes offensive coordinators Brad Childress and Matt Nagy. Despite having top-notch assistants, Reid still calls all of the offensive plays during a game.
Kansas City Chiefs 2017 NFL Preview: Last Word
Our Kansas City Chiefs 2017 NFL preview finds that this team should enjoy another winning season. They have some great players, including Hill who looks to be a super star. For KC to go all the way the O-line will need to up its game, as will the D-line, and Alex Smith has to win some playoff games. Isn't it time?
Kansas City Chiefs 2017 NFL Preview Prediction: 2nd AFC West; Record: 9-7
GO BACK TO: