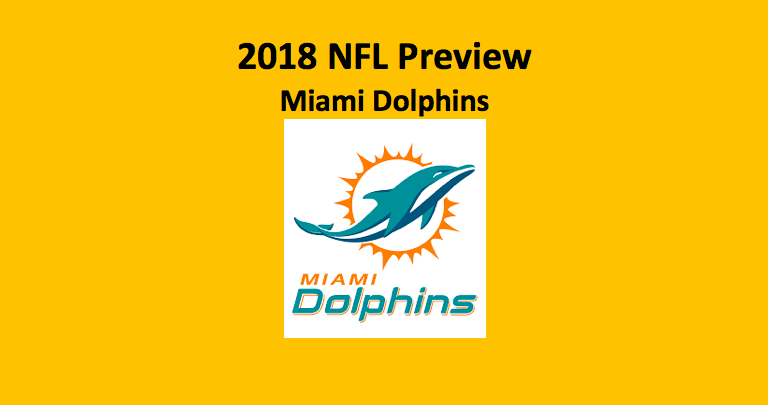 In 2016, the Miami Dolphins notched 10 wins and earned a wild card spot. Then, in 2017, they were 6-10, as they had been in 2015, and found themselves out of the postseason. Our 2018 Miami Dolphins NFL betting preview finds that this season, they do have a shot at making it back to the playoff scene. After all, part of last year's struggles revolved around the loss of starting QB Ryan Tannehill. He's healthy and back. But many other elements also need to fall into place for this team to be competitive in the AFC East.
Offense
With Jay Cutler at the helm last season, the passing game averaged 220.9 YPG (18th NFL). That was not great, but it was better than the team's 86.8 YPG (29th NFL) in ground yardage. Perhaps the most telling stat is this Miami's third-down conversion percentage, which came in at 32%. That tied them for 31st in the league. In addition, the Fins averaged merely 17.6 PPG (28th NFL).
Quarterbacks and Running Backs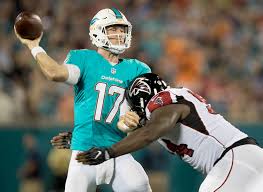 Cutler tossed for 2,666 yards and hit pay dirt 19 times. He also threw 14 interceptions. It's hoped that Tennehill, who's accurate in the pocket, can stay healthy. He's missed the last 20 games dealing with a knee injury. Our 2018 Miami Dolphins NFL betting preview notes if he does go down, former Denver signal caller Brock Osweiler will most likely take over. That would most likely be about as beneficial as Cutler.
The rushing game features Kanya Drake (133 ATT, 644 YDs, 4.8 YPA, 3 INTs). Drake, who starts his third NFL season, needs to prove his durability. Veteran Frank Gore, previously with the Colts, could add some depth to this unit.
Receivers and Tight Ends
The receiving group is experienced and talented. It includes, Kenny Stills (58 REC, 847 YDs, 14.6 YPC, 6 TDs) and DeVante Parker (57 REC, 670 YDs, 11.8 YPC, 1 TD). Stills can stretch the field and create opportunities. Parker has amazing potential, and after three NFL seasons, could be ready to breakout. Joining the Dolphins from the Patriots is the smart and accomplished Danny Amendola. Rookie TE Mike Gesicki is a sound pass catcher capable of creating tough-to-defend matchups.
Offensive Line
The line allowed 33 sacks (11th NFL) last season. Not a great statistic, but not a bad one either. They have seen Pro Bowl center Mike Pouncey depart. Reliable and resilient former 49er center Daniel Kilgore will replace him. Aging guard Josh Sitton, a former Pro Bowler, may be on his way out. In developing our 2018 Miami Dolphins NFL betting preview we found that this line does have depth, but they have not seen any improvement from last year.
Defense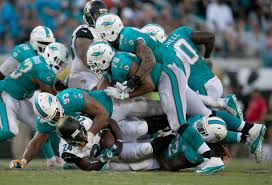 Statistically, the Dolphin D was average at best. They were ranked 14th in rushing yards allowed and 16th in passing and total yards allowed. All other stats were deficient, to say the least, as they tied for 26th in sacks (30), were 28th in picks (9), and 29th in points allowed (24.6). Miami's turnover differential was -14. That got them a tie for 29th in the league.
Defensive Line
The D-line loses Ndamukong Suh, their high-caliber, Pro Bowl tackle. There is no one to replace him. Pro Bowl DE Cam Wake (10.5 SCKs) does return. Robert Quinn, from the Rams, joins the frontline. He had 8.5 sacks last season. Tackle Akeem Spencer, from the Lions, will start. In 2017, he notched three sacks and 30 tackles. Jordan Phillips, who played inconsistently last year, starts at the other DT spot.
Linebackers
Our 2018 Miami Dolphins NFL betting preview observes that the Miami LB unit is especially worrisome. The veteran of the group, Kiko Alonso, was second in tackles with 115, but is not the type of impact player this unit needs. MLB Raekwon McMillan, who missed his rookie season last year due to injury, could start, while rookie OLB Jerome Baker, drafted from Ohio State this year, looks to be the third starter on this unit. There's talent in this group as well as plenty of inexperience.
Secondary
CB Xavier Howard (4 INTs) is back for his third NFL season. At this point, he's shown some flashes of potential, but he needs to become much more consistent. The other corner spot could be manned by second-year pro Cordrea Tankersley. He saw 11 starts as a rookie and looked good. Rookie safety Minkah Fitzpatrick, a first-round pick, possesses starting potential, while Pro Bowler Rashad Jones (122 TKLs, 2 INTs), at the other safety spot, is expected to once again put in another fine season.
Special Teams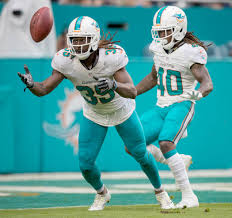 The Miami special teams have been an adventure, as the Dolphins have had a tough time holding onto premium kickers. Cody Parkey, who was good on 91.3% of his field goals last year, has gone to the Bears. Rookie Jason Sanders will try to fill his shoes. He's a seventh-round pick from New Mexico. Also gone is Damien Williams, one of the team's best run back specialists. Long snapper John Denney, who's a top performer, does return, as does punter Matt Haack.
Coaching
It's head coach Adam Gase's third season. He's got a 16-16 regular-season record and an 0-1 playoff mark. Gase specialty is on the offensive side of the ball, but his schemes have been hampered by injuries. He likes to pass and utilize open formations. During the game, Gase calls the offensive plays. D-C Matt Burke, like Gase, is back for his third season. Our 2018 Miami Dolphins NFL betting preview notes that the defense needs to show improvement under his tutelage.
2018 Miami Dolphins NFL Betting Preview: Final Word
In developing this 2018 Miami Dolphins NFL betting preview, we found that any type of success this team may see will be dependent on who's in the QB spot. That means that Tannehill must stay healthy and perform well. The wideouts are talented, and this team has the potential to establish a rush attack. The Fin defense could lose some games. That's never a good scenario.
2018 Miami Dolphins NFL Betting Preview Projection: 8-8 Record, 2nd AFC East
Unit Ratings
Offense:
QB: 7.8, RB: 7.4, OL: 6.9, WR: 7.8, TE: 7.5
Defense
DL: 7.1, LB: 6.4, DB: 7.8
Special Teams
PK: 6.0, PT: 7.5, RT: 6.5
Other
Coaching: 7.1
Intangibles: Tannehill's left knee and the defense. Will either hold up?
Overall Rating = 7.2
Links