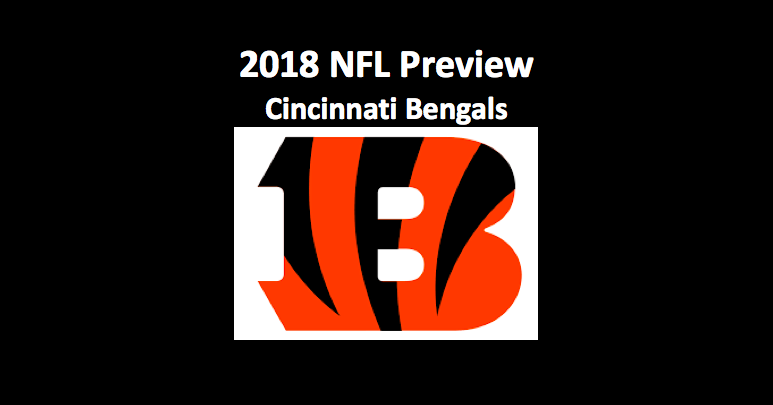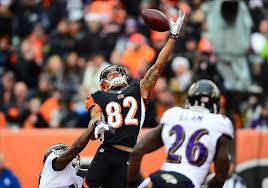 From 2013-2015, the Bengals won their division title twice, and the other year, they were a wild card team. But 2016 and 2017 were lean years, as the team went 6-9-1 and 7-9 respectively. Our 2018 Cincinnati Bengals NFL betting preview finds that this edition of these orange cats can go either way. We think they have a shot at the playoffs, or of going down into the great abyss of last place. Which will it be for these Cincinnati Bengals?
Offense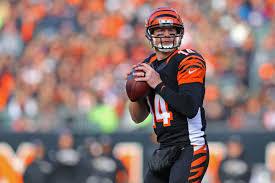 In 2017, the Bengal offense was one of the worst in the NFL, as they were ranked dead last when it came to total yards (280.5 YPG) and 31st in rushing (85.4 YPG). Their average total passing yards were not much better, as they were good for just 195.1 YPG. That ranked them 27th. There was really not much good news for Cincinnati when it came to offense. Cincinnati averaged 18.1 PPG (T-26th NFL), allowed 40 sacks (T-19th NFL), and converted 34% of their third-down attempts (T-27th NFL).
Quarterbacks and Running Backs
Our 2018 Cincinnati Bengals NFL betting preview notes that Andy Dalton (496 ATT, 297 COMP, 3,320 YDs, 25 TDs, 12 INTs) has, over the years, posted some impressive seasons. He's guided this team to the playoffs four times. But along the way, the Bengals have lost key playmakers in its pass-catching ranks, as well as essential guys on the line. Dalton, now 30, needs to crank it up this season. The question is does he have the players around him necessary to be successful?
Joe Mixon (178 ATT, 626 YDs, 3.5 YPA, 4 TDs), who came to the team last year through the draft, is this team's running back. He's seen as being an up-and-coming star, as well as a dual threat. Last season, Mixon caught 30 passes for 287 yards. In 2017, the Bengals expect more from him as a runner and receiver.
Receivers and Tight Ends
The receiving group and tight ends are relatively thin. A.J. Green (75 REC, 1078 YDs, 14.4 YPC, 8 TDs) is the Bengals' primary pass catcher. But he had just 75 receptions last season. That's the fewest Green has recorded in a full season since 2014. The number two wideout, Brandon LaFell (52 REC, 548 YDs, 10.5 YPC, 3 TDs), also saw his production drop last season. Both are looking to get their respective strides back. Over the past two seasons, TE Tyler Eifert has been dealing with multiple back issues. In that time, he's missed 22 games.
Offensive Line
This group, according to our research for our 2018 Cincinnati Bengals NFL betting preview, has lost much of its major talent and is a mere shell of what it used to be. But there's hope. Rookie Billy Price, who was drafted this year out of OSU, seems to have the right stuff to immediately man the center position. Guard Clint Boling is the last remaining member of the group that anchored the 2011-15 playoff run. He played all 16 games last season. After one year in the league, former UCLA standout Alex Redmond looks to be starting at guard.
Defense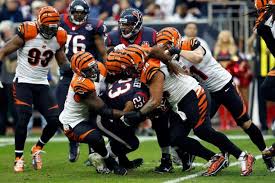 The Bengals' defensive stats were a bit better than those on offense. But not a whole lot better. Total defensive yards came in at 339.1 per game (18th NFL). The Cincinnati rush D was ranked 30th, as they allowed 127.9 YPG, but their passing defense was good. The Bengals gave up 211.2 passing yards per game, which earned them a league ranking of eighth. They also allowed 21.8 PPG (16th NFL) and were -9 (27th NFL) on turnovers.
Defensive Line
On the line, tackle Geno Atkins (9 SCKs) is consistent and tough. He's a fine leader who ably pressures QBs. End Carlos Dunlop (7.5 SCKs) may not record a lot of sacks, but he's adroit at putting pressure on quarterbacks. Michael Johnson at end has found consistency, while veteran tackle Chris Baker comes on board to add a little more pressure on signal callers. Our 2018 Cincinnati Bengals NFL betting preview finds that this is the strongest unit on this side of the ball.
Linebackers
This group has struggled to find consistency. It doesn't help that OLB Vontaze Burfict, now in his third season, is suspended for the start of 2018. This is his third straight year where he's found himself in this situation. MLB Preston Brown offers consistency and leadership. According to this 2018 Cincinnati Bengals NFL betting preview, OLB Nick Virgil, now in his third NFL season, has shown potential. It's hoped he'll continue to develop.
Secondary
Corner William Jackson III came into his own last season. He was the team's first-round pick in 2016, and Jackson has proven that he can go toe-to-toe with the elite in the NFL. Safety George Iloka (79 TKLs) is the leader of this unit. The six-year vet is smart and consistent. Corner Dre Kirkpatrick had 14 PBU last season, while safety Shawn Williams, who managed one INT and three PBU last year, could up his stats if he stays healthy.
Special Teams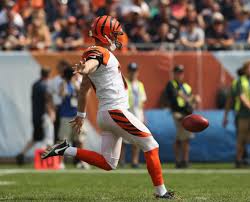 Pro Bowl long snapper Clark Harris is back to ensure stability on kicks and punts. Punter Kevin Huber had a comeback season in 2017, while PK Randy Bullock lost some power when he sustained a back injury that sidelined him for a while. Alex Erikson offers consistency and reliability on run backs. The return units got some extra juice when the Bengals added explosive speedster Darius Phillips from Western Michigan through this year's draft.
Coaching
Head coach Marvin Lewis (125-119-3 Overall, 0-7 Postseason) has been at the helm for the Bengals for 15 seasons. He's the franchise's winningest coach and despite two straight losing seasons, still has avid support from the front office. Over the years, Lewis has done a good job rebuilding this team. The respected head coach tends to be conservative, opting to go the low-risk route. He's made numerous changes going into this season by bringing in new coaches and jettisoning aging vets.
2018 Cincinnati Bengals NFL Betting Preview: Final Word
Honestly, although our 2018 Cincinnati Bengals NFL betting preview projects this team to finish third in the AFC North, they could just as well have a strong second-place finish. That's because there are numerous variables with this team and within the division. We do think they will perform well at times. The question is can they find consistency?
2018 Cincinnati Bengals NFL Betting Preview Projection: 6-10 Record, 3rd NFC North
Unit Ratings
Offense:
QB: 7.8, RB: 8.2, OL: 6.9, WR: 7.0, TE: 7.0
Defense
DL: 8.2, LB: 6.5, DB: 7.8
Special Teams
PK: 7.5, PT: 8.0, RT: 8.3
Other
Coaching: 8.0
Intangibles: Bengals have not been to the playoffs in two years and have not won a postseason game since 1991 and that means pressure on coach Lewis.
Overall Rating = 7.8
Links