Vegas
The 5 Best Sportsbooks in Las Vegas to Watch Games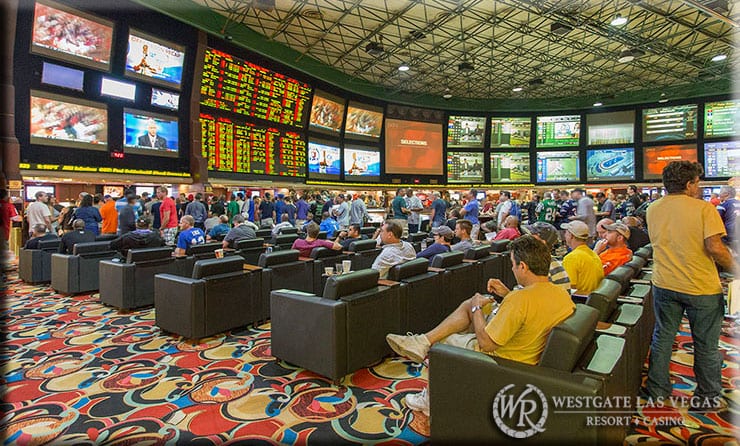 While BettingBrain.com mostly talks about online sportsbooks, let's look at land based casino sportsboooks in Vegas.
Planning a trip to Sin City and want to watch the big game at a sportsbook? Great idea! Las Vegas is known for its epic sportsbooks. From Bellagio to Caesars Palace to off-Strip hotels such as the M Resort, Las Vegas has tons of great sportsbooks to watch ballgames at. It doesn't matter what game you're looking for, you'll find it in a Vegas sportsbook. The only lame part about the sportsbooks is you have to bet large sums of cash in order to get free drinks. In most of the casinos, one free drink requires a minimum $100 bet, sometimes more.
Don't sweat the lame comps given to sports and horse bettors. You'll absolutely love the atmospheres and TV's in Vegas sportsbooks. Well, as long as you're watching a game in the right sportsbook. So hopefully you won't end up over at El Cortez or Riviera watching a game and, instead, get to catch your favorite team at one of these fine Las Vegas sportsbooks…
Bellagio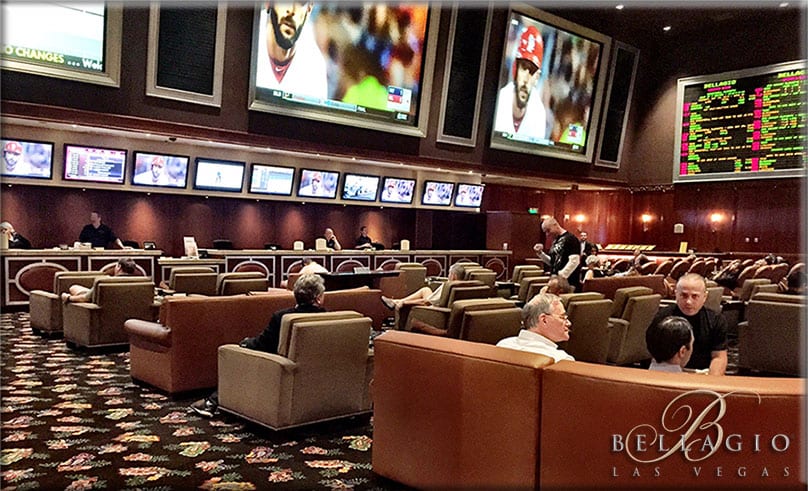 Located right next to the world famous Bellagio poker room is a world-class sportsbook. As long as you don't mind watching sports in dim lighting, you're bound to have a good time. I never have to wait in long lines to place a bet. They have plenty of tellers available so that the lines move quickly. If you're going to be in town during major sporting events such as the Super Bowl, NCAA Tournament, or NFL playoff games, arrive early. This sportsbook gets packed well before the start of big games. If you show up on a random evening to watch baseball games or NBA games, you'll never have a problem getting a seat.
Aria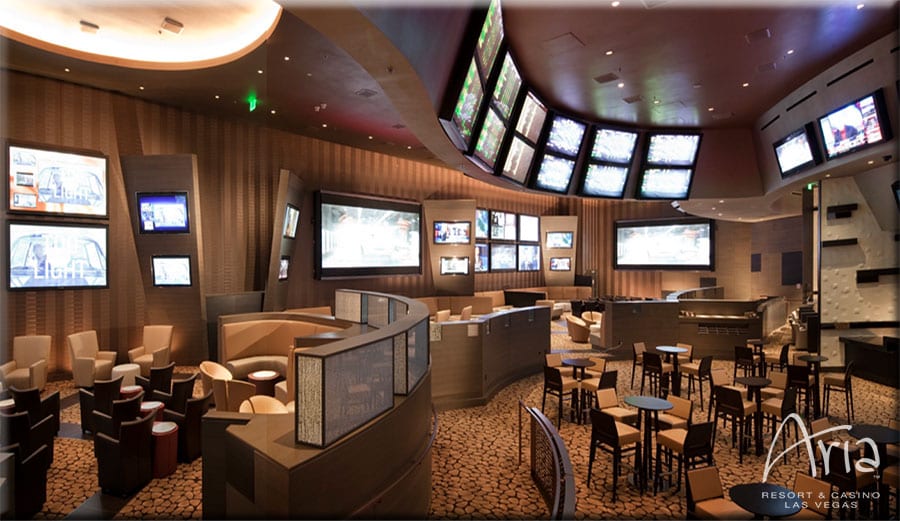 The thing I love most about Aria Resort and Casino is they're always improving. That's not only true for their rooms, restaurants, etc. It's also true for their sportsbook. I've watched the Aria sportsbook evolve over the past year into one of the best sportsbooks you'll ever find. There isn't a more comfortable place to watch a game. The couches and spacious leather chairs that surround all of the big screens will make you feel like you're watching in your living room. If you're hungry, they have a brand new pizza joint right next door that serves unique, tasty pies. Unless you're only betting on horses, individual TV's are unavailable, so that's the only knock I have on the Aria sportsbook.
Caesars Palace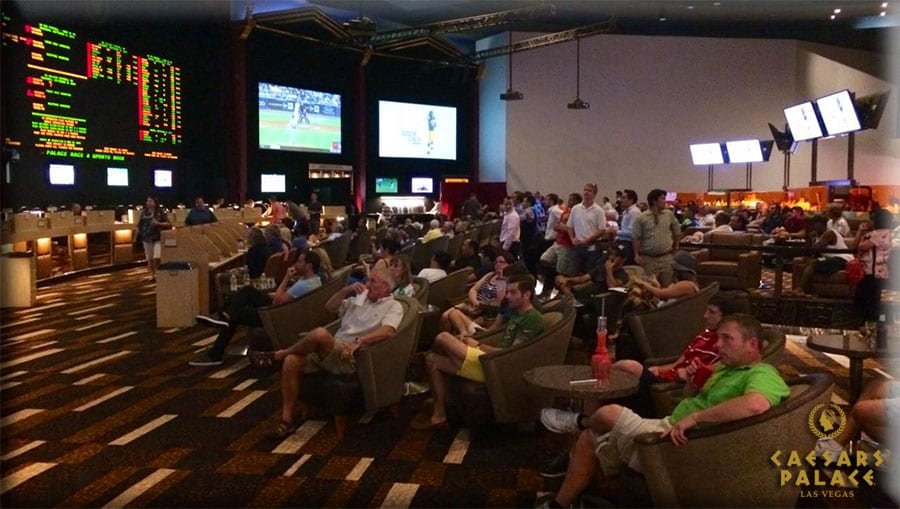 If you polled 100 sports bettors in Las Vegas, more than half of them would likely claim Caesars Palace has the best sportsbook. It's hard to argue that, although I could make a case for a few different sportsbooks. This is one of the largest sportsbooks in town. The cocktail waitresses are easy on the eyes and you will rarely have a long wait to place a bet. There's very little to be negative about with this popular sportsbook. A big game will attract a large, passionate crowd at Caesars Palace.
Venetian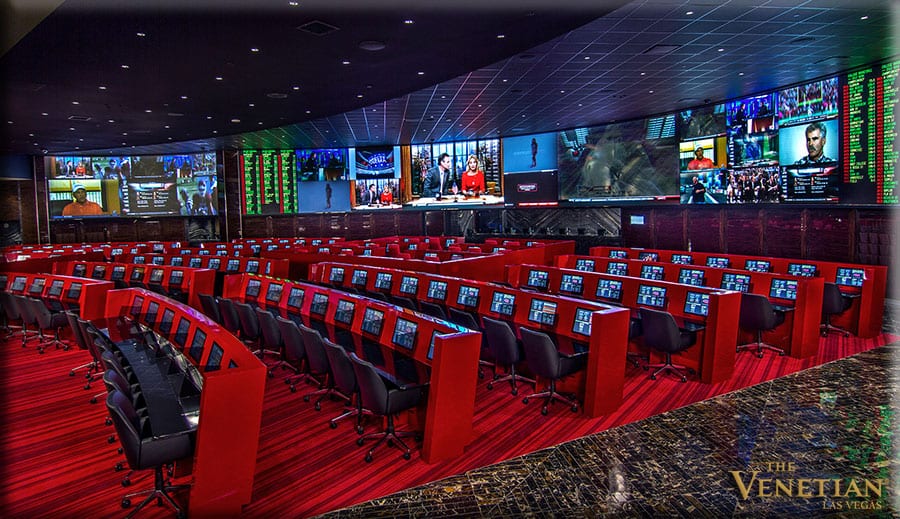 I can't say enough good things about the newly renovated Venetian sportsbook. I'm not sure I've seen sharper HDTV's than at Venetian. You can tell they put a lot of effort into creating a big-time sportsbook. Everything about this place is professional. The staff is friendly and helpful and I never have to wait very long to place my bet. I'm also quite fond of the Asian restaurant right next to the sportsbook. So go over there, grab your favorite Asian dish to-go and bring it to your seat at the sportsbook. This tasty meal will make you forget about that 4-team parlay you just lost in the final seconds.
Westgate (Previously LVH)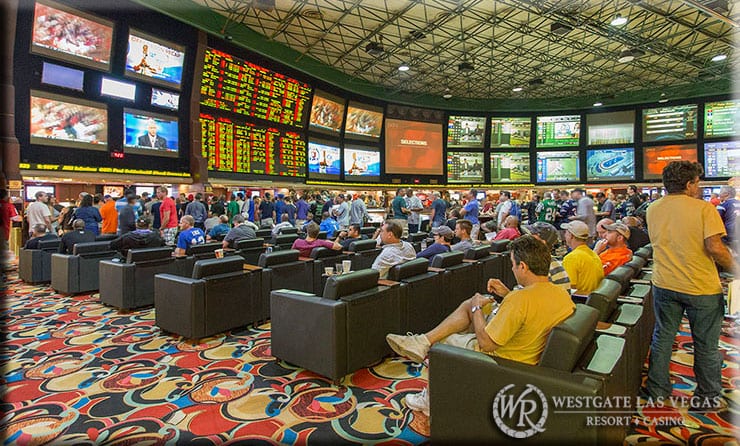 In July 2014 the LVH (which was the Las Vegas Hilton) changed their name to Westgate…  However, the sportsbook has remained the same and it's awesome for football games! The Westgate the largest sportsbook in Las Vegas and attracts some of the loudest crowds. It's almost like being at a game in person. LVH is slightly off the Strip, near the old Sahara hotel. This is the best NCAA Tournament atmosphere you'll find in town.