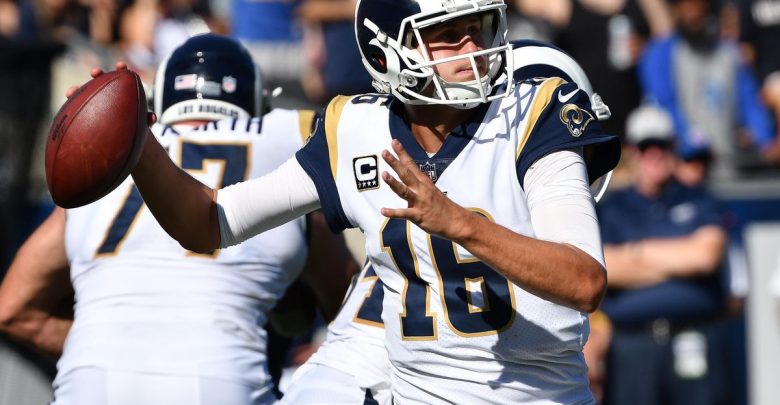 Believe it or not, the NFL season is right around the midway point. Things are really starting to heat up over the past week, as we've seen teams desperate to get wins, teams making trades, and even one team making a head coaching change. Let's take a look at some of the NFL headlines from the past week.
Time for a Change
The Cleveland Browns became the first NFL team to fire their head coach this season. On Monday, both head coach Hue Jackson and offensive coordinator Todd Haley were shown the door. The move comes on the heels of a three-game losing streak that has dropped the Browns to 2-5-1 on the season after a somewhat promising start. Two of those three losses have come by substantial margins whereas Cleveland's first five games were all decided by four points or less. Defensive coordinator Gregg Williams has been named the interim coach.
Undefeated Watch
Eight games into the season, the Los Angeles Rams are still perfect. The Rams needed a late fumble to escape with a 29-27 win over the Packers on Sunday, but they remain undefeated at 8-0. Of course, the Rams face perhaps their biggest challenge of the season this week when they visit the New Orleans Saints. With three of their last four wins being decided by a field goal or less, the Rams are perhaps working their way to their first loss of the season.
Take A Seat
There's been another twist in the Tampa Bay Buccaneers' quarterback situation. Jameis Winston was benched on Sunday following his fourth interception during the team's 37-34 loss to the Bengals. Ryan Fitzpatrick came in and threw two touchdown passes to help the Bucs erase a 34-16 deficit, only to lose on a last-second field goal. On Monday, head coach Dirk Koetter announced that Fitzpatrick would get the start this week against the Panthers. Tampa Bay is 3-4 after losing four of their last five games, so it's vital that Fitzpatrick help get them back on track this week.
To Be Determined
Following another loss on Sunday, Giants coach Pat Shurmur didn't guarantee that Eli Manning will be the team's starting quarterback following next week's bye. He did make it sound likely that Manning would start but left things a little open-ended by saying "We'll see." Manning seems to understand that his time with the Giants is coming to an end one way or another; it's just a matter of how much longer he plays for a team that's already traded away players and is looking toward the future. If Manning is benched, rookie Kyle Lauletta may get the nod over veteran backup Alex Tanney.
Line Shift
The Cowboys fired offensive line coach Paul Alexander on Monday. In recent years, the Dallas offensive line has been a huge strength of the team. However, that has not been the case this season. It may not be Alexander's fault entirely, as center Travis Frederick has sat out the entire season because of an illness. A few other starters have also been banged up this year. Nevertheless, the Cowboys fired Alexander and promoted assistant offensive line coach Marc Colombo to his position, hoping a new voice will help that unit back on track.
In the Record Books
The NFL has a new all-time leading scorer, and it's Colts placekicker Adam Vinatieri. With a field goal less than a minute before halftime, Vinatieri kicked a field goal to officially passer fellow kicker Morten Andersen for the most points scored in league history. The 45-year old almost didn't play in the game after suffering a groin injury. But he made it back in time to remain active this week and pass Mortensen. Of course, this is just one on a long list of accomplishments for Vinatieri in his career as arguably the best kicker of all-time.
Once in a Lifetime
While the Arizona Cardinals were winning their second game of the season on Sunday, wide receiver Larry Fitzgerald did something he had never done before: he spiked a ball after catching a two-point conversion to help the Cardinals extend their lead in the final minute of play. He said the spike was out of frustration after his son decided to visit the Arizona State Fair rather than attending the game to watch the floundering Cardinals. After the game, Fitzgerald admitted to setting a bad example with the spike, meaning that could be the first and only spike of his career.