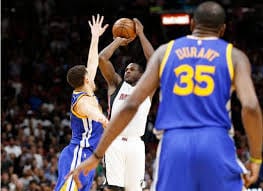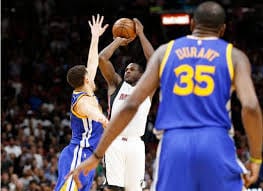 The NBA season is a long one and that means that even the best teams will breakdown at some point, the huge underdogs will win, and the wheels will seem to have come off the bus. It is, after all, an 82-game season that stretches from October through to April and that means teams are going to falter. The top teams in the NBA may struggle and not cover, or, as occurred last night, they will be beat outright. The week started with three NBA upsets.
Along with looking at three NBA upsets, we'll review where Russell Westbrook is in his triple-double mayhem and consider which teams are molten metal hot and which are dry ice cold.
Three NBA Upsets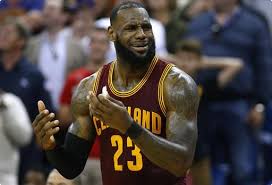 NBA teams have played about 43 games at this point, and that means they are midpoint in their season. At this juncture in the season, teams are showing some wear and tear, players are tired, and winning streaks become tough to maintain. In some ways, it's no surprise that upsets occur. It's a bit odd to have three in one night, but then again, it was a Monday, the start of the workweek when people can be off their game.
There were nine games played last night and one-third of those games ended in a topsy-turvy manner. What may be more significant is there were four games where the top teams met those that have losing records and three-quarters of those games ended as upsets.
In the Miami Heat (15-30) game, the Golden State Warriors (38-7) ended up on the short end of a 105-102 loss. On the winning side, Heat shooting guard Dion Waiters knocked in 33 points. Waiters hit a three-point shot with 0.06 on the clock to notch the win. In other action, New Orleans (18-27) beat Cleveland (30-13) 124-122. Cleveland point guard Kyrie Irving had 49 points, while the Pelican bench countered with 40. Finally, against Milwaukee (21-23) the Houston Rockets (34-14) came tumbling down 127-114 as Bucks' small forward Giannis Antetokounmpo pumped in 33 points.
The one team that took care of business was San Antonio (35-9). They beat Brooklyn (9-35) 112-86.
Russell Westbrook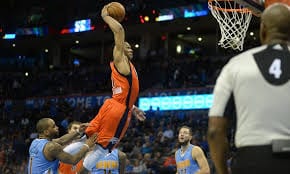 Oklahoma City point guard Russell Westbrook has been doing his triple-double act again. On the triple-double trail, Westbrook is averaging 30.8 PPG, 10.6 rebounds, and 10.4 assists. In six of 11 games played in January, Westbrook notched a triple-double.
Thus far in the month he's averaging 11 RPG, 9.5 APG, and 30.5 PPG. In those games that he's made a triple-double, the team is 4-2. He's on a quest to average a triple-double for the season. Only one NBA player has ever achieved this accomplishment, the great Oscar Robertson.
Teams that are Hot and Those Not
Despite their loss last night, the Warriors are both churning out wins going 8-2 over the past 10 games. The Spurs, who are also 8-2, presently have the longest winning streak in the NBA West, which stands at four games. Also in the West, the Clippers have gone 8-2 and Utah 7-3. The Rockets are struggling at 5-5 while there are two teams that are playing dismally, the Kings at 2-8 and Lakers at 3-7.
In the East, the Wizards have the best ten-game mark, 8-2, while the Celtics, Hawks, and 76ers have gone 7-3. For a top team, the Cavs are struggling having won just four of their last 10. The Heat are 5-5 in that same amount of time, but they have the longest winning streak in the NBA East, which is four games. The Brooklyn Nets are performing terribly at 1-9.
That's it for the NBA. We'll be posting NBA Picks and NCAA picks throughout the week. Note that the three NBA upsets of top teams that occurred last night serve as a warning to sports bettors. No win is certain.