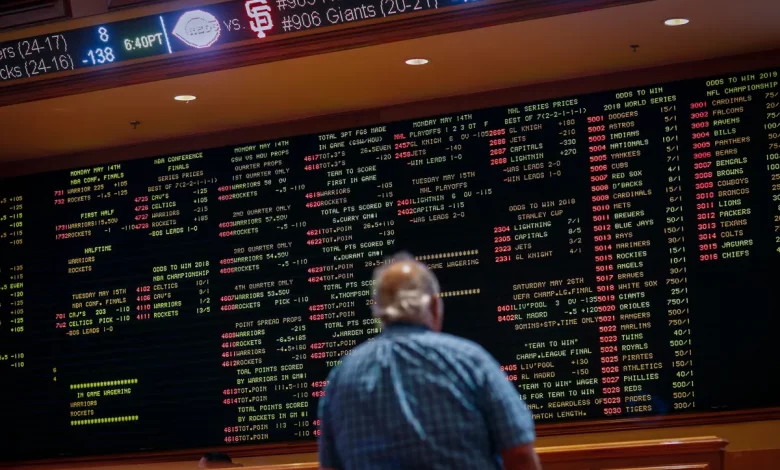 The state of Kansas began its second year of legal sports betting in big fashion as the sportsbooks set a new record for monthly sports betting handle. Kansas officially launched sports betting in September 2022, but it was last month that saw the biggest overall results.
The sportsbooks in the state set a new handle record by bringing in $219.3 million, which surpassed the previous record that was set in March of this year. This was just the third time in the state's history that there was over $200 million in total handle in a month.
Kansas was also able to pass a threshold last month as the state went over $2 billion in total handle in 13 months. There were 20 other states that beat Kansas to that $2 billion mark, but most of those states were launched well ahead of Kansas.
Online sportsbooks continue to see most of the action in the state, but retail sportsbooks have been putting up solid numbers as well.
Hollywood Kansas Extremely Popular
There are four retail sportsbooks live in the state of Kansas, and they combined for a total handle of $18.2 million in September. That might seem like a small number, but that is actually a retail sports betting handle record.
It was Hollywood, Kansas, that attracted most of those wagers, as nearly 90% of that total came from that location. Penn Entertainment owns and operates that casino, and that is a company that has a big presence in sports betting throughout the country.
Retail sportsbooks in the state continue to struggle to win bets at the same rate as their online counterparts. The retail sports betting handle hold was just over 3.1%, and that is well under the national average.
Retail sportsbooks in Kansas got off to a rough start to 2023 as they were hit hard after the Kansas City Chiefs won the Super Bowl.
DraftKings Dominates in Market Share
DraftKings Sportsbook posted a total sports betting handle of $97.2 million in September, and that is easily the highest mark ever recorded in Kansas. While FanDuel continues to be the online market share leader throughout the United States, DraftKings has been dominant in this state.
Total sports betting handle for the state when it came to mobile sportsbooks was up at $201.1 million. That is also a state record, and it also got past the previous record that was set during the month of March.
FanDuel had a total handle of just $54.5 million in September, but this sportsbook continues to produce the highest hold each month. That is in part due to the fact that FanDuel has some great same-game parlay options that are attractive to sports bettors.
BetMGM is the other big name in Kansas, and those three names are collecting nearly all of the online betting action. There are still some online sports betting licenses available in Kansas, and that means that there is some potential for growth in the coming months as well.