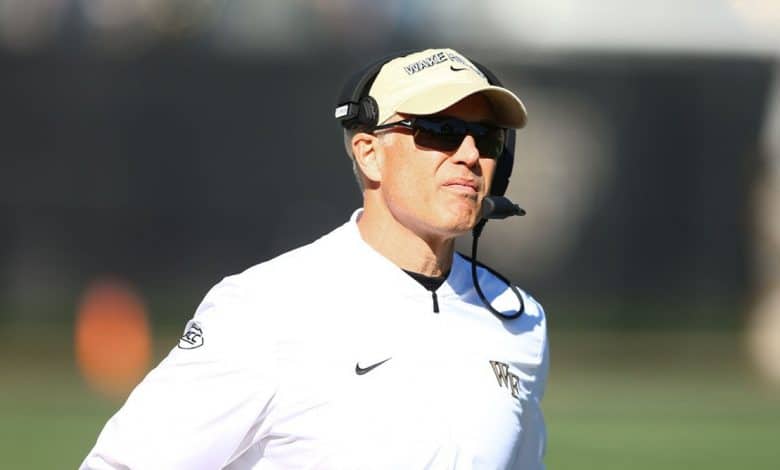 Wake Forest head football coach Dave Clawson will isolate during the season to keep his wife, Catherine, safe. Catherine is a cancer survivor and more susceptible to the coronavirus, so the family thought it wise with the number of people the coach would be coming in contact with.
Wake Forest starts its preseason camp on July 12. "When I'm working on a daily basis, coaching 110 to 120 players and having a staff of 50, I don't know how I could go home at night and honestly tell my wife I couldn't have come in contact with (the coronavirus)," Clawson told ESPN.
Catherine is currently cancer-free, but the Clawsons wanted to be extra cautious. Clawson's family will head to Florida while Clawson will remain in Pennsylvania before the season starts.
Penn State coach James Franklin will be doing the same thing for his family. Franklin's daughter has sickle cell disease. The family will remain in Florida during the season to isolate themselves from Franklin.
Coaches Rally Against Mississippi Flag
Coaches across a number of the Mississippi schools, and several different sports, met at the state capital to rally support to change the state flag. The current state flag features the Confederate flag.
The NCAA, SEC and Conference USA have all threatened to pull all tournaments and events from the state if the state does not remove the Confederate flag. Kermit Davis and Lane Kiffin both spoke up about the importance of changing the state flag.
West Virginia Places Defensive Coordinator on Leave
The Mountaineers have placed defensive coordinator Vic Koenning on leave after allegations of mistreatment emerged. Sophomore Kerry Martin Jr. took to Twitter to reveal many troubling issues with Koenning.
Martin alleged Koenning said several offensive things, including mocking people with intellectual disabilities, immigrants, and Koenning making fun of Martin switching religions. Martin also said the Koenning made inappropriate comments about the recent protests.
Morehouse College to Sit Out 2020
Morehouse College has decided to cancel all fall 2020 sports in response to COVID-19. The football and cross country teams, which are the only fall sports at Morehouse, will both sit out this year.
Morehouse College followed Division III Bowdoin College, which also canceled all of its fall sports. It remains to be seen if an FCS school will decide to cancel all of its fall sports.
Louisville-NC State Move Game Date
Louisville and NC State have decided to reschedule their game due to the Kentucky Derby date being changed. They were supposed to play on Sept. 3, but that is the day the Kentucky Derby races will start.
They moved the game up one day to Sept. 2. The traffic of the Cardinals' season opener plus the Derby would have resulted in a back-up throughout the city. The move will also allow the two teams to get a night of college football all to themselves since games don't usually occur on Wednesday nights.