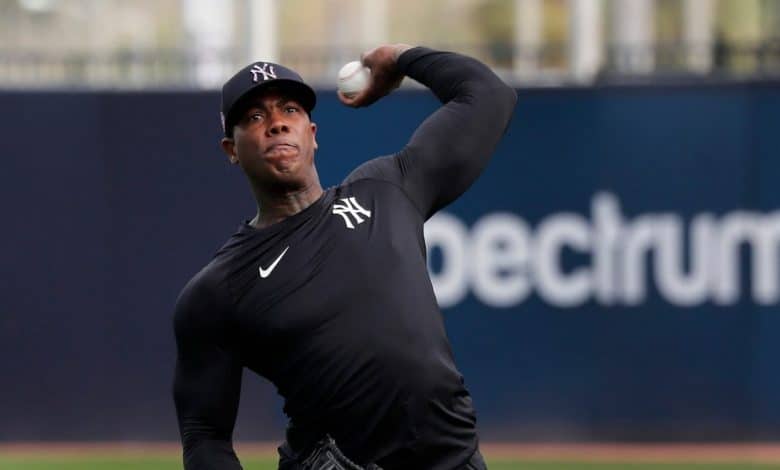 Major League Baseball continues to put the final pieces together for the shortened 2020 season. Here is what's happening around the league and within team workouts in anticipation for Opening Day on July 23.
Chapman Tests Positive
We are now under two weeks away from the start of the 2020 season. On Saturday, New York Yankees All-Star closer Aroldis Chapman had a positive COVID-19 test result come back. Chapman is the third Yankees player to test positive for the virus since the teams resumed training camp.
Yankees' manager Aaron Boone noted that Chapman was doing well and showing very little symptoms but added that the left-handed reliever will not be with the team for the foreseeable future. Boone also said that the team went through contact tracing protocols and that all other players and staff members that were in close contact with Chapman tested negative.
Houston Halts Workouts
The Chapman news came just hours after the Houston Astros canceled another workout due to concerns over the virus. This cancelation was out of precaution as a staff member came in contact with an individual outside of the organization infected with the virus.
This is the second time this week that the Astros have had to cancel a team workout. Houston scrapped their Monday workout due to the delay in test results because of the holiday weekend. Houston was one of a handful of teams to halt workouts due to the delay in test results.
List of Players Opting Out Lengthens
As the season nears and positive cases inside MLB franchises continue to tick upwards, more and more players are opting to sit out the 60-game season. The list of players includes numerous key members of organizations, and by this time next week, you can expect this list to be even longer.
San Francisco veteran catcher Buster Posey recently announced his intention to sit out this year. The six-time All-Star's decision comes after he and his wife recently adopted infant twins that were born prematurely.
The other players opting out include Mike Leake (Arizona Diamondbacks), Felix Hernandez and Nick Markakis (Atlanta Braves), Michael Kopech (Chicago White Sox), Ian Desmond (Colorado Rockies), David Price (Los Angeles Dodgers), and Joe Ross, Ryan Zimmerman, Wellington Castillo (Washington Nationals).
Gallo Tests Positive … and Negative
Texas Rangers All-Star slugger Joey Gallo is unsure he ever had the coronavirus even after testing positive twice for the virus. The young star missed the first week of the Rangers training camp and isolated for two weeks after a positive test in late June though he never felt any symptoms.
Gallo's positive tests came on a saliva test, while the negative test results came from a nasal swab test. He said that he plans to have a more extensive antibody test done after a finger-prick test indicated he never had COVID-19 at any point.
The slugger had back-to-back seasons with 40 or more home runs in 2017 and 2018, followed by 22 homers in 2019 before his season was cut short with a season-ending wrist injury.