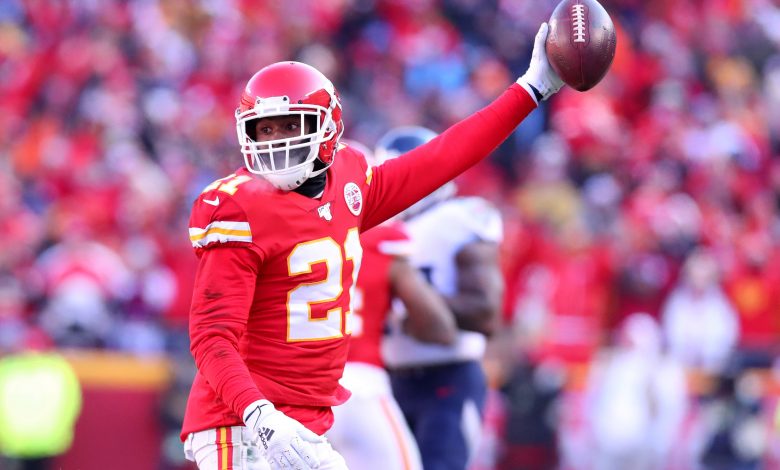 Fewer than three months after making an interception during Kansas City's Super Bowl victory over San Francisco, Chiefs cornerback Bashaud Breeland now faces an uncertain future after being jailed in York County, SC.
The 28-year-old was arrested on multiple charges. According to a York County sheriff's officer, Breeland faces charges of having an open container of beer or wine in a motor vehicle, having alcohol in a motor vehicle with the seal broken, resisting arrest, driving without a license, and possession of 28 grams or less of marijuana or 10 grams of hash.
The latest reports received on Tuesday night noted that Breeland was in county jail and that bond had not been set.
Although the Chiefs did not provide any further comment, they said they were aware of and monitoring the situation.
Breeland joined Kansas City on a one-year deal last season. He previously played four seasons with the Redskins and one season with the Packers. The cornerback recently signed on for another season with the Chiefs at $4.5 million.
For now, there's no word from the team on whether or not Breeland's future in Kansas City is in peril. The Chiefs drafted defensive back L'Jarius Sneed, who moved from corner to safety for Louisiana Tech last season, in the fourth round of the 2020 draft, but he wouldn't be expected to slot into Breeland's position.
In a Tweet sent early Wednesday morning, Breeland said, "I'm not fighting to clear a name I don't care what people think I know the truth innocent until proven guilty."
History of Releasing Unlawful Players
Although the charges and circumstances are vastly different, the Chiefs have a recent history of releasing players in trouble with the law based on their handling of running back Kareem Hunt.
Following an incident in which Hunt was involved in an altercation with a female, Hunt was under scrutiny and investigation by the NFL. Once video of the incident, which showed Hunt kicking the woman, surfaced, Hunt was placed on the commissioner's exempt list and released by the Chiefs late in 2018.
According to reports, a significant reason for Hunt's release was the fact that he lied to the team when asked directly about the incident before the video was made public.
Breeland's situation is different on virtually every level, apart from the fact that he's currently facing trouble with the law. We'll have to wait and see how the Chiefs handle Breeland in the days to come.
Chiefs Aiming to Repeat as Champs
Just days removed from the NFL Draft, Breeland's arrest won't have fit into head coach Andy Reid's plans as the team seeks to repeat as Super Bowl champions.
Now, a roster that's loaded on the offensive side of the ball will face questions on the defensive side, where Breeland leads the depth chart at cornerback. Also on the roster at that position are Charvarius Ward, Rashad Fenton, and Chris Lammons, among others.
Even with holes on defense, the Chiefs are the current favorite to repeat as champs this season. With odds of +650, Kansas City leads both Baltimore (+700) and San Francisco (+900).