NCAA Previews
#12 Washington Huskies Preview 2019
Huskies will Battle for First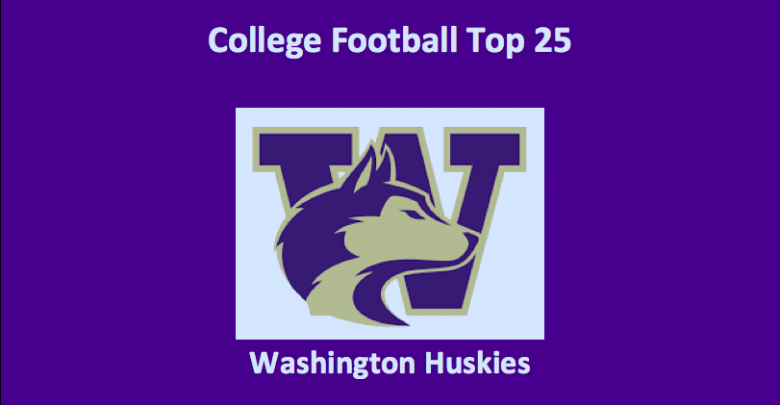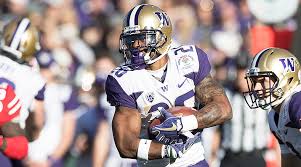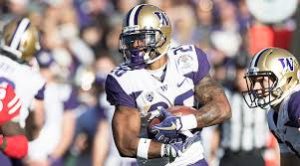 Our Washington Huskies Preview 2019 notes that this team was tops in the Pac-12 in 2018. This Washington Huskies football preview observes that this version of the Huskies may find it tough capturing first-place in the North. Last season, the team was 7-2 in the conference and 9-3 overall. They lost to Auburn 16-21, Oregon 27-30 in OT, and California 10-12. Those three losses were by an average of 3.33 points. In the game for the Pac-12 Championship, Washington beat Utah 10-3. The Huskies earned a spot in the Rose Bowl where they lost a tough one to Ohio State 23-28.
In 2018, the Huskies averaged merely 26.4 PPG (88th). Their ground attack ranked 55th (176.3 YPG) and air game ranked 60th (238.4 YPG). Total yardage came in at 414.6 YPG (54th). It was their defense that kept Washington in the game last season, as they allowed opponets 16.4 PPG (5th). The Huskies allowed 116.1 passing YPG (15th) and 190.1 rushing YPG (25th). Total defensive yards allowed were 306.2 per game (12th).
Washington Huskies Preview 2019 – Offense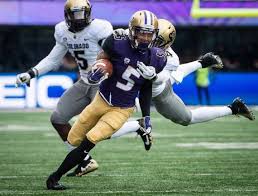 We expect the Huskies to improve on their average of 26.4 PPG from last season. A major reason for that improvement should be QB Jacob Eason. Formerly with Georgia in 2016 as a true freshman, Eason was injured. Returning home to Washington for 2019, the Eason will battle sophomore Jake Haener for the starting spot. Eason is expected to win that battle. The receiving unit includes the top three pass catchers from 2018. Senior Aaron Fuller (58 REC, 15.1 AVG, 4TDs) and junior Ty Jones (31 REC, 15.8 AVG, 9 TDs) are quality receivers. The Washington O-line is experienced and sound. In 2019, they should be more effective. The Huskies lose starting RB Myles Gaskin (1,268 YDs, 4.9 AVG, 12 TDs), but they return an experienced trio. Leading that unit is junior Salvon Ahmed (608 YDs, 5.8 AVG, 7 TDs). He returns as the top rusher.
Defense and Special Teams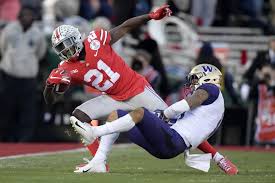 Defense sees only two starters return as the Huskies lost five key players to the NFL draft with three being taken from the secondary, one from the LB unit, and another from the frontline. Junior DE Levi Onwuzurike (34 TKLs, 3.5 SCKs, 3 TFL) does return. Also coming back is senior DL Benning Potoa'e (41 TKLs, 1 SCKS, 5.5 TFL). The Washington LB unit is a concern. However, they do return senior NB Myles Bryant (61 TKLs, 3.5 SCKs, 6.1 PBU). He is the top returning tackler, sacker. Of the three defensive units, it's the Huskie secondary that lost the most. Junior safety Elijah Molden (29 TKLs, 5 PBU, 0 INTs) is the most experienced player in the secondary. Not one returning player had a pick in 2018.
Our Washington Huskies Preview 2019 notes that there's good news on the special teams' front, as punter Joel Whitford (33 Punts, 41.3 AVG, 10 In20) and kicker Peyton Henry (43-33 XP, 16-22 FG) return. Henry could use more distance as he hit just one of three from 40-plus and that was a 41-yarder. The return teams could do better. Fuller (22 RT, 5.5 AVG, 0 TDs) needs to increase his average per return. Plus, on kickoffs, Sean McGrew (8 RT, 16.2 AVG, 0 TDs) could use more yardage too.
Coaching and Recruitment
Head coach Chris Peterson (47-21 Washington, 139-33 Overall) is in his sixth year with the Cougars and 14th overall. In the last three seasons under his guidance Washington has posted double-digit wins. Peterson came from Boise State where he served for eight years as OC and five as HC. He's the only coach to win the Bear Bryant Coach of the Year Award twice. Bush Hamdan, Atlanta QB coach in 2017, came in as Washington's offensive coordinator in 2018. He's back for his second season. The Co-DC's are Jimmy Lake and Pete Kwiatkowski. Kwiatkowski has been with Peterson since 2006, while Lake came on board in 2016. The new class includes 15 four-star and eight three-star recruits.
Our Washington Huskies Preview 2019 – Final Word
Our Washington Huskies Preview 2019 sees this team as scoring more points than they did last year. The O-line looks especially solid and we expect Eason to perform well. Out of conference, the Huskies have two big games, one at home against Hawaii on September 14 and the other at BYU on September 21. October 19 is their meeting with the Oregon Ducks, which is a must win. If they don't win those three games, we doubt they'll take the North this season.
Click here to go back to Pac-12 North
Click here to go back to NCAAF Hub