NCAA Previews
#19 Iowa Hawkeyes Preview 2019
Good Enough to Take the Big Ten West?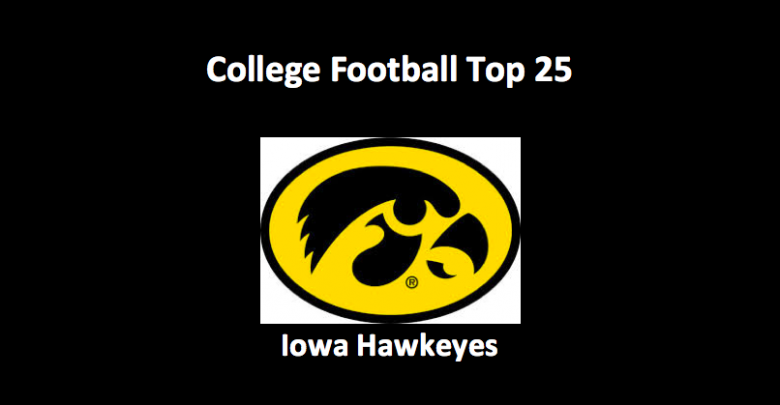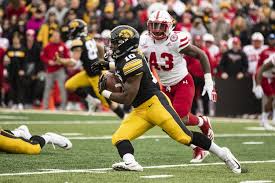 Our 2019 Iowa Hawkeyes Preview 2019 sees this team as posting a winning record. This Iowa Hawkeyes preview notes that over the past five years, this football team has not had a losing season. They've been to five straight bowl games, going 3-2. In 2018, the Hawkeyes finished fourth in the Big Ten West with a conference record of 5-4 and an overall mark of 9-3. They lost big games to Wisconsin 17-28, Northwestern 10-14, and Penn State 24-30. In their final two games of the 2018 season, Iowa did manage to beat Illinois 63-0 and Nebraska 31-28 to secure a winning conference record. They played the Mississippi State Bulldogs in the Outback Bowl, beating them 27-22.
This team was better on defense than on offense. The Hawkeyes allowed opponents 17.8 PPH (11th) and held them to 109.5 rushing yards per game (12th) and 184.1 passing yards (17th). Total defensive yards given up were 293.6 per game (7th). Iowa's defense often kept them in the game. The offense scored a decent number of points, 31.2 (43rd). But they were ranked 94th in rushing (148.4 YPG) and 71st in passing (226.6 YPG). Total yards came to 375.0 (91st).
Iowa Hawkeyes Preview 2019 – Offense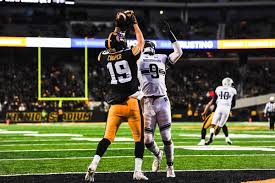 We expect the Hawkeyes to be competitive within the Big Ten West, as six offensive starters return. That includes senior QB Nathan Stanley (59.3 COMP%, 26 TDs, 10 INTs) who last season threw for 2852 yards. In two seasons, he's tossed 52 touchdown passes. That's the most of any Iowa quarterback over a two-year span. A major issue is in the receiving unit, as the top three pass catchers from 2018 are gone. Physical wideout Brandon Smith (28 REC, 12.9 AVG, 2 TDs) returns, as does the fast and elusive receiver Ihmir Smith-Marsette (23 REC, 15.3 AVG, 3 TDs). The tight end spots are question marks.
The rushing game is in better shape as the top three producers from last season come back. Dual-threat Mekhi Sargent (745 YDs, 4.7 AVG, 9 TDs), now a junior, posted 100-plus yard games last season versus Illinois (121) and Nebraska (173). He's a versatile insode and outside rusher and an able receiver. Junior RB Torn Young (637 YDs, 4.7 AVG, 5 TDs) brings depth and extra drive to the field. The offensive line is one of the better ones in the conference. They'll be a huge factor this season.
Defense and Special Teams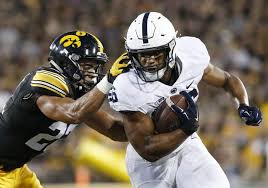 The team's top four tacklers are gone. The Hawkeyes will still put up a good defense, but probably not as stalwart as the one they fielded in 2018. The team's best sack-man, junior RE A.J. Espenesa (37 TKLS, 10.5 SCKs, 6 TFL) returns. Along with 10.5 sacks, Espenesa posted eight QBHs and four PBU. LE Chauncey Golston (35 TKLs, 3.5 SCKs, 5.5 TFL), also a junior, is a solid performer. Still, the D-line has lost four major contributors from last season. The LB unit sees sophomore WLB Djimon Colbert (52 TKLs, 0 SCKs, 1 TFL). He's the team's top returning tackler. Three-of-four starters return to the secondary, including corner Michael Ojemundia (39 TKLs, 6 PBU, 3 INTs) and strong safety Geno Stone (39 TKLs, 3 PBU, 4 INTs). Both are top-notch defenders.
Our Iowa Hawkeyes Preview 2019 notes that special teams will include Michael Sleep-Dalton, an Arizona State transfer who averaged 43.8 yards per punt in 2018. He will most likely be the punter. Also on board is walk-on junior PK Caleb Shudak. He was a red shirt last season, but is expected to take the field in 2019. Smith-Marsette (24 RT, 29.5 YPR, 0 TDs) returns kicks again. His 29.5 YPR was best in the Big Ten last season. He's also expected to return punts this year.
Coaching and Recruitment
In terms of recruitment, Iowa ranks ninth in the conference. They have no five-star recruits with the majority, 19, being three-star recruits. Three four-star recruits do arrive. In his 21st year at the helm, Kirk Ferentz (152-101 Iowa and Overall) is the longest tenured FBS head coach. Ferentz has received four Head Coach of the Year Big Ten awards. Ferentz's son Brian is in his third year as offensive coordinator, while Phil Parker starts his eighth season as DC and 21st season with the Hawkeyes and Ferentz.
Our Iowa Hawkeyes Preview 2019 – Final Word
Our Iowa Hawkeyes Preview 2019 notes that this team could be 4-0 when they start Big Ten play. In October, Iowa plays at Michigan, and a week later, they host Penn State. Both are huge games. The Hawkeyes start November in Wisconsin and end their season at Nebraska on November 29. That game against the Cornhuskers could be for all the beans in the Big Ten West. The Hawkeyes are good and those four games will go to show exactly how good they are.
Click here to go back to Big Ten West
Click here to go back to NCAAF Hub