NCAA Previews
2017 Mountain West Conference College Football Preview
Both MWC Divisions Will Be Hard-Fought This Season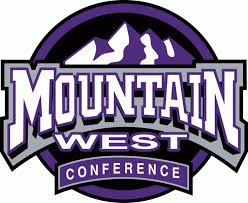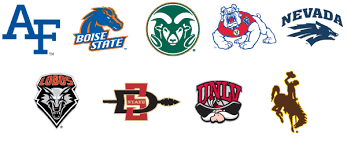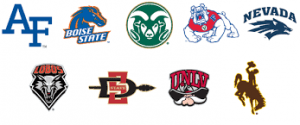 The Mountain West Conference (MWC) is a 12-team, two-division league that's ranked just below the American Athletic Conference. Of the dozen teams in the conference, our 2017 MWC CFB Preview envisions six teams making it into this year's bowl season. Here's our take on the MWC for 2017.
MWC Mountain Division- Finish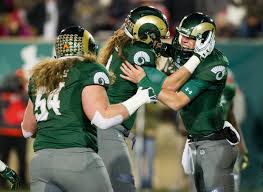 Will the Colorado State Rams or the Boise State Broncos top the West Division? We like the Rams on both sides of the ball. Also, we cannot totally rule out the Wyoming Cowboys due to their strong quarterback. This is a tough division where even the lower-ranked three teams will have the capability of causing mischief for the top three clubs.
1. Colorado State Rams
Here's the skinny on the Colorado State Rams. Their offense is looking fairly stellar, but their defense is worrisome. That can change and, overall, it should. That is at least as far as the D is concerned. The Rams need to improve their secondary. Their LB and D-line units look to be in good shape. Although top tackler Kevin Davis, who terrorized QBs, is gone, they do return nine of their 11 top bring down artists. Corner Robert Awunganyi is key in the secondary. On offense, the team returns its top passer, receiver, and rusher. All three are seniors. QB Nick Stevens (64.2 COMP%, 19 TDs, 5 INTs) is a solid field general, while WR Michael Gallup (76 REC, 16.7 YPC, 14 TDs) is, as his last name suggests, fast and determined. Dalyn Dawkins leads a sound group of rushers that includes junior Izzy Matthews (14 TDs).
2. Boise State Broncos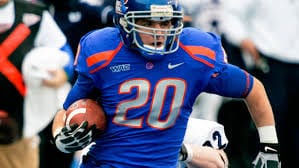 Boise State, always a contender, is back with a depleted offense and a defense that may not be as deep as they would like. For those reasons, we see them as coming in second in the division. On offense, they lost over 3,000 yards of positive output as top running back Jeremy Nichols and top wideout Thomas Sperbeck depart. The running back situation is the biggest concern. Junior QB Brett Rypien, who passed for over 3,600 yards and tossed 24 TD passes, will be calling signals once again. Although the defense loses six of its seven top tacklers, the line looks to be in good shape. The deep backs and linebackers have some talent but are inexperienced.
3. Wyoming Cowboys
The Cowboys have in Josh Allen (56.0 COMP%, 3,203 YDs, 26 TDs, 15 INTs) the top NFL first-round QB prospect running the offense, but they must find a way to replace the output of running back Brian Hill who gained 1,800-plus yards last season and scored 22 times. The Cowboys also lost their three top receivers, which certainly can be problematic. The defense, which gave up 34.1 PPG in 2016, has holes in the secondary. The frontline and linebackers are good. Allen should be exciting to watch, and his arm should win some games for this team.
4. Utah State Aggies
Last season, the Aggies went 1-7 in the conference and 3-9 overall. There should be some improvement in 2017. A lot hinges on their defense, which was very effective versus the pass last season. Only five starters return on that side of the ball, and their D-line is questionable. If they can come through, this team will possess the potential to upset a few teams. On offense, senior QB Kent Meyers is a dual threat on an offense that was ranked 11th in the MWC and 108th nationally. He has some fine pass catchers, but the O-line is weak.
5. Air Force Falcons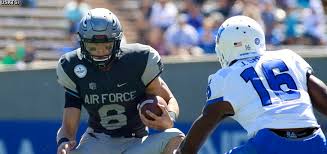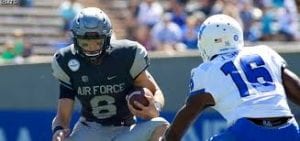 In 2016, the Air Force Falcons were 10-3 overall and 5-3 in the conference. They beat South Alabama in the Arizona Bowl 45-21. This year it's time for the Falcons to rebuild. We don't expect them to have a winning season or to make it into the postseason. They return just one starter on defense and six on offense. Junior Arion Worthman, who went 6-0 last season, will start at QB over senior Nate Romine. Worthman will have relatively inexperienced receivers and running backs. His line will offer sound protection.
6. New Mexico Lobos
The Lobos have a stellar ground attack and a top-notch O-line. Their air game is nothing to write home about. Still, we expect them to score points and to be that pesky team that can take anyone down in this division. But their depleted defense, which returns three starters and just one of the team's top nine tacklers, is a huge question mark. The Lobos may put 35-plus points up on average on the scoreboard as they did last season, but the defense will also give up, at the very least, an equal amount.
MWC West Division- Finish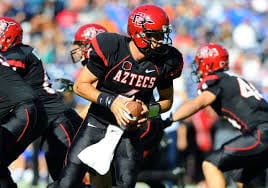 The West Division looks the be a battle between the San Diego State Aztecs, Nevada Wolf Pack and Hawai'i Rainbow Warriors. The Fresno State Bulldogs could be spoilers. There are numerous quarterback questions and defensive problems in the West, making this division relatively unpredictable. Still, we see our top three picks as finishing somewhere in the top three and our bottom three as being somewhere in the lower three. But the order of such is perplexing.
1. San Diego State Aztecs
The Aztecs led the MWC in defense, allowing just 20.2 PPG (17th Nationally). Despite some major losses, they are loaded again this season, and should be able to control opponent offenses. They bring the top-ranked D-line and linebacking unit to the field. Their offense will not be as strong as their defense. There are major questions on the line and in the receiving corps. Although top running back Donnel Pumphrey is gone, they certainly have a suitable replacement in senior Rashaad Penny (1,018 YDs, 11 TDs, 7.5 AVG). There's depth at running back too. Junior QB Christine Chapman (61.0 COM%, 1,994 YDs, 20 TDs, 6 INTs) has an accurate arm. The defense will perform exceptionally well giving the offense and the rush attack the time and possessions it needs to win games.
2. Nevada Wolf Pack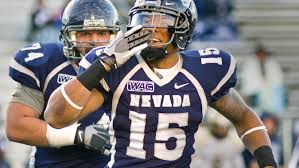 The Nevada Wolf Pack is a bit of a conundrum, as some pundits see them moving up in the ranks and others see them descending, while, still, others envision this team remaining static. We see them moving up in the MWC West Division. Here's the big question, will new coach Jay Norvell, who emphasizes the pass, be able to get optimum performance out of team that has been all about the ground attack? He will do so if he can balance the two. Senior running back James Butler, who scored 12 rushing touchdowns last season while gaining 1,300-plus yards, also caught 37 passes and scored three times as a receiver. With Butler, this team has the potential to excel on the ground and in the air. Alabama transfer David Corwall, a junior, looks to get the nod at QB, and he will be dangerous. The Wolf Pack D was ranked first in the conference and fourth nationally against the pass. Nine starters return, which is solid.
3. Hawai'i Rainbow Warriors
The Rainbow Warriors, which was ranked last in the MWC on defense, must limit opponent scoring. Last season, they allowed 37.3 PPG and the 113th nationally ranked D could not stop the run. Their LB unit is solid, but the rest of the defense is a big question mark. The Hawai'I offense is good, and they certainly offer this team bowl potential once again. Last season, for the first time since 2010, they made it to a bowl game, beating Middle Tennessee 52-35 in the Hawai'i Bowl. We think sophomore QB Dru Brown (62.4 COMP%, 2,488 YDs, 19 TDs, 7 INTs) and second-year coach Nick Rolovich will repeat that feat again.
4. Fresno State Bulldogs
Last season the Fresno State Bulldogs went 1-11 overall and 0-8 in the MW. This season, they welcome new head coach Jeff Tedford (82-57 Career, 5-3 Bowls), formerly of California. Tedford should make a difference. He sees 10 starters return on offense, including the starting QB, top running back, and two most productive receivers. Hopefully, he can start to shape an offense that can score more than 18 PPG. At the same time, he'll need to ensure his defense can limit teams to under last year's average of 30.9 PPG. Tedford could create a real spoiler team this season. These guys will be unpredictable and dangerous.
5. UNLV Rebels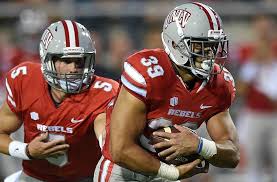 The Rebels see only two starters return on defense. It was a defense that gave up on average 36.8 PPG. The two returning starters are on the line. Eight of the 11 starters are either sophomores or juniors. This team will have a hard time stopping opponents from scoring. On offense, the frontline is top-notch and the receivers are also very good. Redshirted freshman QB Armani Rodgers gets his first start for the Rebels. There's been a lot of hype around him. If he does not perform well, the backups won't be much help. The rush attack is mediocre.
6. San Jose State Spartans
The quarterback situation is dicey. Will junior college transfer Michael Carrillo come through or can sophomore Josh Love step up? There's also freshman Montel Aaron waiting in the wings. There are some decent receivers, but both the O-line and ground attack are below average. The Spartan defense was solid against the pass last season, and should remain the same in 2017. Despite that fact, opponents will still average better than 30 PPG against this D.
2017 MWC CFB Preview
Bowl Projections
Colorado State Rams: Las Vegas Bowl
Boise State Broncos: Cactus Bowl
San Diego State Aztecs: Famous Idaho Potato Bowl
Wyoming Cowboys: New Mexico Bowl
Nevada Wolf Pack: Arizona Bowl
Hawai'i Rainbow Warriors: Hawai'I Bowl
2017 MWC CFB Preview
Projected Best Bets
Please remember that our 2017 MWC CFB Preview Best Bets are projections. A lot can occur during the college football season to change how we see the games listed below. Always check the latest stats, trends, and odds before placing your bets.
Aug 26: Hawai'i @Massachusetts- Hawai'i by no more than -6.0
Sep 2: Fresno State @Incarnate Word- Fresno State by no more than -13.5
Sep 9: Wyoming @Gardner-Webb- Wyoming by no more than -20.5
Sep 16: Air Force @Michigan- Air Force by at least +37.5
Oct 20: Colorado State @New Mexico- Colorado State by no more than -18.5
Oct 28: San Diego State @Hawai'i- San Diego State by no more than -21
Nov 4: San Diego State @San Jose State- San Diego State by more than -27
Nov 10: BYU @UNLV- UNLV by at least +31
Nov 18: Air Force @Boise State- Boise State by no more than -13.5
Nov 25: Nevada @UNLV- Nevada by no more than -20.5