NCAA Previews
MAC East Football Preview
Bobcats and Redhawks Top Division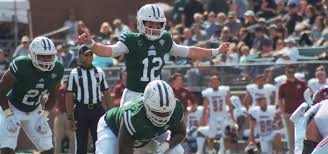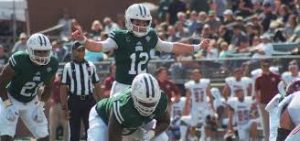 This MAC East football preview for 2019 projects Ohio to be at the top. Also, our MAC East football preview notes that odds are good that the Bobcats will easily win the division. Of the six teams in this division, we envision only one, the Ohio Bobcats, earning a bowl berth. The fact is although last year two teams from the East were in the postseason, Ohio and the Buffalo Bulls, none of the other team will even be close to the Bobcats this season. It should be a no-brainer for Ohio to take the MAC East and battle the Toledo Rockets for the title. Who's out, then? Buffalo, as noted and the Miami Redhawks, Kent State Golden Flashes, Akron Zips, and Bowling Green Falcons.
Our 2019 MAC East Football Preview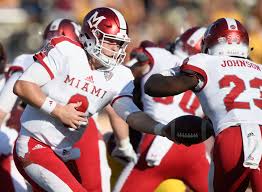 In our MAC East football preview, the Ohio State Bobcats, who possess one of the best defenses and perhaps the finest quarterback in the MAC, will finish first. Second will be the Miami Redhawks. Miami has a decent defense, and some solid elements on offense, but they definitely have quarterback issues. The Buffalo Bulls are projected to be in third place. This team's air game is weak, and there are major question marks in the secondary. Fourth place will be occupied by the Kent State Golden Flashes. Kent State's D-line is especially worrisome. The Akron Zips will likely be fifth, followed by the Bowling Green Falcons in last place.
1. MAC East Football – Ohio Bobcats (9-4)
Offense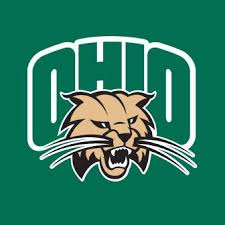 Last season, the Bobcats finished third in the MAC East and earned a trip to the Frisco Bowl where they beat San Diego State 27-0. The Bobcat defense was ranked 12th in the nation in points per game, averaging 40.1. They got most of their yardage by running the nation's ninth-ranked rush attack (258.5 YPG). The Ohio air game was ranked 90th (208.2 YPG), while their total yardage came in at 466.8 PG (16th). Senior QB Nathan Rourke can make it happen, as last season he threw 23 TD passes and ran for 15 scores. The 59.9% passer tossed eight INTs. The receiving unit loses top producer Papi White. He had 63 catches, nine of which went for TDs. But a solid trio of pass catchers returns. Despite losing three starters, the O-line will still do well. The rushing unit has been decimated. Red-shirted freshman RB Allison O'Shaan will start.
Defense and Special Teams
The MAC East Cats held teams to 24.5 PPG (44th). The team's defensive rushing yards averaged 137.1 PG (33rd) and defensive passing yards were at 253.8 PG (99th). They earned a 65th ranking in total yards allowed (390.9 PG). Both starting DEs are back, as well as seven others. This O-line is solid and deep. Sophomore DE Amos Ogun-Semore recorded 34 tackles, 2.5 sacks, and four QBHs, while junior DE Will Evans notched two sacks, four TFL, and seven QBHs. The LBs have depth, and they're more experienced than last season's group. Junior MLB Jared Dorsa, the lone returning starter, posted 59 tackles, two picks, two PBU, and 3.5 TFL. The seasoned D-backs include junior corner Jamal Hudson, who posted 39 tackles, a pick, and a dozen PBU. Punter Michael Farkas was first team All-MAC, and kicker Louie Zervos is right on target. The return game is solid.
2. MAC East Preview – Miami Redhawks (6-6)
Offense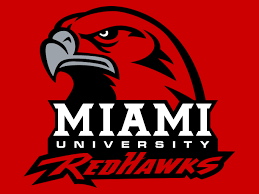 Our MAC East football preview notes that Miami (Ohio) was a distant second to the Buffalo Bulls last year. In 2018, the offense was ranked 93rd in overall yards. The rush attack, which averaged 159.8 YPG, earned a ranking of 76th, while the air game, which generated 212.3 YPG, was ranked 83rd. The 74TH-ranked Redhawk offense scored 28.2 PPG. This team does not have one QB with one college pass attempt. Sophomore Jack Williamson looked good in camp. But there are others who may get a chance to start. Three of this team's top four rushers are gone. Senior Maurice Thomas, who last season averaged 3.4 YPA and scored one TD while gaining a total of 223 yards, starts. Good news on the O-line, it's the best unit on this side of the ball. Seven-of-10 top receivers, including Jack Sorenson, who had 53 catches, return.
Defense and Special Teams
The Redhawks put a defense on the field that was a tad better than average. They came in tied for 51st in points allowed (25.5 PG). Their pass D gave up 208.5 YPG (45th) and the team's rushing defense allowed 208.5 YPG (58th). In terms of total yards allowed, Miami earned a ranking of 44th. The line is sound. Junior college transfer Jamal Wynter has been added to play NT. Senior DT Doug Costin posted 52 tackles, six sacks, 4.5 TFL, and three PBU. The LB group loses their best player, Brad Koenig. He led the team in tackles (99). This unit will feel his loss. The defensive backs are beefed up as two Iowa transfers come in. Special teams are solid with Maurice Thomas returning; he averaged 26.7 YPF and scored once. PK Sam Sloman and punter Kyle Kramer are both strong.
3. MAC East – Buffalo Bulls (10-4)
Offense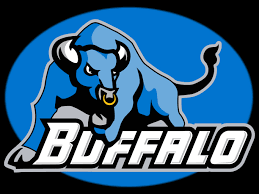 In 2018, the Buffalo Bulls easily took first in the MAC East, and then lost the championship game to Northern Illinois 29-30. They went on to play Troy in the Dollar General Bowl, losing 32-42. It was a tough ending for a team that only lost two games in the regular season and dominated their division. In 2018, the Bulls were good for 34.6 PPG (29th) while total offensive yards came to 414.5 PG (55th), The team's ground attack was 47th (189.1 YPG), while their passing game was ranked 73rd (414.5 YPG). The offensive line is sound and the rush attack should have lots of gas as 1,000-plus-yard rusher Jaret Patterson returns, as does Kevin Marks, who had 845 yards. They combined for 27 TDs last season. The receiving group is thin and quarterback is unknown at this time.
Defense and Special Teams
The Bulls' defense allowed opponents 25.9 PPG (58th). They did a good job against the pass, holding teams to 194.2 YPG (31st), but Buffalo's run D was not quite as effective, as they allowed 161.1 YPG (62nd). The line has decent experience and some fine talent like DE Taylor Riggins, who recorded 31 tackles, five sacks, and three QBHs last season. The LB unit loses first team All-MAC Khalil Hodge. In 2018, Hodge made 144 tackles. MLB James Patterson, who was second with 77 tackles, while also posting one sack and eight TFL, will anchor the group. The defensive backs are sound and include Joey Banks, who notched a pick and six PBU, and Aapri Washington, who took down two INTs had three PBU. The special teams are in need of some upgrades. No one is quite adequate.
4. MAC East Football – Kent State Golden Flashes (2-10)
Offense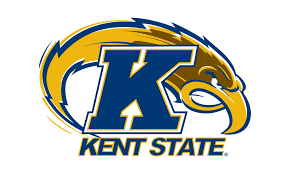 In 2018, the Golden Flashes finished last in the MAC East. Kent State averaged just 23.9 PPG (T-103rd) and their 211.9 YPG in passing earned them a ranking of 84th. The team's running game, which averaged 171.7 YPG, was good for 61st. They were 83rd in total yards. Junior QB Woody Barrett is a dual threat who last season ran for seven scores and threw for 11. Barrett, who completed 58.9% of his passes, put up nine interceptions. The top three receivers return, while senior TB Jo-El Shaw anchors the rush attack. Shaw averaged 4.8 YPA and scored seven TDs while covering 657 yards. He started four games. The offensive line is experienced and looks to outperform last year's unit.
Defense and Special Teams
Our MAC East football preview notes that the Golden Flashes' defense was porous, as they allowed 36.7 PPG (116th) and 467.3 YPG (117th). They could not stop the run, as Kent State allowed 220.3 ground YPG (114th). The team's passing D was not much better. The 247.0 YPG they gave up earned them 93rd-place in the nation. The Kent State D-line is the weakest unit on this side of the ball. The linebacking group is skilled and deep. Senior ILB Matt Bahr tied for most tackles with 91. He had three sacks, 4.5 TFL, one INT, and two PBU. The defensive backs include corner Jamal Parker, who posted 83 tackles, two picks, and seven PBU, and safety K.J. Sherald, who recorded 93 tackles three sacks, and six PBU. Special teams include Jamal Parker on kick returns. He averaged 30.1 YPR. PK Matthew Trickett is solid on PATs and field goals of 40 yards or less.
5. MAC East Preview – Akron Zips (4-8)
Offense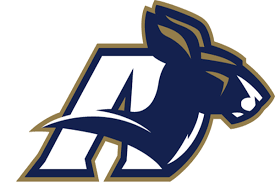 Last season the Akron Zips, who finished next-to-last in the MAC East, had a major problem- they could not score. They averaged 18.9 PPG (124th). Akron was ranked 95th in passing yards (199.2 PG) and 125th in rushing yards (95.3 PG). Their 294.4 YPG in offense was good for 126th in the country. New coach Tom Arth comes in with a new offense. The offensive line is experienced, and there are three QBs on-hand with junior Kato Nelson looking like the starter. Last season, Nelson threw for 2,329 yards and 15 TDs while completing 52.0% of his passes. He also gave up one INT. Five of nine receivers return, including top receiver Andrew Williams. Williams made 46 catches and scored six TDs while averaging 14.1 YPA. The running backs are thin.
Defense and Special Teams
Our MAC East football preview notes that the defense was mediocre, as the Zips allowed opponents 388.1 YPG of total offense (61st) and 27.2 PPG (T-67th). They did have a sound pass defense that allowed 191.1 YPG (27th). But the Zips' rushing D, which was ranked 99th, gave up 197.0 YPG. The D-line, which has less experience and is learning a new scheme, will struggle. Senior DE Josh Ward, who recorded four sacks and three TFL last season, anchors the group. The LBs and the D-backs are also diminished. Top tackler, ILB John Lako, returns. Last season, Lako made 126 tackles while recording 9.5 TFL and three PBU. Free safety Alvin Davis, who posted 75 tackles, four INTs, and three PBU, serves as the cornerstone for the D-backs. Punter/PK Nick Gasser has to be replaced. Jeremiah Knight will again return punts and kicks.
6. MAC East – Bowling Green Falcons (3-9)
Offense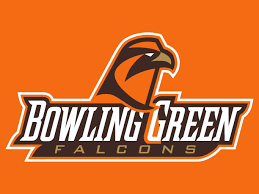 Last season, the Bowling Green Falcons barely managed to take fifth in the MAC East. They did it by beating Akron 21-6 late in the season. The 98th-ranked scoring offense averaged 24.3 PPG and 355.3 YPG (T-105th). Their rush attack was lethargic, earning a ranking of 117th (116.6 YPG). The Falcons' pass attack, which generated 238.7 YPG, was 59th in the nation. Bowling Green's new coach, Scott Loeffler, has worked at an array of Power 5 schools. Quarterback Matt McDonald, a Boston College transfer who worked with Loeffler for two years, may start. Various transfers join the receiving unit while junior WR Quintin Morris, who caught 42 passes with seven going for TDs, returns. Junior Andrew Claire starts at RB. In 2018, he averaged 5.2 YPA, scoring five times and gaining 702 yards. The offensive line is improved and should perform better.
Defense and Special Teams
Our MAC East football preview notes the huge disparity between points scored by this team and points allowed. The Falcons allowed 40.0 PPG (124th), resulting in a -15.7 PF/PA differential. Their one bright light was their passing defense, which ranked sixth nationally. They allowed 167.6 YPG. But teams made up for it with 280.5 rushing YPG (127th). In total yards, Bowling Green ranked 106th (448.1 PG). All of the defensive units according to our MAC East football preview are thin. The line is the best of the worst. Sophomore DE Karl Brooks, who posted 32 tackles and 3.5 sacks, will be a stabilizing force. Junior WLB Kholbe Coleman is the top returning LB with 70 tackles, four QBHs, and two TFL. Free Safety Jerry McBride, a senior, returns after leading the team in tackles (107). Punter Matt Naranjo is sound and PK Nate Needham is solid on extra points. The return game will be revamped.
2019 MAC East Football Preview
Bowl Projections
Boca Raton Bowl, Dec. 21 – Cincinnati Bearcats and Ohio Bobcats
2019 MAC East Football Preview
Projected Best Bets
Aug. 29 – Robert Morris @ Buffalo – We're going with the Bulls by 20.
Sep. 7 – Kennesaw State @ Kent State – Golden Flashes win home opener.
Sep. 14 – Akron @ Central Michigan – Take the Zips!
Oct. 19 – Kent State @ Ohio – Bet the Bobcats.
Oct 19 – Buffalo @ Akron – Bulls at -12.
Oct. 26 – Ohio @ Ball State – Easy Bobcat win.
Nov. 2 – Akron @ Bowling Green – We like the Falcons at home.
Nov. 13 – Bowling Green @ Miami (OH) – Take the Redhawks by 10.
Nov. 14 – Buffalo @ Kent State – Bet the visiting Bulls.
Nov 30 – Ohio @ Akron – Bobcats by 20.
Utilize this 2019 MAC East preview to give yourself an added edge this NCAA football season. For more information on the MAC, go to our MAC West preview. You can access other conferences through our hub page.