NCAA Previews
CUSA East Football Preview
FIU, Marshall and FAU Top the Pack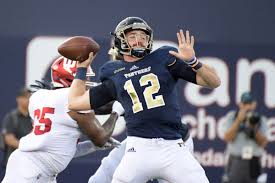 Our CUSA East football preview for 2019 has three choices regarding the top team. Our CUSA East football preview likes the FIU Panthers, Marshall Thundering Herd, and Florida Atlantic Owls. One thing we are fairly sure of is that each of those three teams will appear in a bowl game in 2019-2020. However, we doubt any of the other four teams in the CUSA East will be making a postseason appearance. That means that the Middle Tennessee Blue Raiders, Old Dominion Monarchs, Western Kentucky University Hilltoppers, and Charlotte 49ers will be sitting out the second-season.
Our 2019 CUSA East Football Preview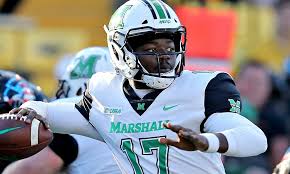 In our CUSA East football preview, we're going with the Florida International University Panthers as the first-place team. This is perhaps the best all-around team in this division. They have the top QB, an excellent rush attack, and fine offensive and defensive lines. After that, we like the highly competitive Marshall Thundering Herd and their stingy defense. Marshall takes second place with the Florida Atlantic University Owls making a bid for third.
The Middle Tennessee Blue Raiders look to finish in the middle of the CUSA East. Major concerns at quarterback as well as issues with the O-line hamper their chances. The Old Dominion Monarchs are weak on both lines. We see them coming in fifth. Sixth place goes to the WKU Hilltoppers, who have an uneven team, while seventh place will be occupied by the Charlotte 49ers. The 49ers do have a decent D, but their offense will be severely challenged.
1. CUSA East Football – FIU Panthers (9-4)
Offense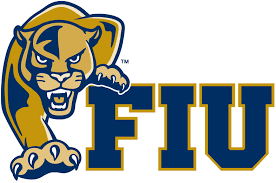 Last season, the FIU Panthers averaged 34.6 PPG (T-27th). In passing yardage, they were ranked 53rd and in rushing yards, they were 56th. This is a fine offense that's led by QB James Morgan. Morgan, a senior, completed 65.3% of his passes last season, tossing 26 TDs and seven INTs. Seven-of-eight experienced receivers return, including senior WRs Austin Maloney and Maurice Alexander. In 2018, Maloney caught 30 passes, averaging 20.3 YPC and scoring five times. Alexander, who had 40 catches, also scored five TDs while averaging 11.9 YPC. The ground game returns the top four performers, including senior Napoleon Maxwell. Maxwell topped all rushers with 684 yards and seven TDs, averaging 5.3 YPA. Anthony missed seven games but still managed to gain over 300 yards and scored six times. He could be a thousand-yard rusher. Three starters return to an O-line that should provide very fine service.
Defense and Special Teams
The Panther defense ranked 46th in points allowed, as they gave up 25.2 PPG. Their pass D ranked 30th, while FIU's rushing defense came in at 90th. The line returns three-of-four, which includes DT Teair Tart. He recorded four sacks and three TFL last season. The LBs are the weakest group on D. MLB Sage Lewis, who led the team with 108 tackles while also notching nine PBU, returns. The secondary is experienced and deep. In 2018, CB Stanley Thomas-Oliver broke up 10 passes, while corner Isaiah Brown posted two INTs and five PBU. This unit is solid. The FIU special teams are some the best in CUSA. Alexander returns punts. He scored once, averaging 14.6 YPR. Maloney averaged 18.4 YPR on kickoffs. PK Jose Borregales was 54-55 on extra points and 14-18 on field goals including a 53-yard attempt. Top-notch punter Stone Wilson must be replaced.
2. CUSA East – Marshall Thundering Herd (9-4)
Offense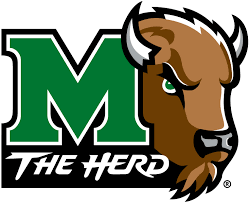 Our CUSA East football preview sees Marshall as being the number two team in the division. Last season, Marshall averaged 28.2 PPG with their 67th-ranked air game and 71st ground game. This season, the line looks exceptional. They are seasoned and skilled. That will help the rush. The two top rushers, sophomore Brendan Cox and junior Tyler King, return. Each averaged 6.1 YPA and scored four TDs. King had 655 yards and Cox 578. If King stays healthy, he could have a 1,000-plus-yard season. There's depth at QB and experience. In an injury-truncated season, Isiah Green completed 56.7% of his passes for 2,459 yards and 15 TDs and 10 INTs. The receiving unit loses top-performer Tyre Brady who had 71 catches for 1,002 yards and nine scores. Tavin Richardson, a Kentucky graduate transfer, will help ease that loss. Senior WR Obi Obialo notched 42 receptions and scored four times.
Defense and Special Teams
Marshall was tough versus the rush. They held opponents to 104,2 YPG (8th). They were ranked 73rd versus the pass (234.5 YPG). Marshall gave up 21.8 PPG, ranking them 27th. The Thundering Herd line is premium. NT Channing Hames, who recorded 45 tackles, 7.5 sacks, and five TFL, and DE Ty Tyler, who nailed 44 tackles, nine TFL, and 21 QBHs, are a formidable force. The LBs lose two starters, but Virginia Tech transfer Tavante Beckett joins the group. Senior Omari Cobb leads them. He recorded 61 tackles, 4.5 sacks, and three TFL. The secondary is also solid. Corner Chris Jackson is back as the top performer with 61 tackles and 15 PBU. The special teams lose some traction as both returners are gone. Expect punter Robert LeFevre and PK Justin Rohrwasser to improve. LeFevre averaged 41.0 YPP, while Rohrwasser was 44-46 on extra points and 15-21 on FGs.
3. CUSA – Florida Atlantic Owls (5-7)
Offense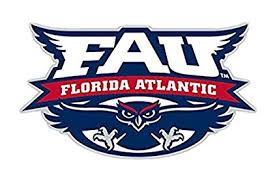 The Owls' rush attack averaged 241.8 YPG (13th), while the team's pass attack averaged 237.0 YPG (63rd). The offense was 14th overall in total yardage and ranked 44th in points with 31.1 PPG. The QB ranks got an upgrade in 2019 as Florida State graduate transfer Deondre Francois joined the team. He may start.
He'll have six experienced pass catchers to toss to, including TE Harrison Bryant, who brought in 45 passes and scored four TDs. The ground attack looks to get a lift from the addition of former Alabama RB B.J. Emmons and Arkansas State transfer Chauncey Mason. The Owls possess the best offensive line in CUSA.
Defense and Special Teams
The Florida Atlantic defense allowed 31.8 PPG (T-92nd). They were 89th in rushing yards given up and 79th in passing yards. The defensive line loses two starters and, also, their top sacker Ernest Bagner (4 SCKs). This unit is questionable. Junior DE Leighton McCarthy, who notched 39 tackles, 2.5 TFL, and five QBHs, anchors this unit. The defensive backs have less experience than last year's group. Junior CB James Pierre, who had nine PBU and 55 tackles, is an important foundation element. The linebacking unit, which includes top-tackler Rashad Smith (86 TCKLs), is the best part of this defense. Smith also led the team with four INTs and 4.5 TFL. Special teams, including punting and placekicking, are questionable. Kickoff return specialist Kerrith Whyte, who averaged 28.7 YPR and brought one back for a score, is gone and must be replaced.
4. CUSA East Football – Middle Tennessee Blue Raiders (8-6)
Offense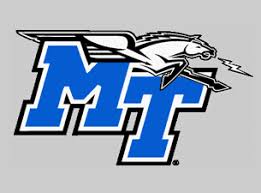 Last season, the Blue Raiders got to the CUSA Championship game and the New Orleans Bowl. They lost the title game to UAB 25-27 and the bowl game to Appalachian State 13-45. The 2018 Blue Raiders scored 28.0 PPG (75th) and were 33rd in passing yards and 107th in rushing yards. The quarterback spot may go to junior college transfer Randall Johnson who threw for 2,832 yards and rushed for 797. He tossed 28 TDs. He could be a difference-maker. The receiving ranks lose some of their jazz, as four-of-six top performers leave. Junior WR Ty Lee returns having made 71 catches and scored seven TDs. The rush benefits from healthy smash and dash runner Brad Anderson. He missed most of 2018. Also, the top two rushers from last year return. The line is less experienced and could be less effective than they were last year.
Defense and Special Teams
The 62nd-ranked scoring defense allowed 26.7 PPG. They were ranked 50th in overall yardage. This side of the ball is improved with many top performers returning. Senior RE Trae Philpots returns having posted 44 tackles, four sacks, and five TFL. The LB unit is especially solid and includes junior SLB D.Q. Thomas, who notched 70 tackles, eight sacks, 6.5 TFL, and six QBHs, and senior WLB Khalil Brooks. Brooks posted 68 tackles, 6.5 sacks, eight TFL, six PBU, and 14 QBHs. This is a premium group. The secondary's in good shape, as FS Reed Blankenship, who led the team with 107 tackles, is back. There's talent and experience in their ranks. Ty Lee returns punts and kickoffs again. He does a fine job on both. Junior PK Crews Holt missed five extra points and was 18-24 on FG. Premium punter Matt Bonadies will be replaced by junior Matthew Stephenson.
5. CUSA East Preview – Old Dominion Monarchs (4-8)
Offense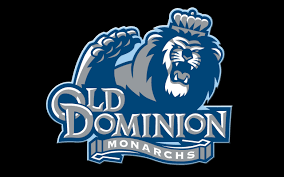 In 2018, the Monarchs of Old Dominion put a fine passing offense on the field, as they accumulated 297.0 YPG (15th). But the team's ground game was ranked 110th (130.8 YPG). The Monarchs were good for 30.8 PPG (48th). Our CUSA East football preview sees this team as having a diminished O-line that brings less experience to the field. Having a new QB may help this offense and chances are they will with junior transfer Messiah deWeaver coming in He's noted to be an agile rushing quarterback. Two Virginia Tech transfers join the receiving ranks, wideout Eric Kumah and tight end Chris Cunningham. RB Kesean Strong, who averaged 4.7 YPA and scored nine TDs last season, is the Monarch's top returning receiver with 21 catches and two TDs. Red-shirted freshman RB Lala Davis leads this year's rushing game.
Defense and Special Teams
The Old Dominion defense struggled in 2018, as they allowed 35.9 PPG (111th) and were ranked 102nd versus the pass and 109th against the rush. The defense has major question marks on the line. They are very vulnerable. Plus, the deep back situation isn't much better. Sophomore NB Geronda Hall is back after grabbing two picks and breaking up five passes in 2018. The linebacking group is the best unit on this side of the ball. Included is WLB Jordan Young and MLB Lawrence Garner. Garner led the Monarchs in tackles (100) and TFL (Nine). Young notched 75 tackles, three TFL, and two PBU. Junior Nick Rice, who was 40-41 on extra points and 14-18 on FG, is back. Punter Bailey Cate averaged 39.7 YPP and put 19-of-55 within the 20-yard line. Dynamic Isaiah Harper must be replaced on kickoff and punt returns.
6. CUSA East – WKU Hilltoppers (3-9)
Offense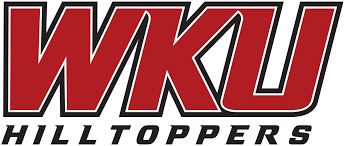 In our CUSA East football preview, we note that WKU struggled to score, averaging 21.1 PPG (117th). They were 103rd in rushing yards and 69th in passing. Junior QB Steven Duncan, who hit 57.8% of his passes while tossing nine TD passes and seven picks, offers a strong arm. Top receiver Lucky Jackson, who posted 50 receptions and caught four TD passes, is back. The receiving unit loses just one starter. The offensive line has experience and depth. We expect improved performance from this group and a more effective rush attack from the Hilltoppers. RB Quinton Baker returns to the team after a year hiatus. He's got 1,000-plus yard potential.
Defense and Special Teams
The Hilltoppers gave up 27.8 PPG (76th) and allowed passing yards of 248.8 PG (97th). The team's 77th-ranked ground defense allowed opponents 172.8 YPG. We look for the D-line, which benefits from the return of eight-of-10 top performers and the addition of junior college transfer Celestin Haba, to show improved performance. Sophomore DE DeAngelo Malone returns having recorded 60 tackles, six sacks, three TFL, and eight QBHs. Senior NB Ta'Corian Darden, who notched 71 tackles, three INTs, and 11 PBU, offers quality pass coverage. FS Devon Key, who also made 71 tackles and three INTs, broke up six passes and recorded three TFL. Australian John Haggerty should upgrade the punting game. Freshman Cory Munson may take over as PK. Garland LeFrance does a good job bringing back kickoffs, but the Hilltoppers need an effective punt returner.
7. CUSA East Preview – Charlotte 49ers (5-7)
Offense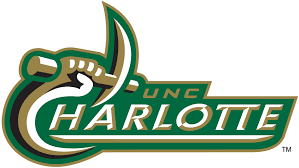 In 2018, the Charlotte 49ers averaged 21.7 PPG (T-113th). They averaged 162.6 YPG in rushing (73rd) and 180.5 YPG in the air (106th). If the 49ers had a more stable frontline, they could probably put up some awesome ground attack stats. But the O-line is a major question mark for this team. Despite that fact, senior RB Benny Lemay, who gained 1,243 yards and scored 11 TDs last season while averaging 5.4 YPA, should still put up some fine numbers. The rushing unit is deep. At QB, USF graduate transfer Brett Kean looks like he'll get the nod to start. He's a solid passer who can also run. Three of the team's top four pass catchers return, including sophomore Victor Turner. In his freshman season, Turner posted 54 catches while averaging 13.2 YPC and scoring twice.
Defense and Special Teams
The defense held teams to 26.6 PPG (60th) and were tough on ground games, allowing 105.7 YPG (9th). The D ranked 67th versus the pass (231.7 YPG), while they ranked 22nd regarding overall yardage. The D-line and LB units are solid, but the secondary is questionable. Three-of-four starters are back on the line. Senior DE Alex Highsmith returns having made 60 tackles, three sacks, and 14.5 TFL. The LBs include MLB Jeff Gemmel, who recorded 87 tackles, four sacks, and five TFL. The secondary features Tennessee transfer Marquill Osborne at corner and Charlotte's leading tackler (92) Ben DeLuca at safety. Special teams include Jonathan Cruz as placekicker. In 2018, Cruz hit all 27 extra-point attempts and 17-of-22 field goals, including going 3-4 from the 50-plus yard line. Punter Kyle Corbett averaged 41.0 YPP but only netted 33.7. The kick return unit is good. The club needs a new punt returner.
2019 CUSA East Football Preview
Bowl Projections
New Mexico Bowl, Dec. 21 – Marshall Thundering Herd and San Diego State Aztecs
Gasparilla Bowl, Dec. 23 – USF Bulls and FIU Panthers
Quick Lane Bowl, Dec. 26 – FAU Owls and Indiana Hoosiers
2019 CUSA East Football Preview
Projected Best Bets
Aug. 31 – Gardner-Webb @ Charlotte – Bet 49ers at around -12.
Sep. 7 – WKU @ FIU – Wager on the Panthers at around -14.
Sep. 14 – Ohio @ Marshall – Take the Thundering Herd.
Sep. 21 – Wagner @ FAU – Owls win by around 20 points.
Oct. 5 – Massachusetts @ FIU – Bet the Panthers by 20.
Oct. 19 – Charlotte @ WKU – We like the Hilltoppers as home team.
Oct. 26 – FAU @ Old Dominion – Take Owls at -12 or fewer.
Nov. 16 – Rice @ Middle Tennessee – Bet Blue Raiders at around -12.
Nov. 23 – Marshall @ Charlotte – The Herd by approximately 21.
Nov 30 – Charlotte @ Old Dominion – Monarchs avenge last year's defeat.
Utilize this 2019 CUSA East preview to give yourself an added edge this NCAA football season. For more information on the CUSA, go to our CUSA West preview. You can access other conferences through our hub page.