NCAA Previews
#9 Michigan Wolverines Preview
Will These Wolverines Put the Top D in the Nation on the Field Again?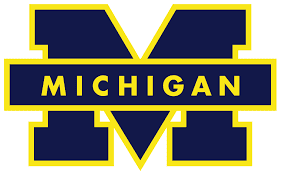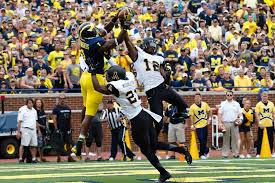 Last year, the Michigan Wolverines (10-3) finished third in the Big Ten East with a record of 7-2. Michigan earned a Cotton Bowl Classic berth where they beat Western Michigan 24-16. They start this season with virtually a whole new team, as they lost seven starters on offense and 10 on the other side of the ball. Still, last year a lot of the young players who will move into starting spots in 2017 got real game experience. Perhaps the biggest concern is on defense where this team excelled last season. Our 2017 Michigan Wolverines college football preview certainly sees this team as being competitive.
Offense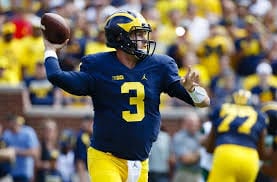 In 2016, the Wolverines were first in the Big Ten and 11th nationally in points scored (40.3 PPG). They may have a tough time repeating that feat in 2017. The best news on offense is that senior QB Wilton Speight (61.6 COMP%, 2,538 YDs, 18 TDs, 7 INTs) is back. Speight is a solid pocket quarterback. The starting receivers are all new. Two true freshman recruits, Tarik Black and Donovan Peoples-Jones, are likely to start at wide receiver. Peoples-Jones is a five-star recruit. There are also guys like Grant Perry and Kahlid Hill who have experience. Probable tight ends include sophomore Tyrone Wheatley and junior Ian Bunting.
There are three talented players with experience who can occupy the running back spot, including sophomore Chris Evans. Evans averaged 7.4 YPC last season while carrying the ball 88 times for 614 yards and four TDs. The left side of the O-line looks solid, but three other spots have to be filled. That will be a major challenge.
Defense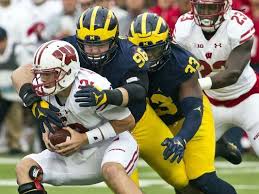 Last year, the Michigan D was ranked first in the nation in passing yards (142.5 YPG) and total yards allowed (261.8 YPG) and second in points allowed (14.1 PPG). They were 15th in rushing yards (119.2 YPG). Missing will be Heisman Trophy finalist Jabrill Peppers (72 TCKLs, 12 TFL, 8 QBH), captain Chris Wormley (6 SCKs, 3 TFL, 5 QBH), standout corner Jourdan Lewis (3.5 TFL, 11 PBU, 2 INTs), and sack leader Taco Charlton (9.5 SCKs, 3.5 TFL, 10 QBH). However, there are some positives here.
First, defensive coordinator Don Brown got great results by pushing this unit and making them an aggressive, blitz-oriented squad. Second, WLB Mike McCray, a senior, is back. He was second in tackles last season with 76, while also posting 4.5 sacks, eight TFL, seven PBU. He also has two picks and five QBH. The other positive is sophomore end Rashan Gary, who showed amazing potential last season.
It's true that this group is young, but it does have a lot of talented and very motivated sophomores who are willing to work hard and want to excel. It will take some time for this group to find their way. However, from mid-season and moving forward they may be experienced enough to take on Penn State, Wisconsin and Ohio State.
Special Teams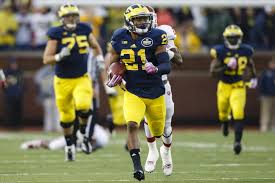 Punter/Placekicker Kenny Allen is gone, which means that true freshman Brad Robbins will be given a chance to punt and redshirted freshman Quinn Norden will take on the kicking duties. Masterful return man Peppers is also gone. Look for a few players to try to fill his big shoes.
2017 Michigan Wolverines College Football Preview: Final Word
Coach Jim Harbaugh (49-27 Overall, 2-2 Bowls) starts his third season with the Wolverines. In his first two years, Harbaugh is 20-6 overall and 1-1 in bowls. He certainly knows how to push and mentor a team towards success, and the Wolverines don't get into the tough part of their schedule until mid-October. That should give this team some time to work out a few of their kinks.
Our 2017 Michigan Wolverines college football preview sees the first major challenge for this team occurring on Sep 2 when the Wolverines travel south to play Florida at Arlington. They will have to take on rivals Michigan State at home on Oct 7 and play away games against Penn State (Oct 21) and Wisconsin (Nov 18). They end their season at home on Nov 25, as they host Ohio State.
Top Three Takeaways
Harbaugh and coordinators must get this team on track ASAP
QB Speight needs to stay healthy and focused
The defense will need time to gel
2017 Michigan Wolverines College Football Preview Projection: Record: 10-2 Overall/7-2 Big Ten; Finish: 3rd Big Ten East