NCAA Previews
2018-2019 Illinois Fighting Illini Basketball Analysis
Young Team Needs Experience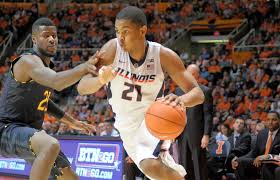 Head coach Brad Underwood is used to going to the Big Dance. He's been there in each of his three years at Stephen F. Austin and his one at Oklahoma State. But last season, at the helm of Illinois (14-18, 4-14), he ended up working the NCAA Tournament telecast as an analysis and not coaching a team. Our 2018-19 Illinois Fighting Illini basketball preview sees Underwood as once again being in the booth. He does have a talented team. But they are young and in the Big Ten will need some seasoning to get to the Big Dance. What are their chances of doing so in 2018-19? Here's what the Illinois Fighting Illini have going for them this season.
Frontcourt
Junior forward Kipper Nicholas (10.0 PPG, 4.2 RPG, 43.8 FG%) is the top returning forward to a frontcourt that has been seriously depleted by the loss of transfers and NBA-bound talent. He's a versatile performer who possesses potentially lethal inside and outside shots. Freshman center Samba Kane, who stands an even seven feet, and frosh forward Giorgi Bezhanishvili, who is 6'9", should see playing time. Seven-foot-even grad transfer Adonis De La Rosa, who previously played for Kent State, averaged 11.8 PPG and 7.6 RPG for the Golden Flashes. He stands to be an important contributor.
Backcourt
Last season as a freshman Trent Frazier (12.5 PPG, 3.1 APG, 40.5 FG%) led the team with 61 three-pointers and was second on the team in scoring. Look for him to take it up a notch this season. Freshman guard Ayo Dosunmu will instantly contribute assists as well as points. He a great teammate with winning energy. Senior guard Aaron Jordan (7.9 PPG, 3.1 APG, 46.7 FG%) hits threes at the rate of 46.3%.
2018-19 Illinois Fighting Illini Basketball Preview – Final Word
With the addition of athleticism and length, this basketball team is much better suited to compete in the Big Ten. But it wil most likely take a season for coach Underwood to bring everything together and make this team competitive. It's been five years since this team has been at the NCAA tourney. Our 2018-19 Illinois Fighting Illini basketball preview sees it as being at least one more. We don't envision them getting to the NIT in 2019 either. A .500 mark overall would be progress.
Big Ten News and Updates