NCAA Previews
2018- 2019 Duke Blue Devils Basketball Analysis
Once Again Duke Recruits One of the Top Classes in the Nation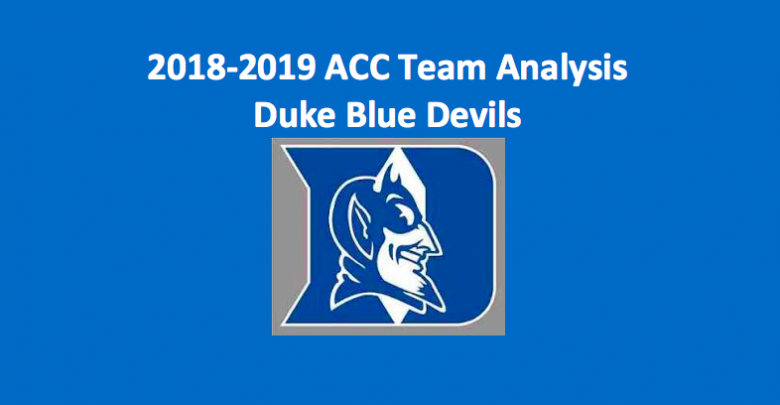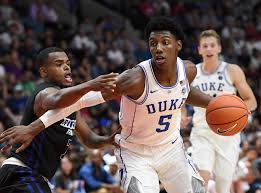 Coach Mike Krzyzewski has to replace his top five players from last season. But that's nothing new. The Duke Blue Devils (29-8 Overall, 13-5 ACC) finished second in the conference last season. In the tournament, they made it to the Elite Eight where they lost to Kansas 85-81. Last season, the Blue Devils focused on using their big men.
Our 2018-19 Duke Blue Devils preview anticipates that this year coach K will utilize a more varied approach that focuses on speed and aggressive small men. Here's how we've broken the strengths of Coach K's current talented team.
Frontcourt
Junior center Marquis Bolden (3.9 PPG, 3.6 RPG, 61.5 FG%) has battled injuries his first two seasons. Now is the time for him to step up. Last season, he came off the bench and performed well. Forward Javin DeLaurier (3.4 PPG, 4.0 RPG, 64.3 FG%) also offers promise for this season. Freshman forward Zion Williamson, who is 6'6" and 272 pounds, is a talented and driven player who can dunk and rebound.
Backcourt
Freshman guard Tre Jones looks to be the real thing. Jones is an aggressive penetrator. Joining him will be two other freshmen, R.J. Barrett and Cam Reddish. Both should provide top-notch scoring chops. Barrett is a smart player who knows the game and brings a revised three-point shot to the floor. Reddish could be Duke's best perimeter shooter.
2018-19 Duke Blue Devils Preview – Final Word
Our 2018-19 Duke Blue Devils preview sees this team as being highly competitive. They will certainly have to find the chemistry they need to succeed. That could take some time. Plus, coach K will have to get this team playing consistent defense. Over the past few years, a lack of D has been a problem for the Blue Devils. Duke, as usual, has its eyes focused on the big prize. Krzyzewski turns 72 this season. He'd certainly like to make this the year that the Duke Blue Devils cut down the nets. Even with a whole lot of talent, that's no easy goal to achieve.
ACC News and Updates